Finalist (2015) in the Eric Hoffer Book Awards
Baby Skulls and
Fowl Odors
A Pat Garrett, Leigh McCracken Mystery
by KAREN WEINANT GALLOB
© 2014 (all rights reserved)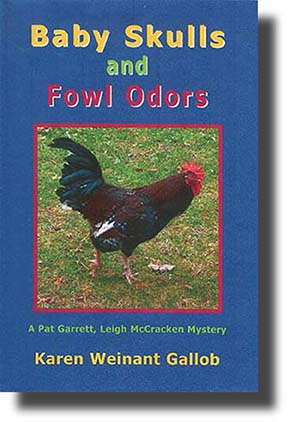 Sheriff Pat Garrett and Deputy Leigh McCracken had very little "sheriffing" to do in the quiet little Colorado town of Croysant since the Beidermann murder case, but suddenly, they are confronted with a child's bones stuffed into one of Alma's precious dolls.
As if that isn't bad enough, next they find themselves dealing with fires, more skeletons, plus mobs of PETA people protesting a chicken factory farm that no one seems able to locate.
Worse yet, Jenny Threewinds might be up to no good. Garrett has never been able to admit to himself that he loves her, and now she seems to have taken up with a handsome stranger.
Garrett thinks this is just one more example of his bad luck with women until he learns that Jenny is searching frantically for a mysterious lost doll.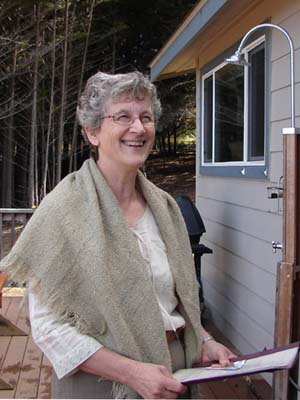 Karen Weinant Gallob is a Colorado rancher and an anthropologist who taught for several years at Metropolitan State College in Denver. She is interested in the relationships among language, culture, and human perceptions of reality. She has published articles, reviews, stories, poetry, and a four-volume science fiction novel, After the End: The Sumbally Fallacy.
Baby Skulls and Fowl Odors is a sequel to her cozy mystery, All the Bad Stuff Comes in Threes. She is a member of the American Anthropological Society, the Colorado Author's League, and two local book clubs.
ALERT! Karen's latest ... The Climbing Dog Affair
Out in July!

ISBN 978-0-944851-38-8 $11.95 Paperback
Order

BABY SKULLS AND FOWL ODORS
You may also order the book by sending check or money order for $16.95 (postpaid) to:
EARTH STAR PUBLICATIONS
PO Box 267, Eckert CO 81418
Colorado residents please add 59 cents sales tax
Available at Barnes & Noble.
eBook is NOW available at Amazon Kindle for $3.99
BACK TO WHAT'S NEW
GO TO EARTH STAR'S HOME PAGE
This page updated February 14, 20186
What's New!
Greetings, Terrans! See the latest articles. Check out the current issue...

CLICK HERE to receive FREE bimonthly e-newsletter

Earth Star Books
Browse our Book Catalog to view all our books and publications.
Publishing Professional
Earth Star offers editing and production services for self-publishing authors, plus a lot more. You may inquire by contacting us at starbeacon@gmail.com
See all we offer in the way of publishing services. Check it out...
Psychic Readers Page
Our free directory lists intuitives ready to assist you... View Psychics Page...