GREETINGS, TERRANS!
CHECK OUT
WHAT'S NEW!

Just Released!
ALL THE BAD STUFF COMES IN THREES

ZETI CHILD, LOST UPON A ONE STAR WORLD

Welcome to Earth Star on the Web. Here you will find a wealth of articles on diverse topics including UFOs and extraterrestrials, the paranormal, healing, earth changes, spirituality, the latest sightings, channeling, astrology, book reviews, art, poetry, plus conference news and reports, and a whole lot more.
WHERE WOULD YOU
LIKE TO GO?


The Star Beacon: Earth Star's monthly paranormal newsletter. Subscription info can be found by clicking here.




BOOKS and COSMIC BUSINESS CARDS -- NEW!
Earth Star's Store features metaphysical, self-help, children's literature and adult fiction, plus Cosmic business cards. Visit now by clicking here.





PSYCHIC READERS
The NEW Psychic Readers Directory lists Intuitive Counselors from all over. Check out who's doing what, and how to contact them, by clicking here.




THE BEST OF
THE BEACON
Selected articles which have appeared over the years in The Star Beacon
Click here.




CONFERENCES
Check out upcoming conferences by clicking here.





FRIENDSHIP CLUB
Earth Star's Galaxy Wide Friendship Club is no longer going. Sorry!





ART GALLERY
Earth Star's NEW Art Gallery features paintings by Ryan Ulrich plus an assortment of art (including extraterrestrial). Visit now by clicking here.





ARIZONA PAGE
Visit exotic and beautiful Why, Arizona. You can go there by clicking here.




MULES
Animal lovers will get a "kick" out of our Mule Page, featuring the Stucker Mesa Mules. Click here.


PUBLISHING
Earth Star Publications offers book packaging services for self-publishing authors, as well as a lot more. Please see our List of Services.
ADVERTISE HERE!
Advertise your wares or services here by placing an ad in The Star Beacon. To view CLASSIFIED ADS click here. For more information on advertising, e-mail us at UFOeditor@yahoo.com. For information regarding the Psychic Readers and Healers Directory, please e-mail starbeacon@gmail.com.
Celestial Beings of the Bible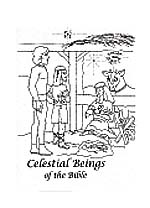 Bible stories
from an extraterrestrial
perspective
by Marcellina Beckwith
16 page coloring book with
black-and-white illustrations
8-1/2" x 11" format'
$5.95 + $1.50 shipping/handling
($7.40 total)
Order your copy of Celestial Beings of the Bible
by sending check or money order to:

EARTH STAR PUBLICATIONS
PO Box 1468
Forks, WA 98331
Check out WHAT'S NEW

Subscribe to The Star Beacon

Earth Star's Home Page


---
Copyright © 2007 Earth Star Publications
For permission to reprint articles or use graphics, e-mail starbeacon@gmail.com.