In loving memory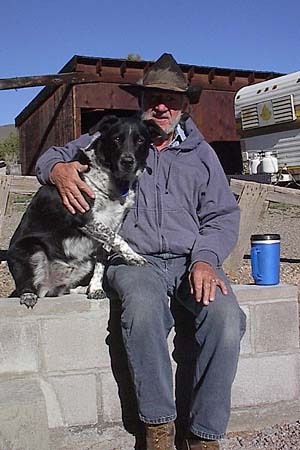 Ethan G. Miller
born March 2, 1934 in Somerset, Pennsylvania
departed from us Sept. 12, 2008
We miss you, Ethan!
I thank you for the many wonderful memories we shared
throughout the 19 years we were together in this lifetime.
Thank you for sharing your life with me.
Your loving wife, Annie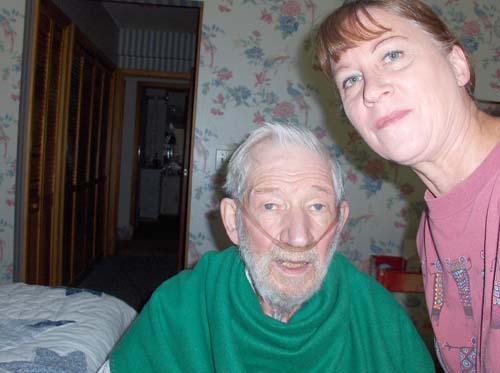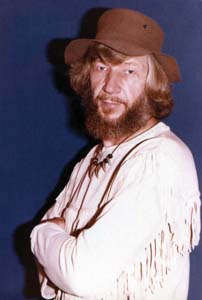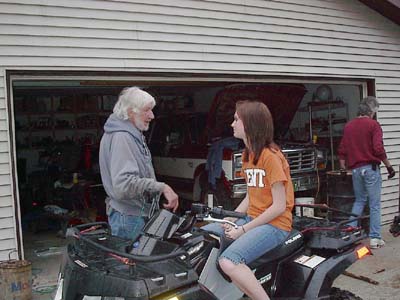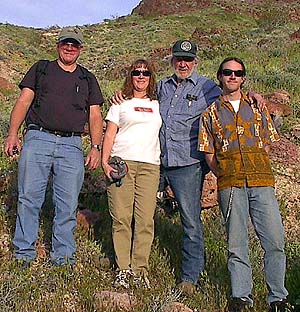 Eulogy for Ethan Miller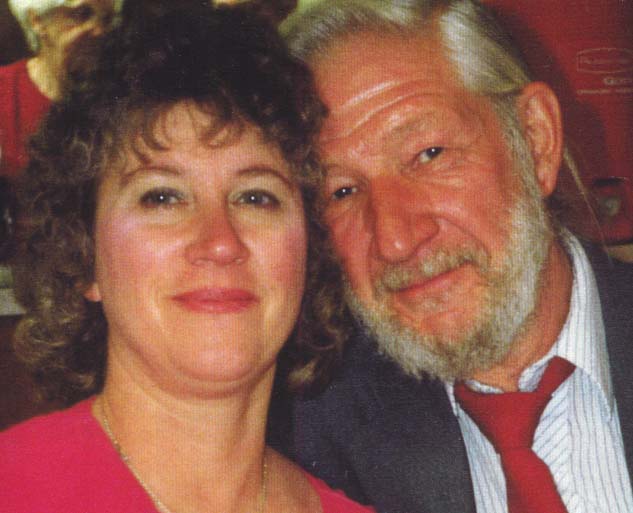 by his wife Ann Miller
In the 19 years I've known my husband, I got to see many sides of him. Ethan Miller was a man who valued his privacy. I don't think the word "ego" was in his vocabulary. He was not one to claim the limelight or be the life of the party. He preferred his solitude and, with his humble manner, he stood out in a crowd as one who marched to the beat of his own drummer. He was a shining jewel in the vast sea of humanity, and those of us who were privileged to spend time with him know just how fortunate we were.
Ethan thought nothing of stopping to assist a stranger in need. Especially during his three years as a volunteer campground host at McClure Pass in Colorado, he helped many people who were either stranded or in some kind of predicament. Without considering the risk to himself, he lent a helping hand and went out of his way for others. I know for a fact that the Paonia Ranger District received lots of notes in the payment box at the campground, raving about how wonderful was their campground host, and how nicely he kept the sites mowed and the trash picked up. It was with mixed feelings that Ethan gave up that volunteer job, frustrated because of Forest Service politics and the feeling that he was being taken advantage of and possibly even resented for his good works.
My husband was more than just a stepfather to my three boys. They loved him, and in many respects considered him more a father than their own dad. The youngest one, Scott, was only 4 years old back in 1990. Ryan was 13 and Marty 8. I'm sure the last thing Ethan wanted was to get strapped into a relationship with me and have to help raise kids after he thought he was done. He valued his freedom, and I had no objection when he left Colorado to spend his winters in Arizona. While I learned independence and how to stand on my own two feet during his absences, he remained loyal, caring and was always there for me when needed.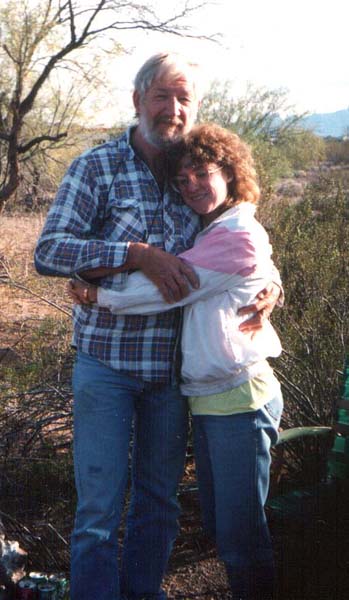 His winters in Why ended when our elderly friend, Julian, got sick in November 1999. Ethan stayed and took care of the old man himself until we could hire a live-in nurse. With the property coming into our hands, we worked together to build a home for ourselves. But Ethan did the hardest work. He remodeled the house, built a barn to house our mules, converted a garage into a chicken house for me, and took pride in everything he did. Our home on Stucker Mesa was our pride and joy, and when the time came that we had to leave it, we had sorrow in our hearts.
In the year 2000 Ethan was instrumental in saving a destitute young woman. He helped move her from a ghetto in Cincinnati to our hometown in Colorado. He not only found a house in town for her to rent that was approved by HUD, but he and another man drove out to Ohio to move her. For months Ethan extended his friendship in helping this woman, who may have had many problems, but soon rallied and became a respected member of our community, as well as my close friend.
It was on Sept. 1, 2001 that Ethan and I exchanged marriage vows in the Paonia United Methodist Church. It was the 12th anniversary of our recognition of each other as soul mates. The years I have known Ethan have been the happiest of my life. I have been privileged to get to know Ethan's family and relatives, and particularly in the last two years that we have been lived in Ohio.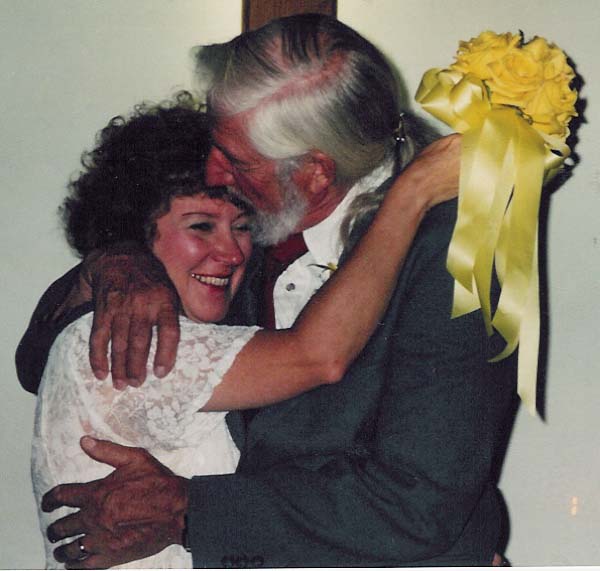 There is so much more to tell about this remarkable man. In 2009 I plan to publish my book, Throughout All Time, which is about my life with Ethan from the time we first met. It will reveal the many interesting, unparalleled events that happened to us and why our relationship was so special and divinely inspired. Even though Ethan valued his privacy and would often get upset with me if I talked about him in an e-mail to family and friends, he grew more lenient toward the end of his life. He came to understand the value of sharing with others.
Even though Ethan never finished high school, he was one of the most intelligent people I've ever known. He was dyslexic and could not spell, yet he wrote an entire novel and became a published author. I've often remarked jokingly that if Ethan had succeeded at getting a college degree, he would have been dangerous, due to his rebellious nature, and might have ended up in prison. The truth is, Ethan Miller was a storehouse of knowledge and skills. Any time anyone needed something fixed, Ethan could make it work. I will miss having him around to take care of all those little problems that would crop up from time to time.
Being outdoors was something he cherished. He loved camping, hunting and trapping, fishing and just hiking in the woods, or on the desert, or in the mountains. One April weekend in Colorado, we camped out at McClure Pass during a freak spring snowstorm. The snow was piled up to the tops of the picnic tables. I had my cross-country skis and Ethan wore snow shoes. He was truly in his element. I'll always remember how he built a leanto beside our tent and made a camp fire, then kept me warm while my clothes dried. Even though I was cold and wanted to go home, he was having the time of his life, and it was really fun to be there with him.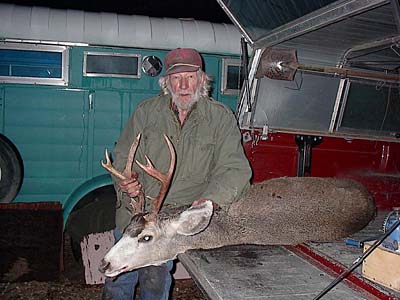 I used to find it interesting that Ethan never identified himself when he called anyone. The reason was, of course... he didn't have to. I will never forget his voice or the way he talked. He was unique, and whenever he called up some business on the telephone — be it the hardware store or the bank or the lumber yard — the person on the other end of the line always knew right away that it was Ethan. His voice was unmistakable.
My nephew, Geoff Schumacher, from Las Vegas, said this about Ethan: "I remember fondly the day I spent at your place in Colorado when Marty and I were transporting Grandma's stuff to Madison. It was a relatively modest, uneventful 12 or 15 hours, as I recall, but I thoroughly enjoyed spending time with Ethan at your hilltop ranch. Ethan always was a very interesting guy, and I enjoyed talking with him on various subjects during that visit. I'm not sure I can even remember any of the specifics, but I do remember that I was captivated by his personality and found myself mimicking a few of his conversational mannerisms for several weeks afterward. Weird, I know, but true."
My friend Celest in New Mexico wrote: "Ethan was a rare human being because he knew how to live life. A part of Ethan will always be with you ... in a good way."
Our friend Will Mitchell in Texas wrote: "I guess what I remember of him most is when me and Ethan drove over to Utah, within sight of the far eastern cliffs of Canyonlands National Park, to dig selenite. It was so remote, and just me, Ethan and Big Red were there. We camped and dug huge chunks of selenite for three days, just camping out. Not a sound could be heard, only the crackle of a fire at night, as we slept out on the open ground with the stars so close, you could just reach up and touch them. Ethan was a worker, a big strong man who made two of me. He had that strong work ethic you see in all those Ford factory workers — a big strong man who never was afraid to speak his mind — but what was different about him was a gentleness that went along with it — a gentleness you usually don't see in a man who has worked so hard physically his whole life. Most factory men were more macho. I think that is what I remember most about him — is his great balance of physical strength along with a kind gentleness. I will miss him and always admired his loyalty to you."
From Peggy, the girl from Taiwan who was dating Marty: "I remember the Christmas I had in Colorado, which was the first time I saw Ethan. He looked so good and healthy when I met him. Although he has now left, he is and will still be so healthy in my memory. May he rest in peace."
From Marcy: "Ethan made a difference in my life by helping me relocate to a better place where I could grow and evolve. He helped me get established and I'm thankful for our friendship and helping me get that little house."
From my sister Alice: "I will miss Ethan deeply. I was always in awe of his knowledge of the mountains and his wonderful way with animals."
From Paonia artist Diane Sylvain: "I liked Ethan so much — the day you two got married shines in my memory. May you find comfort in knowing how deeply Ethan is loved. He suffered so much, and fought for so long. May God be with you and your family in this hard time."
From my niece Lonna Morouney in Wisconsin: "Ethan was a very special man and we will all miss him."
From Rita Murphy in Paonia: "I was so privileged to have known Ethan and mourn your loss of husband, friend, father and dearest companion. My friend Frank always asked about him and just recently re-read Ethan's book. He felt close to Ethan, even though we two spent little time with him and you. I remember with great fondness how wonderful it was when the both of you attended High Country News' Christmas suppers as Frank felt so comfortable knowing Ethan was going to be there."
Ethan was indeed comfortable to be around. He just had this energy about him that made you feel good in his company. It amazed me that even in his final hours, he found things to look forward to and kept a positive attitude and a sense of humor. Ethan Miller was not a church-going man, but he loved God and he loved his family as well as his fellow man. He had his own spiritual connection with the Creator, and there is no question in my heart or mind that he has found his way Home.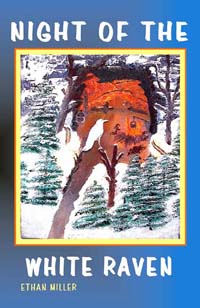 To leave comments, please e-mail starbeacon@gmail.com. Thank you.
Published in 2006 by Earth Star Publications, NIGHT OF THE WHITE RAVEN was written by Ethan Miller, based on his past-life memories of being a mountain man and a trapper in the early 1800s. First-edition copies are still available. For inquiries, e-mail: lightworker@earthstarpublications.com or go to http://earthstar.tripod.com/Raven.html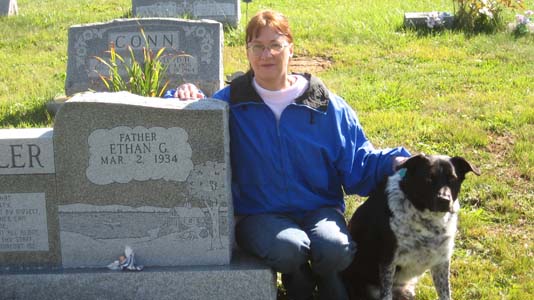 Wife Ann and dog Ranger saying goodbye
---
Remembering Uncle Ethan (Eulogy written by his niece, Amy Rohaley)
When Ethan was born, my mom claims she got to name him. She was especially proud that his middle name was Godfrey, after a great-great-grandfather whose name was Gottfried Stahl. My mom was very fond of all of her siblings. She had endearments for each one — Eesie-boy is what she called Uncle Ethan.
When my cousins and I were much younger, the "Ohio families" would go for a yearly picnic at Nelson Ledges. Nelson Ledges has some awesome rock formations, trails and small caves that you could hike through and climb. Uncle Kerm, Ethan and my dad would take us cousins to climb the rocks. My dad couldn't climb because he had been in a bad car accident and had pins and plates in his legs and knees. So Uncle Kerm would lead the expedition, and it would be Uncle Ethan rustling up the stragglers — pulling us up rocks when we couldn't climb on our own, or encouraging us to jump over a small crevice or stream. Those certainly were fun picnics, and I'm sure all of us nieces and nephews still smile when we remember those times.
When I was a senior in high school some 30 years ago, I was trying to acquire whatever scholarship money I could to go to college. I thought that maybe I could get an art scholarship. Uncle Ethan agreed to photograph my artwork in the form of slides so that I could submit them for scholarship review. We were, of course, working on a tight deadline when a MAJOR snowstorm hit. He left his home HOURS before he had to be at work for the midnight shift at the Ford plant, and it took him more than an hour to make the 20 minute drive to our house — with his camera, lights, stands, etc. in tow. He hauled all the equipment into our house through all that snow, and set up everything and photographed it all. It took him a couple of hours — then he had to go to work — still through the snowstorm. He could have easily called and said, "Sorry, the weather is too bad," but instead, he tried his absolute best to help me out.
And I am still embarrassed to this day that: At my high school graduation party in 1978, I accidentally backed a car into Uncle Ethan's brand new blue car, breaking the grill and headlights. He wasn't thrilled of course, but he did not get mad and holler. He must have replaced the broken parts himself, because the replacement bill was not very high. I was absolutely mortified at what my carelessness had done, but he never mentioned that incident again.
Ethan would stop in to visit with my mom on his way to work many times after my dad died in 1979. I'm sure he was checking up on his big sister, and I know she enjoyed and appreciated his company. And I have to say a few words about relish: Uncle Ethan loved homemade relish. In his last years in Ohio, before he moved to Colorado, my mom loved to make relish with him. He would stop by to visit with her, and bring some tomatoes or onions. Then she'd get some green peppers and cucumbers, and before you'd know it, they'd have the syrup boiled, the veggies ground up, mixed and canned into relish.
My grandma came to live with my mom and me a few years before she passed away. One day I came home from school, and was I ever happy to see a skillet on the stove, steam puffing out from under the lid. Curious to see what was for supper, I lifted the lid, peered through the steam, and slammed the lid back down as fast as I could. There were little squirrel bodies in there! My mom was laughing so hard, she could barely talk.
Apparently Grandma told Uncle Ethan that she hadn't had squirrel for dinner for a very long time. He, of course, was glad to provide some for her dinner. I think I ate a peanut butter sandwich that night.
Uncle Ethan (and Uncle Kerm) were always coming to our house to help out with some building or repair project — roofing, installing pull-down attic stairs, boarding up the breezeway for the winter, digging up the well (which always happened in snowy conditions), helping move my used piano from the second story of a house; coming to the rescue when our car broke down many, MANY times. Uncle Ethan built and installed a bathroom vanity and linen closet for my mom. I'm sure he did MANY other favors for her that I don't know about.
Gosh, now that I'm thinking about it, Uncle Ethan did so many things for my family, and me... and I can't think of anything I ever did for him.
I could never repay all of his kindnesses. You wonder why it has taken me two weeks to write this message? Because I keep crying. This has been a humbling experience, remembering my uncle's good deeds. I wish I had shown him more appreciation.


RETURN to EARTH STAR's Home Page