GREETINGS, TERRANS!
Welcome to Earth Star on the Web. Here you will find a wealth of articles on diverse topics including UFOs and extraterrestrials, the paranormal, healing, earth changes, spirituality, the latest sightings, channeling, astrology, book reviews, art, poetry, plus conference news and reports, and a whole lot more.
WHERE WOULD YOU
LIKE TO GO?


The Star Beacon: Earth Star's monthly paranormal newsletter. Subscription info can be found by clicking here.




BOOKS
Earth Star's Book Gallery features metaphysical, self-help, children's literature and adult fiction. Visit now by clicking here.





PSYCHIC READERS
The NEW Psychic Readers Directory lists Intuitive Counselors from all over. Check out who's doing what, and how to contact them, by clicking here.




THE BEST OF
THE BEACON
Selected articles which have appeared over the years in The Star Beacon
Click here.




CONFERENCES
Earth Star's annual Love and Light Conference. Also check out other conferences by clicking here.





FRIENDSHIP CLUB
Earth Star's Galaxy Wide Friendship Club is the place to find like-minded pen pals. Visit now by clicking here.





ART GALLERY
Earth Star's NEW Art Gallery features paintings by Ryan Ulrich plus an assortment of art (including extraterrestrial). Visit now by clicking here.





ARIZONA PAGE
Visit exotic and beautiful Why, Arizona. You can go there by clicking here.




MULES
Animal lovers will get a "kick" out of our Mule Page, featuring the Stucker Mesa Mules. Click here.


PUBLISHING
Earth Star Publications offers book packaging services for self-publishing authors, as well as a lot more. Please see our List of Services.
ADVERTISE HERE!
Advertise your wares or services here by placing an ad in The Star Beacon. To view CLASSIFIED ADS click here. For more information on advertising, e-mail us at UFOeditor@yahoo.com. For information regarding the Psychic Readers and Healers Directory, please e-mail starbeacon@gmail.com.
THE PASSAGE FROM DARK INTO LIGHT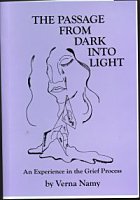 by Verna Namy

An Experience in the Grief Process

Death is a transition, not only for the person who has died, but also for the person left behind. The purpose for writing this book is to let people who are experiencing grief realize they are not alone. This book contains helpful suggestions for the person going through the grief process. You will also find simple ideas that might help someone you know work through this transition in their life.
Born and reared in Paonia, Colorado, a small town in the Rocky Mountains, Verna Namy moved to the Middle East with her husband and lived in Iran for eight years. She has worked as a middle school librarian for 23 years, after returning to the United States in 1979. This story was written in memory of her husband, who died several years ago. Verna has two grown children and feels strongly that books are a wonderful tool in the education of children. She is the author of children's books: Ancient Secrets in the Garden and BaBa Ali and His Magical Pajamas. Her first book, Friends Forever, was published by Kabel Publishers.
---
ISBN 0-944851-16-9 1999
SELF-HELP/GRIEF THERAPY Retail $9.95

Order
THE PASSAGE
FROM DARK
INTO LIGHT
You can also order THE PASSAGE FROM DARK INTO LIGHT by sending check or money order for $12.95 (postpaid) to:
EARTH STAR, 216 Sundown Circle, Pagosa Springs, CO 81147.
---
Copyright © 2002 Earth Star Publications
For permission to reprint articles or use graphics, e-mail starbeacon@gmail.com.