Ancient Secrets in the Garden
by VERNA NAMY
illustrated by Mary Martin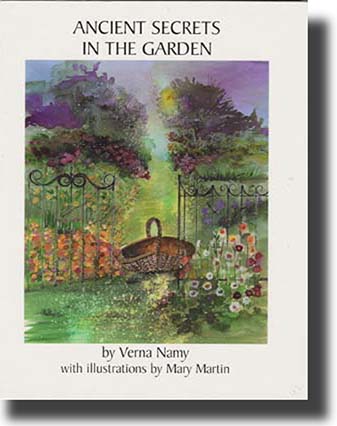 The ancient secrets of herbs, flowers and tea are revealed in this colorful, beautifully illustrated children's book
In an enchanted garden by the sea, Jennifer encounters fairies from near and far. Meet Ismar, Aswad, Jolly Bee, Shaheen, Pamjam and others, who teach Jennifer how to use herbs in different ways. Recipes are included. A treasure for both young and old.
ISBN 0-944851-18-5 October 2001
JUVENILE FICTION Retail $18.95
ON SALE from Earth Star for $8.95
A NOTE FROM THE PUBLISHER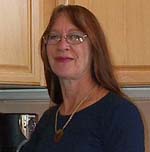 About Ancient Secrets in the Garden



Verna Namy has once again teamed up with artist Mary Martin to produce a children's book, Ancient Secrets in the Garden. This time the book is hardback, 8"x10", 32 pages, and fully illustrated in color.
The characters are all delightful people from the fairy realm. Jennifer has been chosen to learn the knowledge of the herbs, so she can help others in our world.
Along with being a spellbinding storyteller, Namy offers at the end of the book several recipes passed on to her from her mother, Romeio King, who was an herbologist and wanted to pass her knowledge on to others.
Besides tasty recipes for dishes and party food, there are recipes for everything from salad dressing to hair rinse, shampoo, facial cleanser, skin softener, and a special notebook on the ways certain herbs can treat ailments in the body.
After reading this book, you'll want to go pick some rose hips to make syrup, candy or jelly. Or you might get a craving for violet flower sandwiches, elderberry flower fritters or cattail pancakes. It's a book you'll want as a keeper, because paging through the more than 30 watercolor illustrations is such a delight to the eye. It's the kind of book a child will treasure all of her life -- and ask to have read to her over and over again.

-- Ann Ulrich Miller

Order

THE ANCIENT SECRETS IN THE GARDEN

You may also order the book by sending check or money order for $11.95 (postpaid) to:

EARTH STAR PUBLICATIONS

113 Valley View Drive, Forks WA 98331

Washington residents please add $1.00 sales tax

BACK TO WHAT'S NEW

GO TO EARTH STAR'S HOME PAGE

This page updated April 24, 2014
STAR BEACON
SUBJECT INDEX
2013 2012 2011
2010 2009 2008
2007 2006 2005
2004 2003 2002
2001 2000 1999
1998 1997 1996
1995 1994 1993
1992 1991 1990
1989 1988
Back issues available for $2.00

CLICK HERE to receive FREE monthly newsletter

Earth Star Books
Browse our Book Catalog to view all our books and publications.
We also sell Cosmic business cards!
SIGN UP for Star Beacon bimonthly updates!


Click to join starbeacon
Publishing Professional
Earth Star offers editing and production services for self-publishing authors, plus a lot more. You may inquire by contacting us at starbeacon@gmail.com
See all we offer in the way of publishing services. Check it out...
Psychic Readers Page
Our free directory lists intuitives ready to assist you... View Psychics Page...