GREETINGS, TERRANS!
Welcome to Earth Star on the Web. Here you will find a wealth of articles on diverse topics including UFOs and extraterrestrials, the paranormal, healing, earth changes, spirituality, the latest sightings, channeling, astrology, book reviews, art, poetry, plus conference news and reports, and a whole lot more.
WHERE WOULD YOU
LIKE TO GO?


The Star Beacon: Earth Star's monthly paranormal newsletter. Subscription info can be found by clicking here.




BOOKS
Earth Star's Book Gallery features metaphysical, self-help, children's literature and adult fiction. Visit now by clicking here.





PSYCHIC READERS
The NEW Psychic Readers Directory lists Intuitive Counselors from all over. Check out who's doing what, and how to contact them, by clicking here.




THE BEST OF
THE BEACON
Selected articles which have appeared over the years in The Star Beacon
Click here.




CONFERENCES
Earth Star's annual Love and Light Conference. Also check out other conferences by clicking here.





FRIENDSHIP CLUB
Earth Star's Galaxy Wide Friendship Club is the place to find like-minded pen pals. Visit now by clicking here.





ART GALLERY
Earth Star's NEW Art Gallery features paintings by Ryan Ulrich plus an assortment of art (including extraterrestrial). Visit now by clicking here.





ARIZONA PAGE
Visit exotic and beautiful Why, Arizona. You can go there by clicking here.




MULES
Animal lovers will get a "kick" out of our Mule Page, featuring the Stucker Mesa Mules. Click here.


PUBLISHING
Earth Star Publications offers book packaging services for self-publishing authors, as well as a lot more. Please see our List of Services.
ADVERTISE HERE!
Advertise your wares or services here by placing an ad in The Star Beacon. To view CLASSIFIED ADS click here. For more information on advertising, e-mail us at UFOeditor@yahoo.com. For information regarding the Psychic Readers and Healers Directory, please e-mail earthstar@tripod.net.
FROM SIRIUS TO EARTH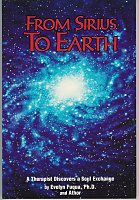 by Evelyn Fuqua, Ph.D. and Athor

A Therapist Discovers a Soul Exchange

Through hypnosis, Dr. Evelyn Fuqua leads Rose-Athor through a fascinating journey in which the Rose soul was replaced by Athor, from the Council of Twelve on the etheric plane of the star system Sirius. This is a "must read" true story that will assist you in your own soul's evolution.
Here's what reviewers have to say:
"Dr. Fuqua is commended for her curiosity, courage, and competence in assisting Rose and the reader toward greater self understanding and higher soul understanding."

-- Leo Sprinkle, Ph.D.,
Professor Emeritus, University of Wyoming
Researcher and ET Contact Author
---
"Dr. Fuqua should be commended for her courage in writing a book that will, no doubt, shake the accepted paradigms of the professionals working in the psychological and counseling areas. Let her work lay a new foundation for examining the nature of reality in the 21st century."

-- Dr. Norma Milanovich, Lecturer and Author of
The Light Shall Set You Free
and We the Arcturians
---
Published in 1997 by Inner Eyes Books ISBN 1-880666-65-0
METAPHYSICAL/REINCARNATION/SPIRIT COMMUNICATION
Retail $14.95

---
Order
FROM SIRIUS
TO EARTH

---
Copyright © 2002 Earth Star Publications
For permission to reprint articles or use graphics, e-mail earthstar@tripod.net.