Conversations with John Cali and Chief Joseph
by JOHN CALI
© 2010 (all rights reserved)
An article from the OCTOBER 2010 issue of THE STAR BEACON.
NORMAL
What is "normal"? I've often pondered that question. Have you?
John Cali
I've worn contact lenses for distant vision most of my life. One morning, about 16 years ago, I was driving down the highway when I realized I'd forgotten to put in my contact lenses. Yet I could see perfectly. My perfect vision, without contact lenses, lasted the whole day.
Was that normal?
In my yearly visit to my eye doctor last month (the only doctor I ever see), he said my vision had actually improved over the previous three years.
That was not normal, according to the statistics.
I've been jogging about 45 years, most of my life. One hot summer afternoon I'd jogged several miles when I suddenly realized I was not sweating, breathless, or tired. I felt as if I'd been taking a leisurely stroll on a cool summer morning.
Was that normal?
In his book, Quantum Healing, Deepak Chopra talks about the Tarahumara Indians of Sonora, Mexico. They've become famous for their physical feats. Some of these Indians run 25- to 50-mile marathons every week, at high elevations, and without tiring.
The winner of one of those marathons was examined just before and after the race. His heart rate after the race was slower than before.
Was that normal?
Just what is "normal" anyway? For our physical bodies or for any other aspect of our lives?
Here's Chief Joseph.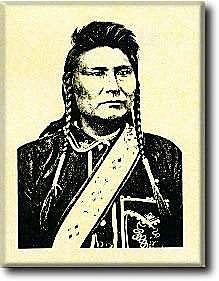 Chief Joseph
You often define yourselves and your lives by what society tells you is "normal."
It's not normal to be able to run 25 or 50 miles without tiring. It's not normal to see perfectly without corrective lenses if you've worn them all your lives.
Normal, friends, is an illusion. Or at best a misperception. It's a state of being you've allowed the mass consciousness to impose upon you -- and, in a real sense, to imprison and shackle you with its limited thinking.
You've accepted all this without really thinking much about it. That too is "normal."
What if we said you could redefine "normal"? And let your redefinition become your "normal"?
Well, you can.
And if you did, that would indeed become what is normal for you.
But most humans could not sustain that redefined state of normal because they'd be talked out of it by family, friends, society.
And yet that is what we think you should all do -- you define what is normal for you, not letting the mass consciousness decide what's good, right, and normal for you.
If you will just humor us and consider what we've just said -- seriously consider it -- then you would find what you call miracles becoming as normal as normal can be.
In redefining what is normal for you, you will redefine your lives. And you will be catapulted into realms of joy and abundance you never dreamt existed.

FREE BOOK!
The Book of Joy: How to Live Every Day of Your Life Happily Ever After.
Get Chief Joseph's wise advice and guidance on how to live your life exactly the way you want to, and how to do it with deep joy. Surf to: www.greatwesternpublishing.org/boj.html

Email: john@greatwesternpublishing.org
Website: http://www.greatwesternpublishing.org
Free newsletter: chiefjoseph-on@mail-list.com
Private readings with Chief Joseph: http://www.greatwesternpublishing.org/readings.html


Copyright © 2010 by John Cali
All rights reserved
This article was originally published here:
www.greatwesternpublishing.org
BACK TO WHAT'S NEW
GO TO EARTH STAR'S HOME PAGE
This page updated February 8, 2011
STAR BEACON
SUBJECT INDEX
2011 2010 2009 2008
2007 2006 2005 2004
2003 2002 2001 2000
1999 1998 1997 1996
1995 1994 1993 1992
1991 1990 1989 1988
Back issues available for $2.00

CLICK HERE to receive FREE monthly newsletter

Earth Star Books
Browse our Book Catalog to view all our books and publications.
We also sell T-shirts and Cosmic business cards!
SIGN UP for Star Beacon monthly updates!


Click to join starbeacon
Publishing Professional
Earth Star offers editing and production services for self-publishing authors, plus a lot more. You may inquire by contacting us at starbeacon@gmail.com
See all we offer in the way of publishing services. Check it out...
Psychic Readers Page
Our free directory lists intuitives ready to assist you.. View Psychics Page...