Conversations with Chief Joseph and John Cali
by John Cali
© 2010 (all rights reserved)
An article from the NOVEMBER 2010 issue of THE STAR BEACON.
FORGIVENESS
Do you find it hard to forgive someone who perhaps has hurt you? Or maybe you find it hard to forgive even yourself for past misdeeds.
John Cali
I have a lifelong friend I grew up with. Though we've drifted apart over the years, we're still in touch occasionally. Sue (not her real name) never got along well with her mother.
After Sue married, the estrangement grew deeper and more bitter. Eventually her mother became very ill, but lingered on a few years. Sue refused to ever visit or call her. Then her mother died. Sue did not go to the funeral and, to all appearances, had erased her mother's memory from her mind.
But had she really? I cannot imagine myself going through that experience. How would I feel, now that there was no chance of reconciliation? At least in this lifetime. How would you feel?
Here's Chief Joseph.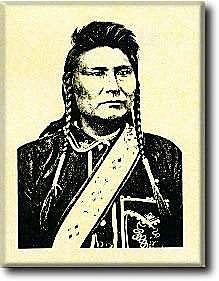 Chief Joseph
We are going to say something right here at the start which may surprise or even shock some of you:
There is never a need or reason to forgive another person. That's not your job.
True forgiveness, friends, is forgetting -- forgetting the pain, the anger, the sadness -- and remembering the love.
Forgiveness is really about letting go. Letting go, and forgetting, the pain you're holding onto. And whatever that pain is, you -- not the other person -- created it. The pain is self-inflicted. Always, no exceptions.
Forgiveness has nothing to do with the other person. It has everything to do with you, and only you.
Do you think God holds grudges? Do you think your higher self holds resentments?
When you are willing to go through that process you call forgiveness, you are remembering who you are, who your higher self is -- God.
If you insist on forgiving, then forgive yourself. Whatever real or imagined harm the other person did, did not hurt you. Only your thoughts allowed you to be hurt.
No one can hurt you without your consent. The other person, acting in the best way she or he could in the moment, was there in that moment because the two of you co-created that experience.
No one is to "blame."
If you see such situations from your higher self's perspective, your pain will go away. All that will remain is the love.
Pain is illusion. Love is real.
FREE BOOK!
The Book of Joy: How to Live Every Day of Your Life Happily Ever After.
Get Chief Joseph's wise advice and guidance on how to live your life exactly the way you want to, and how to do it with deep joy. Surf to: www.greatwesternpublishing.org/boj.html

Email: john@greatwesternpublishing.org
Website: http://www.greatwesternpublishing.org
Free newsletter: chiefjoseph-on@mail-list.com
Private readings with Chief Joseph: http://www.greatwesternpublishing.org/readings.html


BACK TO WHAT'S NEW

GO TO EARTH STAR'S HOME PAGE
This page updated February 4, 2011
STAR BEACON
SUBJECT INDEX
2011 2010 2009 2008
2007 2006 2005 2004
2003 2002 2001 2000
1999 1998 1997 1996
1995 1994 1993 1992
1991 1990 1989 1988
Back issues available for $2.00

CLICK HERE to receive FREE monthly newsletter

Earth Star Books
Browse our Book Catalog to view all our books and publications.
We also sell T-shirts and Cosmic business cards!
SIGN UP for Star Beacon monthly updates!


Click to join starbeacon
Publishing Professional
Earth Star offers editing and production services for self-publishing authors, plus a lot more. You may inquire by contacting us at starbeacon@gmail.com
See all we offer in the way of publishing services. Check it out...
Psychic Readers Page
Our free directory lists intuitives ready to assist you.. View Psychics Page...