An excerpt from Soul Shift
2012 and Beyond
by JUDITH HORKY
© 2011 (all rights reserved)
An article from the JULY 2011 issue of THE STAR BEACON.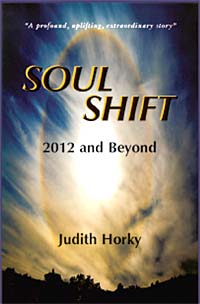 EDITOR'S NOTE: The following is an excerpt from Chapter One of EarthShift's sequel.

Yes, what a long, strange trip it's been, Julie thought as she waited in the sunlight on the wide, weathered deck for Jesse to answer her call. Breathing in the glorious scents of meadow flowers and pinion pines, and enjoying her view of Crystal Mountain, she thought about the strange and twisted path which had led to her own spirituality. It still seemed improbable—if not impossible—and, she admitted without regret, more the stuff of dime novels or bad poetry than prayer books.
Oh, there'd been plenty of religion in her past. The American branch of the family history began with an Irish immigrant great-grandfather who'd converted from Catholic to Protestant the minute he'd stepped off the boat. Young Bowen Cramer soon discovered that in his family, blood was thicker than water, but not holy water.
Bowen's son, Bryan, her jack-of-all-trades grandfather, had been seized in his middle years by a Christian fervor so hot and bright, he'd eventually built his own chapel. He'd raised spirits as well as vegetables, and delivered "The Word" as well the U.S. Mail. He'd told Julie, when she was just a little girl, that "the man on the throne up there watches every move we make, so you'd better be a good girl." Scary stuff.
Oh Gramp, if you could see me now, what would you think? Of this reality. The Fifth Dimension. Flying on spaceships. Traveling with only the power of your mind. Conversing with E.T.s. And angels, for Pete's sake! Archangels, at that! And your great-great-grandson chosen—by Gabriel himself—to have a hand in saving the world.
That thought brought Julie back to the present with a jolt. No matter how great the honor, Gabriel's assignment was a huge responsibility—especially for one so young. As much as Julie and her husband, Dave, had always made it their first priority to provide a strong support system for their family, she knew it was especially important that they be there for Jesse.
Cupping her hands around her mouth, she called again, "Jesse!"
No response.
Since the dinner bell was about the only thing that could bring her grandchildren back from their adventures once they were running loose on the ranch, Julie rang it with enthusiasm.
"Jesse! We need to talk!"

You can order Soul Shift: 2012 and Beyond from Amazon.com or CreateSpace for $15.00. Or send $18 postpaid to Judy Horky, 1136 Lakeside Drive, Pagosa Springs, CO 81147. Soul Shift is also for sale as an eBook from Nook and Amazon Kindle for $9.99.

BACK TO WHAT'S NEW
GO TO EARTH STAR'S HOME PAGE
This page updated July 14, 2011
STAR BEACON
SUBJECT INDEX
2011 2010 2009 2008
2007 2006 2005 2004
2003 2002 2001 2000
1999 1998 1997 1996
1995 1994 1993 1992
1991 1990 1989 1988
Back issues available for $2.00

CLICK HERE to receive FREE monthly newsletter

Earth Star Books
Browse our Book Catalog to view all our books and publications.
We also sell T-shirts and Cosmic business cards!
SIGN UP for Star Beacon monthly updates!


Click to join starbeacon
Publishing Professional
Earth Star offers editing and production services for self-publishing authors, plus a lot more. You may inquire by contacting us at starbeacon@gmail.com
See all we offer in the way of publishing services. Check it out...
Psychic Readers Page
Our free directory lists intuitives ready to assist you.. View Psychics Page...