Commander's Star Base:
Ask an ET
by Commander Sanni Ceto
© 2012 (all rights reserved)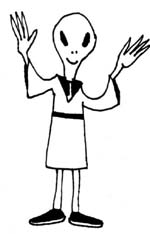 An article from the AUGUST 2012 issue of
THE STAR BEACON.
Q:
Hello, Sanni,
I am 18 years old and I am sick of people that are filled with hatred. I wish we all could be like you, so full of love. Recently I have been feeling down and can't seem to get up, I feel like I am out of energy. If you can, please send me good energy. Also, I seem to be stuck in life, I don't know which way I should go. Please help me, Sanni. Thank you! I may not know you personally, but I love you! And I am sending you lots of love! Lucia

A: Dear Lucia,
First of all, visualize yourself within a sea of calmness with all your cells filling up with a renewed life force in your inner body. Your inner courage, as well as your inner voice, will guide you as to the path in your chosen destined life.
Namaste from Commander Sanni

Q: Dear Commander,
Is there any chance that an ordinary person could make contact with aliens? I think I saw a UFO. Since then I bought an astronomer's binoculars and video camera (don't want to miss another chance to document it, if that ever happens again). I'm so exited and would like to have some way to see them again! Excuse my english! Olga



A: Dear Olga,
As long as you have an open mind without skepticism, you might see some. As far as contact, that is up to your own guides and your belief system, for contact can't be forced just to have proof. Love, Commander Sanni
Q: Dear Commander Sanni,
I don't understand... 1/4 of the inhabitants of Earth are Pleiadian, but the Reptilians make up the largest portion of ETs? So... more than 1/2 of the humans are actually ETs?
Thanks -- Grace


A: Dear Grace,
On a soul level all humans on Earth currently are of ET origin, but over the eons the Reptoids lived and ruled here and they intermixed with these humans, who at that time were descendants from the Pleiades sectors. This created a hybrid human. Currently most humans on Earth are Reptoid hybrids with a few humans who are not intermixed with any species.
Love, Commander Sanni

Q: Hello, Commander Sanni,
My question is about the outer races/beings. How will we be able to tell the malevolent from the benevolent? Also, I understand that Reptilians live in inner Earth. Are there also benevolent beings there as well? Take care and thank you for speaking to us.
Sharla


A: Dear Sharla,
To differentiate between benevolent and malevolent species, you have to learn to read energies, for most ETs disguise themselves or shape-shift to appear as humans. Once you can read energies and vibrate at their level or cycles per second, then you'll sense that negative ETs have a dense, heavy, draining energy whereas benevolent ETs have a clean, calming, peaceful energy that is uplifting and healing. There are not many Reptilians within Agartha as the people in there are the ancient Pleiadians and a few other species.
Love, Commander Sanni

Special Announcement!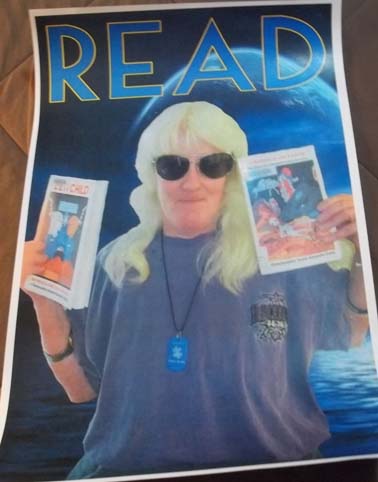 Commander Sanni's books, STRANDED ON EARTH and ZETI CHILD
have been archived in the Roswell UFO Museum.
Special thanks to Mara & David Edwards for their help with this accomplishment!
Commander Sanni Ceto's two books, Stranded On Earth and Zeti Child, are available through Amazon.com or follow the link at www.earthstarpublications.com/Stranded.html.
Stranded On Earth and Zeti Child are both now in ebook format at Amazon Kindle (for just $6.95).


If you have a question for Commander Sanni Ceto, please e-mail it to UFOeditor@yahoo.com and put "Ask ET" in the subject line. The Commander is happy to answer any and all questions.
BACK TO WHAT'S NEW
GO TO EARTH STAR'S HOME PAGE
This page updated August 7, 2012
STAR BEACON
SUBJECT INDEX
2012 2011 2010
2009 2008 2007
2006 2005 2004
2003 2002 2001
2000 1999 1998
1997 1996 1995
1994 1993 1992
1991 1990 1989
1988
Back issues available for $2.00

CLICK HERE to receive FREE monthly newsletter

Earth Star Books
Browse our Book Catalog to view all our books and publications.
We also sell T-shirts and Cosmic business cards!
SIGN UP for Star Beacon monthly updates!


Click to join starbeacon
Publishing Professional
Earth Star offers editing and production services for self-publishing authors, plus a lot more. You may inquire by contacting us at starbeacon@gmail.com
See all we offer in the way of publishing services. Check it out...
Psychic Readers Page
Our free directory lists intuitives ready to assist you.. View Psychics Page...