Conversations with Spirit and John Cali
by JOHN CALI
© 2015 (all rights reserved)
An article from the April 2015 issue of THE STAR BEACON.
How Do You Express the Light of God?

"God must become an activity in our consciousness." -- Joel S. Goldsmith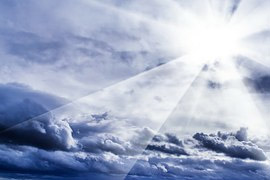 John
Last weekend, as I was walking out of the grocery store, I saw a tiny elderly lady walking toward me. She had a cane and was hobbling, struggling to just take one step at a time. Suddenly she stopped dead in her tracks, grimacing. Obviously she was in great pain.

I walked over to her and quietly asked if I could help. She hesitated a moment, then looked up as our eyes met for several seconds. With a smile, she replied, "I'm okay, thank you."
She had the sweetest smile and voice. As we gazed into each other's eyes those brief seconds, she was literally transformed right before me.

Instead of a bent old woman in great pain, I saw a lovely young woman of amazing grace and beauty. There was a bright light radiating all about her, and great love in her beautiful eyes.

Then the young woman vanished.

Although this sounds like pure fantasy, it was real. As I walked to my car, I realized that young woman I saw was the old woman, many years ago. But now, in a much older body, she still carried a beautiful, ageless light that radiated from within. You might call it the light of God. That's who she truly was, regardless of the condition of her body.

My heart just went out to her. Her transformation right before my eyes had transformed me in mere seconds. I felt an overpowering awareness that we truly are all one—one with each other and one with the light of God.
John Cali is a writer, blogger, and channel for a group of spirit guides. His next book is Conversations With Spirit: Real Answers to Life's Pesky Questions, Book 1. John lives in northwestern Wyoming.


*****************************


FREE BOOK!

The Book of Joy: How to Live Every Day of Your Life Happily Ever After.
Get Spirit's wise advice and guidance on how to live your life exactly the way you want to, and how to do it with deep joy. Surf to:
www.greatwesternpublishing.org/boj.html


Email:
john@greatwesternpublishing.org

Website:
http://www.greatwesternpublishing.org

Free newsletter:
chiefjoseph-on@mail-list.com

Personal readings with Spirit:
http://www.greatwesternpublishing.org/readings.html

Copyright © 2015 by John Cali
All rights reserved
This article was originally published here:
www.greatwesternpublishing.org
BACK TO WHAT'S NEW
GO TO EARTH STAR'S HOME PAGE
This page updated April 10, 2015
STAR BEACON
SUBJECT INDEX
2013 2012 2011
2010 2009 2008
2007 2006 2005
2004 2003 2002
2001 2000 1999
1998 1997 1996
1995 1994 1993
1992 1991 1990
1989 1988
Back issues available for $2.00

CLICK HERE to receive FREE monthly newsletter

Earth Star Books
Browse our Book Catalog to view all our books and publications.
We also sell T-shirts and Cosmic business cards!
SIGN UP for Star Beacon monthly updates!


Click to join starbeacon
Publishing Professional
Earth Star offers editing and production services for self-publishing authors, plus a lot more. You may inquire by contacting us at starbeacon@gmail.com
See all we offer in the way of publishing services. Check it out...
Psychic Readers Page
Our free directory lists intuitives ready to assist you.. View Psychics Page...