Good reads on palmistry and cryptozoology
COSMIC BOOK VIEWS from the June 2015 issue
of THE STAR BEACON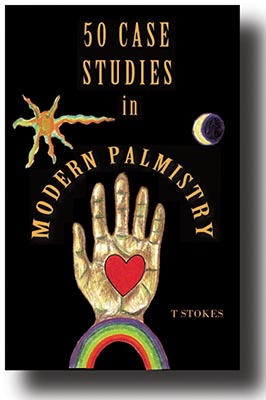 50 Case Studies in Modern Palmistry
by T. Stokes
ISBN 978-0-944851-40-1
Earth Star Publications
March 2015, 230 pages
Paper, $20.00

Review by Ann Ulrich Miller

When he was 7 years old, T Stokes discovered an unusual gift while gazing at a boy who was holding up his hand, "queuing for school dinners."
"As I gazed at his hand, the lines turned to visions of his life, which then began to superimpose one on top of another," he explains in the introduction of his new book, 50 Case Studies in Modern Palmistry. "First, he was older and standing in a smart suit with a flower in his buttonhole alongside a girl in white ... then engrossed in a workplace setting ... then playing with children again, with a very lined face, crying at a funeral."
It was a ground-shaking experience for someone so young. Stokes had no idea how it happened, but from that point on, he was able to read kids' hands on the playground, and then teachers', and as the news spread, he began to read palms for outsiders.
As the UK's holistic palmist, T Stokes has compiled 50 of his case histories, taken from articles that have been published in more than 70 magazines all around the world over the last 50 years. His informative introduction covers the details of palm reading, explaining the lines, shapes, history and science behind palmistry, and how it blends with modern healing, both physical and psychological.
There are 25 case histories dealing with such problems as chronic obesity, child trauma, anxiety and depression, heart health, nicotine poisoning,destiny vs. free will, as well as romance and even a tongue-in-cheek "protection from vampires."
Then there follow 25 chapters on famous people's hands, including Princess Diana, Margaret Thatcher, boxer Sonny Liston, actor Peter O'Toole, Michael Jackson, singer Matt Monro, the Dalai Lama, musician Ravi Shankar, Hugo Chavez, Robin Williams, and many more. An abundance of palm print photos, illustrations and diagrams gives this valuable book a depth and quality not seen in other books written about the art of palmistry.
Even if you are not that interested in palmistry, you will enjoy T Stokes' writing style and interesting anecdotes. I found that there is more to palmistry than I thought, and came away with a desire to know more. I have not been able to look at another's hand without reading the lines ... Well worth the price!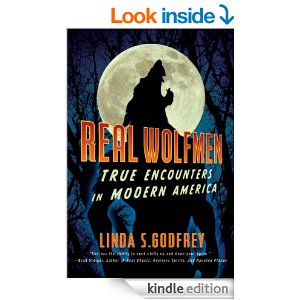 Real Wolfmen: True Encounters in Modern America
by Linda S. Godfrey
ISBN 978-1585429080
Tarcher, August 2012, 352 pages
Paper, $12.93 (Amazon)

Review by A. Raby

You're alone, driving down the highway late at night. On the side of the road, a previously unnoticed animal stands up. Instead of a deer, or even a bear, there stands something from a horror movie. It easily towers over six feet, and is covered in hair. It has a distinctive humanoid, lupine shape. Its yellow eyes scare you to the deepest part of your soul. You swear you're looking at a werewolf. Next thing you know, it's gone.
Real Wolfmen: True Encounters in Modern America by Linda S. Godfrey is filled with eyewitness encounters like this. Those with an interest in cryptozoology may recognize Godfrey as the reporter who first broke the story of the Beast of Bray Road in Elkhorn, Wis. Now she is considered a leading authority on everything werewolf.
"Real Wolfmen is a riveting work of amazing scope and depth. Manwolves, black dogs, hell hounds, weird creatures, werecats, werebears, djim, phantoms, extraterrestrials, interdimensional travelers, skin walkers, warlock werewolves, and even people who feel they are part beast are all part of the mix."
It's true. Ms. Godfrey's book is engaging and very well written. Everything is well cited, so you can launch into your own research. I learned much about the various bits of folklore about werewolves, as well as some psychological insights into witnesses.
The most exceptional thing about this book is how close to home it hit for me. Many of the sightings were within two hours of my hometown. In fact, one account takes place in Fort Atkinson, Wis., the same time that I lived there.
Overall, this book is easy to read, and at 334 pages, is full of great information. I really recommend this to anyone who researches cryptozoology or is interested in werewolves.

BACK TO WHAT'S NEW
GO TO EARTH STAR'S HOME PAGE
This page updated June 5, 2015
STAR BEACON
SUBJECT INDEX
2013 2012 2011
2010 2009 2008
2007 2006 2005
2004 2003 2002
2001 2000 1999
1998 1997 1996
1995 1994 1993
1992 1991 1990
1989 1988
Back issues available for $2.00

CLICK HERE to receive FREE bimonthly enewsletter

Earth Star Books
Browse our Book Catalog to view all our books and publications.
Publishing Professional
Earth Star offers editing and production services for self-publishing authors, plus a lot more. You may inquire by contacting us at starbeacon@gmail.com
See all we offer in the way of publishing services. Check it out...
Psychic Readers Page
Our free directory lists intuitives ready to assist you... View Psychics Page...