Conversations with Spirit and John Cali
by JOHN CALI
© 2017 (all rights reserved)
An article from the June 2017 issue of THE STAR BEACON.
Pretend You're Going to Live For Eternity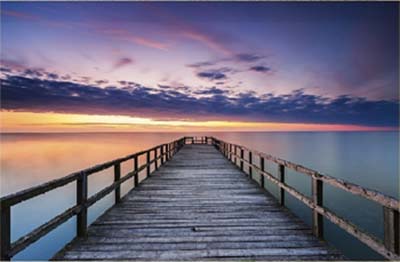 "The soul of man is immortal and imperishable."
-- Plato
John
You may have heard of an American woman named Norma Bauerschmidt. Norma's been in the news a lot over the past couple years. At the age of 90, she was hit with a real double-whammy. First, her husband of 67 years died. Then Norma was diagnosed with uterine cancer.

Sitting in her doctor's office, she listened to him go through the standard litany of her medical options: surgery, radiation, chemotherapy. Then he asked how she'd like to proceed. Norma looked the young doctor in the eye and said, "I'm 90 years old, I'm hitting the road."

And that's exactly what she did for the next year. Norma, her son Tim and daughter-in-law Ramie, spent the year in their motor home touring the United States.

In an interview with CBS News, Norma said she'd probably spend the rest of her life on the road. And she did. She told David Begnaud, the CBS interviewer, she never thought she'd have this much fun at the age of 90. Her final stop was San Juan Island, off the northwest coast of the United States. She died there. What a way to go!
Spirit
Your life is supposed to be fun. If life is not fun, if you rarely laugh, if you cannot find humor in ordinary or even challenging circumstances, you're not being your true Self. Nor are you being true to your Self.
We realize many of you, especially in your world of today, are facing daunting challenges. But when you remember who you are, when you're acting as your true Self, you'll find your challenges less daunting.
This lifetime is perfect for you, at the human and spiritual levels. Your life is a never-ending process of growing awareness.
So you might as well have some fun along the way. Do whatever it takes to make yourself feel good. If something feels good for you, then it is good for you.
Learn to be like little children again. Learn to laugh and play and have fun. It's never too late to become a little child again.
We suggest you set aside some time every day just to laugh and have fun. Do whatever it takes. Watch a funny movie, read a funny book, hang out with people who laugh a lot. Do as Johnny does and read the cartoons to start off your day. You get the idea.
Do not wait to start having fun. Do it now. Find joy in all your experiences. It's always there, but you have to look for it. Even if, like our dear friend Norma, you're facing a life-threatening illness, have fun all along the way.
Laugh. Play. Life is too important to take it so seriously. It's not serious. You don't have to pretend all is well. All really is well. You really are going to live for eternity.
John Cali is a writer, blogger, and channel for a group of spirit guides. His next book is Conversations With Spirit: Real Answers to Life's Pesky Questions, Book 1. John lives in northwestern Wyoming.


*****************************


FREE BOOK!

The Book of Joy: How to Live Every Day of Your Life Happily Ever After.
Get Spirit's wise advice and guidance on how to live your life exactly the way you want to, and how to do it with deep joy. Surf to:
www.greatwesternpublishing.org/
/the-book-of-joy/


Email:
john@greatwesternpublishing.org

Website:
http://www.greatwesternpublishing.org


Personal readings with Spirit:
http://www.greatwesternpublishing.org//the-book-of-joy/

Copyright © 2017 by John Cali
All rights reserved
This article was originally published here:
www.greatwesternpublishing.org
BACK TO WHAT'S NEW
GO TO EARTH STAR'S HOME PAGE
This page updated June 5, 2017
STAR BEACON
SUBJECT INDEX
2013 2012 2011
2010 2009 2008
2007 2006 2005
2004 2003 2002
2001 2000 1999
1998 1997 1996
1995 1994 1993
1992 1991 1990
1989 1988
Back issues available for $2.00

CLICK HERE to receive FREE bimonthly enewsletter

Earth Star Books
Browse our Book Catalog to view all our books and publications.
SIGN UP for Star Beacon bimonthly updates!

Contact email:
starbeacon@gmail.com
Psychic Readers Page
Our free directory lists intuitives ready to assist you.. View Psychics Page...