The Meaning of It All
by ANN ULRICH MILLER
© 2016 (all rights reserved)
An article from the August 2017 issue of THE STAR BEACON.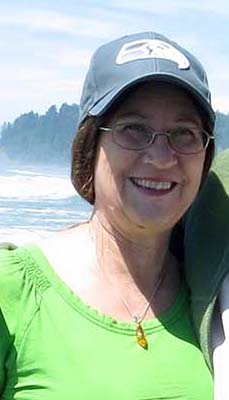 Those Who Wait
One of the hardest lessons I believe I need to learn in this life is patience. That ... and living in the Now. I may appear to be calm on the outside, even shy at times. Never has anyone reprimanded me for being overbearing, loud and obnoxious. But there are moments, such as when I decide to indulge in a good "rant" with my partner over political controversy on the evening news and afternoon radio talk shows.
Patience is one thing I'm having a hard time dealing with right now. It stems mainly from the fact that after several years, I still have not settled my housing situation. A year ago, I thought we had resolved this issue when Doug and I purchased our minifarm and I believed Sunny Brook was going to be our home.
Things happen. Utility bills scare us. Age creeps up on us. Relationships get complicated, and before you know it, you've sold something that you loved, thinking life will get better with change.
It turned out that the real estate market got really weird several months ago. Now there is hardly anything that is affordable in our area, or the area we came from, and buyers are bidding against each other to snatch up a home for sale as soon as it hits the market. I have found myself (and Doug, too) in a quandary.
For too long, it seems, we've wandered. We left Pagosa Springs together, to discover Washington state, only to return to southern Colorado after a year and a half. We looked and we looked at property in different locations. We ended up in Delta County (which I consider "home"), and here we are, the two of us still together, living in a small patio home, and coming to the end of our six-month lease. And both of us have been searching for places to buy, both in southern Colorado and this area.
Last month I came very close to buying an acre outside Paonia, where I used to live in the '90s and 2000s. I chose Paonia again because my part-time job is there, and I found a really sweet "for-sale-by-owner" deal. Unfortunately, the inspection brought up some unresolvable problems, and I had to terminate the contract. It was heartbreaking.
There was an incident at the inspection that made me have second thoughts even before the inspector gave me his report. I was walking into the shop on the property and a yellow jacket stung me on the back. The property owner took me into the house, and I asked for some baking soda to make a paste for the sting. I was fine, but later on I thought to myself, "Gee, I might get stung on this deal!"
It looks like I haven't learned my lesson in patience yet. Naturally, it would have been nice to get settled in a place before winter hits again. I really wanted to write in this column about how I was moving this month into a permanent home, and how wonderful it was going to be to get some pets, retrieve my flock of chickens, and not to have to worry about scouring Realtor.com and Zillow in my spare time.
Sometimes we need to stop, take a deep breath, and wait for Guidance. I find myself in this situation now, and there is something to learn from it. Patience really is a virtue, because hurrying into anything just because you are impatient for it usually will result in a big mistake, or at least a disappointment.
The unfortunate thing with me is that I want to blame somebody else for my plans not working out. This is so unfair. We create our own realities, and to put the blame on my partner, or the economy, or the fast-paced technology we're living in now, really has nothing to do with my problems.
You can blame all kinds of things on the out-of-control real estate market: Californians moving into Colorado, scarfing up the most desirable properties ... marijuana made legal, enticing more people into the state ... drought-ridden climates ... political figures shaking things up ... collapsing confidence in the future. Blame, blame, blame ... it's too easy to say that something outside ourselves is the cause for our failures.
Instead, I've decided to be grateful for what I have right now. I have a roof over my head, a job that gives me twice what I was making a year ago, a partner who's very good to me despite my independent streak of late ... and my kids live nearby. I am still publishing The Beacon and Wisp, along with several book projects that continue to flow out of this office. I am a whole lot better than a whole lot of people right now, and I'm gonna stop whining.
One day I'll be rewarded and find Home.
Ann Ulrich Miller is the publisher of The Star Beacon. She has written and published 15 book titles. AnnUlrichMiller.com
BACK TO WHAT'S NEW
GO TO EARTH STAR'S HOME PAGE
This page updated August 1, 2017
STAR BEACON
SUBJECT INDEX
2016 2015 2014
2013 2012 2011
2010 2009 2008
2007 2006 2005
2004 2003 2002
2001 2000 1999
1998 1997 1996
1995 1994 1993
1992 1991 1990
1989 1988 1987

CLICK HERE to receive FREE monthly newsletter

Earth Star Books
Browse our Book Catalog to view all our books and publications.
Publishing Professional
Earth Star offers editing and production services for self-publishing authors, plus a lot more. You may inquire by contacting us at starbeacon@gmail.com
See all we offer in the way of publishing services. Check it out...
Psychic Readers Page
Our free directory lists intuitives ready to assist you.. View Psychics Page...