GREETINGS, TERRANS!
CHECK OUT
WHAT'S NEW!

SIGN UP FOR
EARTH STAR'S
ON-LINE FICTION
WRITING COURSE

Welcome to Earth Star on the Web. Here you will find a wealth of articles on diverse topics including UFOs and extraterrestrials, the paranormal, healing, earth changes, spirituality, the latest sightings, channeling, astrology, book reviews, art, poetry, plus conference news and reports, and a whole lot more.
WHERE WOULD YOU
LIKE TO GO?


The Star Beacon: Earth Star's monthly paranormal newsletter. Subscription info can be found by clicking here.




BOOKS, T-SHIRTS, TAPES -- NEW!
Earth Star's Store features metaphysical, self-help, children's literature and adult fiction, plus original T-shirts and conference lecture tapes. Visit now by clicking here.





PSYCHIC READERS
The NEW Psychic Readers Directory lists Intuitive Counselors from all over. Check out who's doing what, and how to contact them, by clicking here.




THE BEST OF
THE BEACON
Selected articles which have appeared over the years in The Star Beacon
Click here.




CONFERENCES
Check out conferences by clicking here.





FRIENDSHIP CLUB
Earth Star's Galaxy Wide Friendship Club is the place to find like-minded pen pals. Visit now by clicking here.





ART GALLERY
Earth Star's NEW Art Gallery features paintings by Ryan Ulrich plus an assortment of art (including extraterrestrial). Visit now by clicking here.





ARIZONA PAGE
Visit exotic and beautiful Why, Arizona. You can go there by clicking here.




MULES
Animal lovers will get a "kick" out of our Mule Page, featuring the Stucker Mesa Mules. Click here.


PUBLISHING
Earth Star Publications offers book publishing services for self-publishing authors, as well as a lot more. Please see our List of Services.
ADVERTISE HERE!
Advertise your wares or services here by placing an ad in The Star Beacon. To view CLASSIFIED ADS click here. For more information on advertising, e-mail us at UFOeditor@yahoo.com. For information regarding the Psychic Readers and Healers Directory, please email starbeacon@gmail.com.

An Angel Among Us Departs

from the October 2008 Star Beacon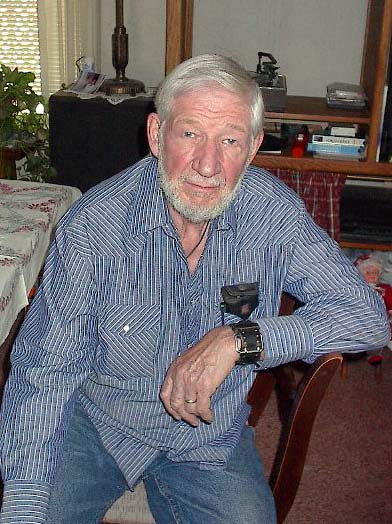 By Ann Ulrich Miller
Ethan G. Miller
March 2, 1934 - Sept. 12, 2008

On Friday, Sept. 12, 2008, at 9:55 PM, my beloved husband and soul mate passed from this life into the next level.
It has been a long journey. Ever since we found out in February 2006 that Ethan was going to die, I began grieving. Now, two years and seven months later, he has completed his journey and his suffering is over.
For weeks I have prayed for his release from the misery of his illness and the limitations of his failing body. Iíve watched a remarkable man with so much courage and strength transform into a dependent invalid, and it tore at my heart as well as those who love him. Why did he have to suffer like that? And why did he choose to hang on for so long?
I hope that in all this time I have learned what patience is. The lessons have been difficult, and I have to admit itís been my biggest challenge so far. After Ethan came home from nine days in the hospital at the end of July, life changed. He needed me full time and there were many nights when I felt so exhausted, I didn't know if I could go on.
Yet through all of this, Ethan kept his positive attitude, always ready to invoke smiles when people came to see him. Many, Iím sure, didnít realize just how bad off he was because he had this knack for showing his best side when things were their worst.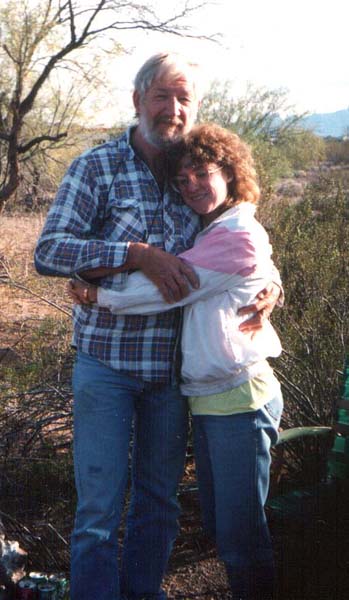 On that Friday, I think we both knew in our hearts that it was the last day together on earth. He never left his bedside. The chaplain from Hospice came and we had a good, long talk. Then the aide arrived to give Ethan his sponge bath, which he so much enjoyed. I fixed us a dinner of Ethanís favorite food, salmon cakes, along with potatoes from our garden and organic broccoli. He finished with Jello and a few sips of coffee.
When the Hospice nurse came that afternoon, Ethan conveyed his wish to be released. He had made up his mind that the time had come. For the next six hours the three of us sat together and waited. Ethan labored through those hours, and it reminded me very much of a birth. He put up such a fight, yet now I realize he was fighting just to let go.
In his last ten minutes of life, I went and got his book, Night of the White Raven, which we published in 2006, and sat at his side, reading him the first couple of chapters out of his book while I stroked his arm. He finally grew peaceful as I read to him. Then, he simply drifted off into a peaceful slumber.
It was a beautiful moment, his passing, and I am happy I was able to be there when it happened, stroking him. I loved him so much in that moment, and continue to love him with all my heart and soul.
After the necessary phone calls and a lot of the drama had settled down, I made myself a piece of toast and a cup of tea and sat in the living room to catch the news about Hurricane Ike sweeping southern Texas. I was feeling emotional with tears and great sadness. I didnít know how I was going to get to sleep that night.
Suddenly, I noticed the blue light on the satellite TV modem flickering. It had never done this before. I stared at it, trying to figure out why it was doing it... and then I knew. It was Ethan signaling me. When I called out his name and acknowledged his presence, the blue light stopped blinking. This occurred at exactly 11:55 pm, just two hours after he passed. It was Ethanís way of telling me goodbye, and yet it really isnít goodbye. Heís with me still, only in spirit, and each day and night that passes, although I am filled with sorrow because I am here alone, I feel his love that runs deep.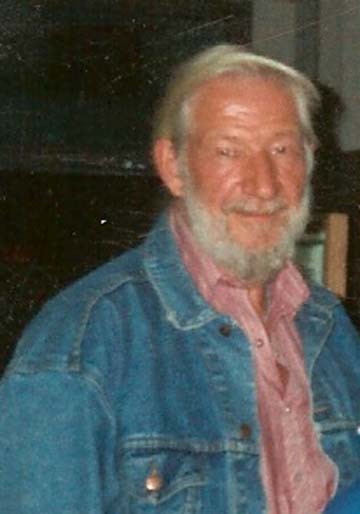 In the 19 years Iíve known him, I got to see many sides of him. Ethan was a man who valued his privacy. I donít think the word ďegoĒ was in his vocabulary. He was not one to claim the limelight or be the life of the party. He preferred his solitude and, with his humble manner, he stood out in a crowd as one who marched to the beat of his own drummer. He was a shining jewel in the vast sea of humanity, and those of us who were privileged to spend time with him know just how fortunate we were.
Ethan thought nothing of stopping to assist a stranger in need. Especially during his three years as a volunteer campground host at McClure Pass in Colorado in the early í90s, he helped many people who were stranded or in some kind of predicament. Without considering the risk to himself, he lent a helping hand and went out of his way for others.
My husband was more than just a stepfather to my three boys. They loved him, and in many respects considered him more a father than their own dad. The youngest one, Scott, was only 4 years old back in 1990. Ryan was 13 and Marty 8. Iím sure the last thing Ethan wanted was to get strapped into a relationship with me and have to help raise kids after he thought he was done. He valued his freedom, and I had no objection when he left Colorado to spend his winters in Arizona. While I learned independence and how to stand on my own two feet during his absences, he remained loyal, caring and was always there for me.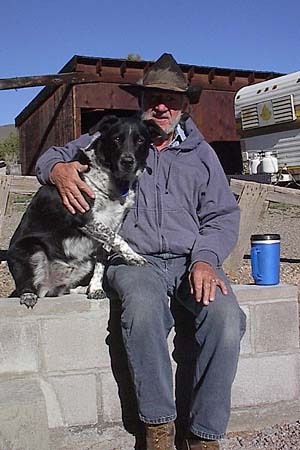 In the year 2000 Ethan was instrumental in saving a destitute young woman by the name of Sanni. He helped move her from a ghetto in Ohio to our hometown in Colorado. He not only found a house in town for her to rent that was approved by HUD, but he and Jack Ames drove all the way to move her. For months Ethan extended his friendship in helping this woman, who may have had many problems, but soon became a respected member of our community, and who came into her power as a lightworker, and was our dear friend.
It was on Sept. 1, 2001 that Ethan and I exchanged marriage vows in the Paonia United Methodist Church. It was the 12th anniversary of our recognition of each other as soul mates. The years I have known Ethan have been the happiest of my life.
Ethan was always comfortable to be around. He just had this energy about him that made you feel good in his company. It amazed me that even in his final hours, he found things to look forward to and kept a positive attitude and a sense of humor. He had his own spiritual connection with the Creator, and there is no question in my heart or mind that he has found his way Home.





Check out WHAT'S NEW

Subscribe to The Star Beacon




---
Copyright © 2008 Earth Star Publications
For permission to reprint articles or use graphics, e-mail lightworker@earthstarpublications.com.