GREETINGS, TERRANS!
CHECK OUT
WHAT'S NEW!

NEW!
READ TODAY'S BLOG


Order your copy of
THE LIGHT BEING

Welcome to Earth Star on the Web. Here you will find a wealth of articles on diverse topics including UFOs and extraterrestrials, the paranormal, healing, earth changes, spirituality, the latest sightings, channeling, astrology, book reviews, art, poetry, plus conference news and reports, and a whole lot more.
WHERE WOULD YOU
LIKE TO GO?


The Star Beacon: Earth Star's monthly paranormal newsletter. Subscription info can be found by clicking here.




BOOKS, T-SHIRTS, TAPES -- NEW!
Earth Star's Store features metaphysical, self-help, children's literature and adult fiction, plus original T-shirts and conference lecture tapes. Visit now by clicking here.





PSYCHIC READERS
The NEW Psychic Readers Directory lists Intuitive Counselors from all over. Check out who's doing what, and how to contact them, by clicking here.




THE BEST OF
THE BEACON
Selected articles which have appeared over the years in The Star Beacon
Click here.




CONFERENCES
Earth Star's annual Love and Light Conference. Also check out other conferences by clicking here.





FRIENDSHIP CLUB
Earth Star's Galaxy Wide Friendship Club is the place to find like-minded pen pals. Visit now by clicking here.





ART GALLERY
Earth Star's NEW Art Gallery features paintings by Ryan Ulrich plus an assortment of art (including extraterrestrial). Visit now by clicking here.





ARIZONA PAGE
Visit exotic and beautiful Why, Arizona. You can go there by clicking here.




MULES
Animal lovers will get a "kick" out of our Mule Page, featuring the Stucker Mesa Mules. Click here.


PUBLISHING
Earth Star Publications offers book packaging services for self-publishing authors, as well as a lot more. Please see our List of Services.
ADVERTISE HERE!
Advertise your wares or services here by placing an ad in The Star Beacon. To view CLASSIFIED ADS click here. For more information on advertising, e-mail us at UFOeditor@yahoo.com. For information regarding the Psychic Readers and Healers Directory, please e-mail earthstar@tripod.net.
Crystals of Light

from the July 2006 Star Beacon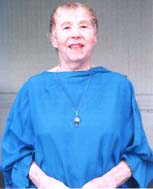 A blueprint for living on Planet Earth during these traumatic times
through Arda Golden Eagle Woman
MASTER OF AWAKENINGS
For some time now I have been what I would call "put on hold" as far as really doing my Light Work. My lower back went out on me and my right knee was swollen for over two months. In that time I did some Awakenings, but spent most of my time working with my physical body and getting it aligned and functioning again.
I did this by walking up a rather steep road frontward, then reversing the process and walking backward down the road. This really works for anyone with lower back pain.
Anyway, I now am in full control of my physical, and so am beginning to do more Awakenings.
During that time I was channeling for the ones I did Awakenings on, and also received guidance for myself. However, this morning My Buddy, Archangel Michael, began this wonderful message, which is for everyone. So here is what he gave me.

The following message from Archangel Michael was given to me on June 23, 2006.

My Dearest One:
This is my response to your request for higher awareness of what is now and is yet to be regarding the unfolding of The Divine Plan.
This is the beginning of the end for life upon Planet Earth, as you know it, now. At this time, the Mass Conscious has turned to war, retaliation, hatred, anger and revenge. This is now affecting your planet and is destroying Its beautiful environment. In order to regain Her balance, it will be necessary for a mighty cleansing to take place. Thus that which you are experiencing in the form of earthquakes, and other so-called natural disasters, is a necessary action. It is a call to mankind to let go and rise to a higher vibration of love, giving up their fear, which is creating the hate, anger, judgment and all the other negative vibrations destroying this beautiful planet.
If they do not, then they will be left to work out their own karma in order to evolve into higher beings of love and light. It is their choice as to what they will do, and so we must honor them and allow them that which they choose to experience.
The time is close at hand for a rejuvenation of Planet Earth. Thus, those who have risen above Illusion's negative vibration, by releasing their own judgments, are now refusing to play Its game of fear, hate, anger and control, (and) will begin to feel a shift in their own reality, and will notice a change in their environment around them. Life will become easier, as you begin manifesting your own reality.
Thus, My Beloved Children, you who have achieved that status of awareness and love, through your diligent work, will begin to enjoy the fruits of your labor. Continue walking your path into Enlightenment, keeping your vibration high in order to stay out of harm's way during this essential cleansing that is occurring on Planet Earth.
It is your responsibility to be aware of all negative thought that may come to you and release them to the Light by loving them, instead of judging them. You must also keep yourself protected by surrounding yourself in a golden bubble of light. If you feel unprotected, ask and you will immediately receive the help that you need. As Lord Jesus often said "ASK AND YOU WILL RECEIVE, KNOCK AND THE DOOR WILL BE OPENED." Yes, it is that simple, but you must remember to ask, for we will never invade your Free Will.
Always be clear on your intent to remain in your High Vibration of Love, otherwise you may slip and fall into the old patterns of negative thinking. Loving yourself, unconditionally, will assist you in opening up your awareness. Remember that if it isn't for your highest good, it will not be for others' highest good either.
Enjoy your time on Planet Earth. Let not the fear, judgment, anger and thoughts of retaliation invade and destroy your Inner Balance. For, as you know, they are always around you, waiting to bring you down to their low level. Always be true to your own knowingness of what is for your highest good.
Practice wearing these violent and troubled times as a loose garment, so that they will neither chafe nor bind you. You can do this by removing all judgment that you may feel regarding any and all scenarios that you encounter.
When you take the philosophical approach that IT IS BECAUSE IT IS, you then can allow the negative connotation of whatever is occurring to unfold without putting yourself in harm's way through judgment.
Remember that no one is a victim, and that everything is perfect in the moment for each and everyone's evolvement, for all are Masters, creating their own victimhood for experience and lessons.
Once you come to Knowing that you are not a physical body of short-termed existence, but are an Eternal Living Spirit, you will then change your point of view completely, regarding death. This one truth will bring you to a higher understanding of life, removing all fear, and freeing you forever from Illusion's controlling grasp.
However, as long as you walk in fear, you never will be free. This means fear of not having whatever you desire to have. Once you rise above the fear and take charge of your life, you will be Master over your own universe, creating whatever you desire whenever you desire it. That, my children, is the true meaning of abundance. You must always ask before attempting to manifest if it is for your Highest good. You will know what is and what isn't. Do not fall into Ego's trap of false abundance, for that would be pure fallacy, and will lower your vibration. You have come too far now to allow that to happen.
Never look upon another as a victim. It matters not what path they have decided to walk. As a master they are creating and manifesting what they have chosen to experience for their own evolvement. So give them your love and support, but do not become involved in their dramatizations of being a victim, for that is also a part of the Illusion. Assist whenever the opportunity arises, but do not allow yourself to interfere by taking them off of their chosen path. In other words, no matter how tempting it may seem, DO NOT ATTEMPT TO PLAY GOD.
Let go and let flow as you rise higher and higher into your own knowingness that you are a Master of The Light, creating your own reality for the Highest Good of ALL. As you do this you will feel the shackles of the past fall away and you will be FREE.
I surround you in the Light of Love and Protection. I AM ARCHANGEL MICHAEL

Arda Golden Eagle Woman can be reached at goldneglewoman@Juno.com.

Check out WHAT'S NEW

Subscribe to The Star Beacon


---
Copyright © 2006 Earth Star Publications
For permission to reprint articles or use graphics, e-mail earthstar@tripod.net.