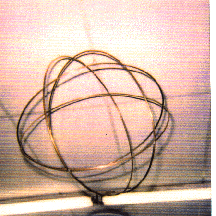 WHAT'S NEW
in the AUGUST 1998 issue of
THE STAR BEACON
THE STAR CRYSTAL
MAY HEAL OUR PLANET
Jim Light and Associates are giving away Star Crystals, spheres constructed of copper tubing, that cleanse and balance energy to help heal the planet.
---
CRYSTALS OF LIGHT
by Arda Golden Eagle Woman
Archangel Michael speaks on Earth's dry weather through one of the emerging great channelers of our time.
---
SARI'S READING ON THE STAR CRYSTAL
Sari gives her impressions on the Star Crystal and what it can do through Light from the Source (God).
---
HOPI ELDERS TALK ABOUT THEIR PROPHECIES
The Hopi Prophecies, as presented on "Coast to Coast with Art Bell," plus the prophecies of Robert Ghost Wolf. Reprinted with permission from The Light Messenger, published by Bev Dombrowski.
---
UFO SECRECY MAY SOON BE THING OF THE PAST
by Sarah McClendon, White House Correspondent
Two government witnesses, one from the CIA, have come forward at a congressional hearing on human rights to say that they believe UFO documents should be considered as public information.
---
THE SHAMAN'S PATH
by Irina H. Corten, Ph.D.
In "SOUL RETRIEVAL, PART I," the writer describes what happened to one of her clients in this classic shamanic healing technique.
---
ALIEN TEACHINGS: THE MESSAGE AND THE MEANING
UNIVERSAL LAWS -- PART VI
by Laszlo Steiner, Ph.D.



The Law of No Possession, The Law of Sharing, the Law of Resistance and the Law of Discernment are discussed using references from masters of extraterrestrial origin.
---
ENGLISH WEATHER UPDATE
by Torner
Torner gives another detailed report on earth changes going on in Europe and elsewhere.
---
PLUS... COSMIC THOUGHTS by Julian Joyce *** LETTERS FROM READERS *** More Star Poetry *** Book Review on The UFO Encyclopedia: The Phenomenon from the Beginning by Jerome Clark *** UPCOMING CONFERENCES *** Classified Ads