New Age Brother Harry Bonnelle of Twisp, Wash., knows that some people will think of him as a "kook."
"I respect all observations," he said.
Brother Harry (as he likes to be called) lives in a home decorated with many stuffed animals and models of flying saucers. He says the stuffed animals are there for the "spirit children."
"I became aware of spirit children traveling in little groups, and I thought this would make them more comfortable," he said.
Brother Harry believes spirit children are children whose lives have ended in the physical sense, but who feel they havenít really grown up. He says they travel in groups of 15-25 under the supervision of a "cosmic babysitter." He believes they attach themselves to a young child and "grow up" with them.
"Once they feel theyíve learned enough, they go to other realms in the spirit world," he said.
Oddly enough, Brother Harry comes across as a very nice person whose only basic difference is his beliefs. He doesnít take himself too seriously, but he is serious about what he believes in. And one of the things he believes in is that the Methow Valley is the place where UFOs will land when they decide to make their presence known to the world. Thatís the reason for the flying saucer models.
"Theyíre like decoys. You use duck decoys and hope to get ducks. I hope to get UFOs," Brother Harry said.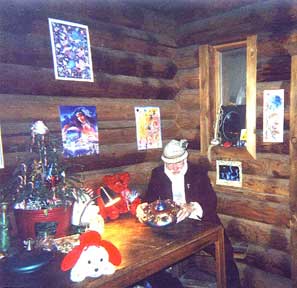 Brother Harry calls himself a minister of metaphysics. He says he started out in a quest for the mechanics of the game of life. He says we have to learn certain lessons in order to master life on this planet. And thatís where the Masters of Light come in. Brother Harry said these are Christ-like beings who have mastered life on many planets.
"They look upon us as children," he said. "They want to upgrade this planet."
Upgrading the planet will happen when people become enlightened, according to Brother Harry.
"The enlightened approach is to help others, be kind, gentle, understanding and encourage people to make the best of a situation. Positive conditions can only be created with positive thoughts. When a person is criticizing heís using a form of black magic," Brother Harry said.
Brother Harry also maintains that we "live in an interdimensional world." That we go out of our bodies when we sleep. Brother Harry says heís made quite a few journeys in his sleep. He says they take place just prior to waking up, and that heís been called for more than one conference in a spaceship.
He says that he also gets his instructions by dream visions. One of his orders is that "we are to be on the humble side." Part of his job is to pave the way for UFOs by setting up a communications command center, and the Methow Valley is where itís happening.
"The mighty Methow has been chosen as the ground-anchor setting for the Celestial Inter-dimensional City and Communications Command Center, which will network with all other outposts on this planet and outer space," he wrote in the August issue of The Open Line, a publication of the Metaphysical Research Society.