GREETINGS, TERRANS!
CHECK OUT
WHAT'S NEW!

NEW!
READ TODAY'S BLOG


Order your copy of
THE LIGHT BEING

Welcome to Earth Star on the Web. Here you will find a wealth of articles on diverse topics including UFOs and extraterrestrials, the paranormal, healing, earth changes, spirituality, the latest sightings, channeling, astrology, book reviews, art, poetry, plus conference news and reports, and a whole lot more.
WHERE WOULD YOU
LIKE TO GO?


The Star Beacon: Earth Star's monthly paranormal newsletter. Subscription info can be found by clicking here.




BOOKS, T-SHIRTS, TAPES -- NEW!
Earth Star's Store features metaphysical, self-help, children's literature and adult fiction, plus original T-shirts and conference lecture tapes. Visit now by clicking here.





PSYCHIC READERS
The NEW Psychic Readers Directory lists Intuitive Counselors from all over. Check out who's doing what, and how to contact them, by clicking here.




THE BEST OF
THE BEACON
Selected articles which have appeared over the years in The Star Beacon
Click here.




CONFERENCES
Earth Star's annual Love and Light Conference. Also check out other conferences by clicking here.





FRIENDSHIP CLUB
Earth Star's Galaxy Wide Friendship Club is the place to find like-minded pen pals. Visit now by clicking here.





ART GALLERY
Earth Star's NEW Art Gallery features paintings by Ryan Ulrich plus an assortment of art (including extraterrestrial). Visit now by clicking here.





ARIZONA PAGE
Visit exotic and beautiful Why, Arizona. You can go there by clicking here.




MULES
Animal lovers will get a "kick" out of our Mule Page, featuring the Stucker Mesa Mules. Click here.


PUBLISHING
Earth Star Publications offers book packaging services for self-publishing authors, as well as a lot more. Please see our List of Services.
ADVERTISE HERE!
Advertise your wares or services here by placing an ad in The Star Beacon. To view CLASSIFIED ADS click here. For more information on advertising, e-mail us at UFOeditor@yahoo.com. For information regarding the Psychic Readers and Healers Directory, please e-mail earthstar@tripod.net.
Letters from Readers
from the February 2005 Star Beacon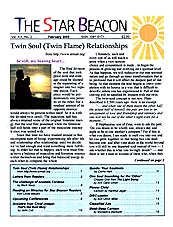 A plea for assistance


Dear Ann,


I often think that I am in this situation to learn humility, thatís why I mentioned the movie Brother Sun/Sister Moon (the story of St. Francis of Assisi).
I am one of those middle-aged women whoís fallen through the cracks. With terminal illness (I donít own it ó itís just a diagnosis) and a constantly painful back, I am unable to work. My muscles are in pretty constant spasm. Every part of the body can become affected by Sarcoidosis; an auto-immune disease.
Iím on SSI and collect $24 per month plus $86 a month in food stamps. I live in a single-wide mobile home that I am grateful for, but the Florida hurricanes did some damage to the underneath from flooding, and FEMA turned me down. I know there are so many worse off than myself, and they have my sympathy.
You are such a good friend; the people in my area are very private, and in three years I havenít made any friends (which is odd for me). My yearning is to move closer to one of my children ó two who went the financial aid route are swamped with loans. The third has a dominating ADD and finds it hard to hold a job.
I hate ďpoor meĒ stories (especially about me), but Iíd want to help a sister in spirit, if I could.
I donít mean to grumble. Sometimes it feels overwhelming ó itís then that I remember St. Francis of Assisiís story of total Faith in being cared for and learning from simplicity and humility.
I am grateful for all I do have and extra glad God connected me with you and countless others over the years who have brightened my life!

Much Caring and Many Blessings,
Love, Chrystle Clae

EDITORíS NOTE: I asked Chrystle to write this plea in her own words, but I am the one who suggested she do the ďasking.Ē I cannot believe that our society allows ordinary people to subsist at just $24 a month plus $86 in food stamps! And FEMA turning away from her damaged floor... I simply donít understand. But we as Lightworkers have the means to reach out to help one of our own. Please help, if you feel so inspired. This dear woman is an excellent psychic and astrologer. Donations, no matter how small, may be sent to: Chrystle Clae, 9008 Kileen Ave., Port Richey, FL 34668. Thank you!!!



Check out WHAT'S NEW

Subscribe to The Star Beacon


---
Copyright © 2005 Earth Star Publications
For permission to reprint articles or use graphics, e-mail earthstar@tripod.net.