GREETINGS, TERRANS!
CHECK OUT
WHAT'S NEW!

Order your copy of
THROUGHOUT ALL TIME
A Cosmic Love Story

Welcome to Earth Star on the Web. Here you will find a wealth of articles on diverse topics including UFOs and extraterrestrials, the paranormal, healing, earth changes, spirituality, the latest sightings, channeling, astrology, book reviews, art, poetry, plus conference news and reports, and a whole lot more.
WHERE WOULD YOU
LIKE TO GO?


The Star Beacon: Earth Star's monthly paranormal newsletter. Subscription info can be found by clicking here.




BOOKS, T-SHIRTS, TAPES -- NEW!
Earth Star's Store features metaphysical, self-help, children's literature and adult fiction, plus original T-shirts and conference lecture tapes. Visit now by clicking here.





PSYCHIC READERS
The NEW Psychic Readers Directory lists Intuitive Counselors from all over. Check out who's doing what, and how to contact them, by clicking here.




THE BEST OF
THE BEACON
Selected articles which have appeared over the years in The Star Beacon
Click here.




CONFERENCES
Check out conferences by clicking here.





FRIENDSHIP CLUB
Earth Star's Galaxy Wide Friendship Club is the place to find like-minded pen pals. Visit now by clicking here.





ART GALLERY
Earth Star's NEW Art Gallery features paintings by Ryan Ulrich plus an assortment of art (including extraterrestrial). Visit now by clicking here.





ARIZONA PAGE
Visit exotic and beautiful Why, Arizona. You can go there by clicking here.




MULES
Animal lovers will get a "kick" out of our Mule Page, featuring the Stucker Mesa Mules. Click here.


PUBLISHING
Earth Star Publications offers book packaging services for self-publishing authors, as well as a lot more. Please see our List of Services.
ADVERTISE HERE!
Advertise your wares or services here by placing an ad in The Star Beacon. To view CLASSIFIED ADS click here. For more information on advertising, e-mail us at UFOeditor@yahoo.com. For information regarding the Psychic Readers and Healers Directory, please email starbeacon@gmail.com.
What's going on with the chemtrails?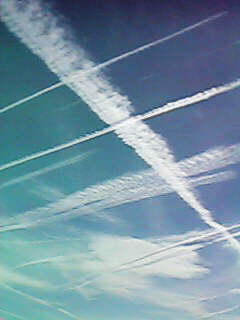 FILE PHOTO
from the August 2010 Star Beacon
by Krystael
I live In Langley. B.C., Canada. We were getting sprayed with chemtrails almost on a daily basis. I watch the skies a lot, day and night. As soon as I see them spraying, I immediately call for immediate Divine Intervention and assistance from the Sylphs, the angels of the sky.
One day a few weeks ago, I saw a plane spraying my area and I called on the Sylphs. All of a sudden, there appeared what looked like a line of different chemtrails coming up from below the plane in a straight line, shooting straight up into the air. I couldn't believe it. I looked up and saw the plane spraying not one line of chemtrails but two lines. That triggered me, and I got angry and frustrated.
Instead of invoking help from the Sylphs in my normal way, I said, "Enough is enough. This is unacceptable," and I commanded immediate Divine Intervention, Grace + Miracles and Divine action from the Sylphs, the Hierarchies of Light, the Legions of Light, Archangel Michael and the Warriors of Light + the Army of the Lord Christ and Creator Source of all that is, and commanded that they put an immediate stop to these chemtrails on a full and permanent basis now.
I have seen no chemtrails since. The skies are blue. The sun is shining. I believe it was the command I used; instead of asking for it, I commanded it be done. My favorite channeler, Steve Rother, wrote in one of his books, when you ask God for something, the Universe hears and thinks you are in lack, so you stay that way. Instead of asking, thank in advance for what you want as if you already have it. Universe thinks you already have it and gives it to you.
I have been reading reports that if you really want something, to command it in the name of the Light.
Right after I used that command, the chemtrails stopped in mid air. The plane disappeared, then reappeared with no chemtrails coming out of it. That had to be Divine Intervention.
I have also seen posts in my groups of people in different cities and towns saying their skies have been clear for a while now, too. Then there are others still getting sprayed. Maybe the places that are getting sprayed need a Lightworker to command that they be stopped. Worth a try!
In Love & Light, Krystael
Check out WHAT'S NEW
Subscribe to The Star Beacon
---
Copyright © 2010 Earth Star Publications
For permission to reprint articles or use graphics, e-mail lightworker@earthstarpublications.com.