A Special Tribute to the First Man in My Life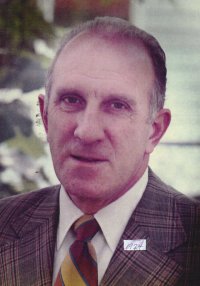 Marvin Michael Schumacher
Born Dec. 6, 1920 in Madison, Wis.
Passed to his reward June 11, 1999

by Ann Ulrich
On June 11, I experienced the loss of my father. It was a sudden and unexpected event in my life and in the lives of my mother, brothers, sisters, children and everyone who knew him.

Dad suffered a massive stroke the morning of June 9. He and my mother had been on vacation in Wisconsin and were just starting home to Pahrump, Nev., where they have made their home for the past six years. They had left my brother's place near Clinton, Wis., after a rather wonderful two weeks of travel which included attending the graduation of two of their grandsons. They had stopped on their way to Wisconsin at our place in Colorado over Memorial Day. I will always be grateful for seeing my dad and having such good memories of our visit at that time.

Dad was one of a kind and always so full of life and laughter. There are so many things that come to mind about him. He gave me many gifts in addition to the gift of life. He gave me a secure childhood in a safe and comfortable home. He gave me both older siblings and younger siblings with whom to learn to get along and love. In my younger years I often took him and our household for granted. Looking back, I may even have been sheltered a little too much, but I know his intentions were right. He only wanted the best for us and for me.

One of the best gifts Dad gave me was his appreciation and love for music. I come from a musical family and my music is a very powerful and personal part of my being. I can't remember a time when there wasn't some kind of music playing in our house. Dad loved all kinds and he encouraged me to pursue piano. Although he didn't play an instrument himself, he loved listening.

Dad was everyone's friend. He was friendly and outgoing in public and this often amazed me. He could strike up a conversation with a stranger and soon it was as if they had always known each other. He was also a great friend to animals. We always had pets and he was gentle and kind toward all of them.

The grandchildren all loved Bumpa because he was so much fun and he made funny faces and he made funny sounds to amuse us all. His jokes were often corny, but we laughed at them just the same. I'll always be grateful to my dad for teaching my son, Marty, good manners. The summer after I was divorced, I sent Marty to his grandparents for the summer. When he returned to Colorado, Marty's whole attitude had changed, much to my delight.

When we were growing up, I remember how much Dad enjoyed liver. Much to the dread of us kids, my mother fixed liver once a week. Unfortunately, it was always a little too well done. It's no wonder the dogs in our household were so revved from protein and loved sitting underneath the dinner table. I was not the only one who accidentally dropped pieces that landed on the floor and were never found.

My dad never scoffed at any of my beliefs. He was a man who believed in God and in righteousness and in freedom. Our political opinions may have been miles apart, but he and my mother always allowed me to think for myself. He was open-minded when we talked of UFOs. He read Conversations With God and discussed his ideas with me. He never gave an indication that he thought I was too far out. He was proud of me and of all of us.

Dad instilled within me many words of wisdom over the years. When he didn't agree with someone and that person was not about to yield, he would simply say, ``You know, you could be right...'' One of his latest expressions when I last saw him was ``Everything has an enemy.'' But I don't think Dad had any enemies, unless you label them injustice, greed, violence and overindulgence. He was a man of strong moral values, devoted to his family and so proud of each and every one of us. He was patriotic, spiritual and always there if I needed him. He was also the most patient man in the world.

It is much to the regret of this planet that such a fine man has left at a time when we could use more like him. I miss you, Dad. But I know you are here, still watching over your little girl.