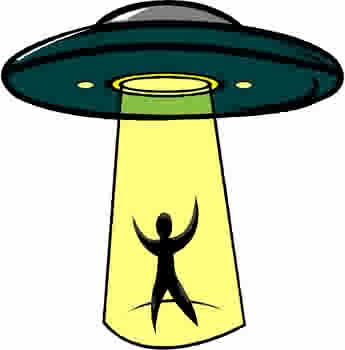 On the
Around the World in 80 Seconds
news segment, which appeared on the Fox News Channel late April 28, 2004, it was reported that thousands of people all over the world, from cities in the United States to as far away as Iran, had reported seeing UFOs shooting light beams.
A man, C.D. of Wilmington, Dela. (he prefers not to disclose his name), began experiencing ongoing contact with a UFO on Saturday, April 17, 2004. The sightings and contact occurred between 9:30 and 10:30 p.m. while he was leaving a restaurant. The UFO returned again on Monday, April 19, between 9:30 and 10:30 at night, and again on April 28, 29 and 30, between 8:30 and 9:30 p.m.
C.D. reports that he saw a ďmain shipĒ with a green flashing light on its dome, and at one time he saw a flying saucer emerge from it. On April 30 he said it sounded as though someone was on the roof of his car. He described it as a ďjolt.Ē
When he telephoned Linda Moulton Howe to tell her about his contact and sightings, she said UFO sightings were happening all over the world.
The following is the message C.D. received from the E.T. commander, in the form of automatic writing:
MESSAGE FROM ALIEN COMMANDER
People of Earth, heed my warning! We love Earthlings very much. Your greed and thirst for power has caused turmoil throughout planet Earth. No one nation, or one group of people, is to blame. Shame on all of you, on planet Earth!
Jesus and Mohammed came to planet Earth to show you how to live. Why arenít you following their example? Remember what those prophets did. They sacrificed a lot, to teach Earthlings valuable lessons to live by. We donít believe that Earthlings are stupid. The Creator gave you the ability to follow and obey the teachings of Jesus and Mohammed. Citizens of Israel and the Jews, heed my warning! Those who live by the sword shall die by the sword. Pay attention to those words, or the Creator will allow Israelís right to exist to be taken away. Shame on all of you on planet Earth!
We are watching you pollute your air, land and water. Not only have you polluted your land, air and water, but you have also polluted your minds. Smut travels over your radio and TV airwaves. Gore and sex fills the airwaves and entertainment media. This is a perfect formula for disaster. You have created your own disaster. Shame on all of you on planet Earth!
The seeds of good and evil have been sown. Your own disaster is that planet Earth has been altered to become more favorable for evil seeds than for good seeds. Call them religious fanatics. Call them terrorists. Call them invaders. Call them killers. Call them suicide bombers. Call them viruses. Call them criminals. Call them mad cow disease. Call them chicken flu. Call them weapons of mass destruction. Shame on all of you on planet Earth!
We of the Universe believe that human ego and human apathy are the most deadly weapons of mass destruction. Nuclear weapons, dirty bombs, chemical bombs and biological warfare were created by humans. You have the right to defend yourself. You have the right to destroy yourself. However, you donít have the right to destroy others and their environment. Most of all, you donít have the right to destroy planet Earth. Shame on all of you on planet Earth!
We have made you Earthlings caretakers of planet Earth. You have nearly destroyed planet Earth. It is time for us to return to your planet. You have failed. We will take charge again over planet Earth. Shame on all of you on planet Earth!
There is a big mess on planet Earth because you Earthlings have forgotten how to live with nature. The Creator made planet Earth for all the Creatorís creatures, not just for the human creature. Shame on all of you on planet Earth!
As we return to planet Earth we ask that you donít be afraid of us. Our return is necessary at this time to help you clean up the mess on planet Earth. Those who follow our rules have nothing to fear. Also, those who attempt to attack us or those who attempt to shoot us down will have much to fear. We donít have the war-like DNA that you have. However, we have the right to defend ourselves and will do so, as we see fit. We come to help, not to destroy. The survival of planet Earth is vital to the Universe. Itís your choice, choose to help or choose to be terminated!