GREETINGS, TERRANS!
CHECK OUT
WHAT'S NEW!

NEW!
READ TODAY'S BLOG


Order your copy of
THE LIGHT BEING

Welcome to Earth Star on the Web. Here you will find a wealth of articles on diverse topics including UFOs and extraterrestrials, the paranormal, healing, earth changes, spirituality, the latest sightings, channeling, astrology, book reviews, art, poetry, plus conference news and reports, and a whole lot more.
WHERE WOULD YOU
LIKE TO GO?


The Star Beacon: Earth Star's monthly paranormal newsletter. Subscription info can be found by clicking here.




BOOKS, T-SHIRTS, TAPES -- NEW!
Earth Star's Store features metaphysical, self-help, children's literature and adult fiction, plus original T-shirts and conference lecture tapes. Visit now by clicking here.





PSYCHIC READERS
The NEW Psychic Readers Directory lists Intuitive Counselors from all over. Check out who's doing what, and how to contact them, by clicking here.




THE BEST OF
THE BEACON
Selected articles which have appeared over the years in The Star Beacon
Click here.




CONFERENCES
Earth Star's annual Love and Light Conference. Also check out other conferences by clicking here.





FRIENDSHIP CLUB
Earth Star's Galaxy Wide Friendship Club is the place to find like-minded pen pals. Visit now by clicking here.





ART GALLERY
Earth Star's NEW Art Gallery features paintings by Ryan Ulrich plus an assortment of art (including extraterrestrial). Visit now by clicking here.





ARIZONA PAGE
Visit exotic and beautiful Why, Arizona. You can go there by clicking here.




MULES
Animal lovers will get a "kick" out of our Mule Page, featuring the Stucker Mesa Mules. Click here.


PUBLISHING
Earth Star Publications offers book packaging services for self-publishing authors, as well as a lot more. Please see our List of Services.
ADVERTISE HERE!
Advertise your wares or services here by placing an ad in The Star Beacon. To view CLASSIFIED ADS click here. For more information on advertising, e-mail us at UFOeditor@yahoo.com. For information regarding the Psychic Readers and Healers Directory, please e-mail earthstar@tripod.net.
DISC-ussion
from the May 2005 Star Beacon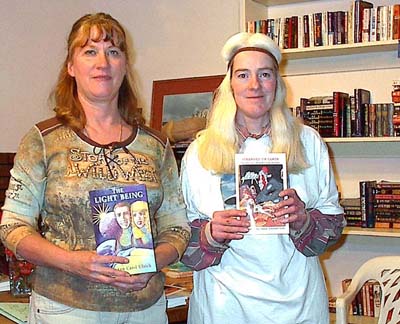 by Ann Ulrich Miller
Who is Merjase?
There is a mystery surrounding Earth Starís Friendship Club (pen pals). A couple of months ago, I received some letters in the mail to forward on to Friendship Club members from an individual with the code name Merjase. There was no return address on the envelope, and no such person listed in the Friendship Club profile directory.
My assumption is that someone in the Friendship Club passed on their profile directory to a friend, who had chosen to write to some members without the benefit of membership. Unfortunately, I unwittingly sent those letters on, and later a number of responding letters came back to headquarters. The problem? I have no idea who Merjase is, and no address to forward his/her letters to!
If you know of such an individual, please contact me. I would like to be able to send the responding letters to Merjase.

Combined Booksigning
On April 20, Commander Sanni Ceto and I had a joint booksigning at Expressions Book Store in Paonia. It was a delightful reception, well attended despite the rainy afternoon, and we held a drawing for one of Sanniís handcrafted ET dolls, which went to Laura Paskus, an editor at High Country News. Sanniís book is now in its fourth printing.

Western Colorado MUFON
On Saturday, April 23, Davina Ryszka held a meeting in Delta for MUFON members and folks. generally interested in UFOs. There was a good turnout with people traveling from as far away as Basalt and Glenwood Springs, as well as Grand Junction and Montrose.
Some video footage of ongoing investigations was shown from the Denver MUFON, which is now the nationís headquarters. There was some discussion about the recent UFO sightings in the last couple of years, including the Vega Lake sighting last June (the witness was present at this meeting), and the photo of a UFO that turned up on John Blakeís photo taken at Arches National Park in October 2003.
Davina is doing a fine job and is recruiting help, in case youíd like to become a MUFON member. The organization is always looking for field investigators. Contact Davina at 970/874-8679.
Check out WHAT'S NEW

Subscribe to The Star Beacon


---
Copyright © 2005 Earth Star Publications
For permission to reprint articles or use graphics, e-mail earthstar@tripod.net.