GREETINGS, TERRANS!
CHECK OUT
WHAT'S NEW!

SIGN UP FOR
EARTH STAR'S
ON-LINE FICTION
WRITING COURSE

Welcome to Earth Star on the Web. Here you will find a wealth of articles on diverse topics including UFOs and extraterrestrials, the paranormal, healing, earth changes, spirituality, the latest sightings, channeling, astrology, book reviews, art, poetry, plus conference news and reports, and a whole lot more.
WHERE WOULD YOU
LIKE TO GO?


The Star Beacon: Earth Star's monthly paranormal newsletter. Subscription info can be found by clicking here.




BOOKS, T-SHIRTS, TAPES -- NEW!
Earth Star's Store features metaphysical, self-help, children's literature and adult fiction, plus original T-shirts and conference lecture tapes. Visit now by clicking here.





PSYCHIC READERS
The NEW Psychic Readers Directory lists Intuitive Counselors from all over. Check out who's doing what, and how to contact them, by clicking here.




THE BEST OF
THE BEACON
Selected articles which have appeared over the years in The Star Beacon
Click here.




CONFERENCES
Earth Star's annual Love and Light Conference. Also check out other conferences by clicking here.





FRIENDSHIP CLUB
Earth Star's Galaxy Wide Friendship Club is the place to find like-minded pen pals. Visit now by clicking here.





ART GALLERY
Earth Star's NEW Art Gallery features paintings by Ryan Ulrich plus an assortment of art (including extraterrestrial). Visit now by clicking here.





ARIZONA PAGE
Visit exotic and beautiful Why, Arizona. You can go there by clicking here.




MULES
Animal lovers will get a "kick" out of our Mule Page, featuring the Stucker Mesa Mules. Click here.


PUBLISHING
Earth Star Publications offers book packaging services for self-publishing authors, as well as a lot more. Please see our List of Services.
ADVERTISE HERE!
Advertise your wares or services here by placing an ad in The Star Beacon. To view CLASSIFIED ADS click here. For more information on advertising, e-mail us at UFOeditor@yahoo.com. For information regarding the Psychic Readers and Healers Directory, please e-mail earthstar@tripod.net.
DISC-ussion

from the May 2006 Star Beacon

by Ann Ulrich Miller
'Hope' helps heal the Earth
Congratulations to
Willy Whitefeather
and
Catherine Margerin
, whose
short film, "Hope,"
won the unanimous popular vote at the Sedona Film Festival in February. "
Hope
is a powerful and inspiring film with tremendous universal appeal," writes Harry Belafonte. "I wish everyone could see and be moved as I was, by its extraordinary use of images and sound to evoke a timeless story of our common origins, the current conditions of social and global despair and destruction, then carrying us to a conclusion that is both moving and compassionate — a view of a possible peace, which as the film states, 'lies within each of us.' "
The film was also the 2004 winner of the Artivist Spirit Award at the Egyptian Theatre in Los Angeles. Willy says the film is being shown around the world and is helping to heal Mother Earth. It combines animation, inspired by Pueblo, Sioux and Hopi art, with archival and original live action footage to bring the viewer on a powerful journey through human existence and toward a positive future. For information on obtaining the DVD, contact Willy Whitefeather at 560-A NE F St. #130, Grants Pass, OR 97526. You may also see
Hope
on Willy's Web site at
www.willywhitefeather.com
.
An unexpected trip to Wisconsin
The Star Beacon is a little late this month for a sad reason. On April 23, my sister, Alice Schumacher Derra, lost her life partner, Sherry Chism, who battled cancer for five years. Sherry made her transition at home that Sunday evening, in the presence of Alice and other family members. I had not quite finished putting together the Beacon when I decided to fly home to Madison, Wis., and attend the services and visit with family.
Sherry was one of a kind. We all loved her to pieces, and she was so determined to make it through this battle, but in the end the cancer attacked her brain, and within three weeks it was over. My condolences go to my beloved sister, who has a heart of gold and has endured a challenging period in her life that none of us will ever forget. Condolences also to Sherry's many sisters and brothers from French Lick, Ind., who made many trips to Wisconsin over the past year or two, for Sherry's sake. Their family had a vacation trip planned for Florida (which was cancelled) the week that Sherry transitioned.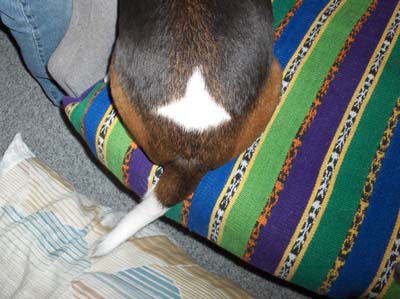 While I was at Alice's house this past week, I learned that Sherry had always wanted to send me a photo of her beagle's behind, because it displayed a "UFO." Therefore, I fulfilled Sherry's wish and snapped a picture of Bob's tail end with my digital camera. To the right is Bob the Beagle's UFO birthmark. Below is Alice and three of her dogs.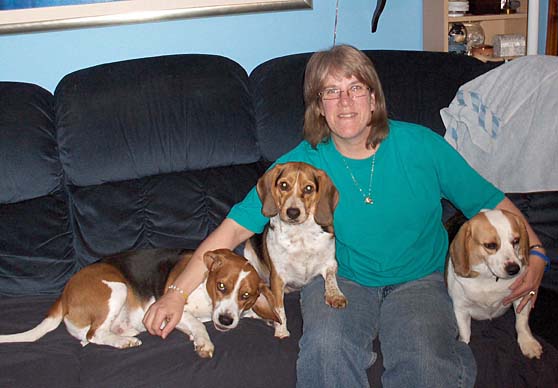 Ann Ulrich Miller is publisher of The Star Beacon.
Check out WHAT'S NEW
Subscribe to The Star Beacon
---
Copyright © 2006 Earth Star Publications
For permission to reprint articles or use graphics, e-mail earthstar@tripod.net.