GREETINGS, TERRANS!
CHECK OUT
WHAT'S NEW!

SIGN UP FOR
EARTH STAR'S
ON-LINE FICTION
WRITING COURSE

Welcome to Earth Star on the Web. Here you will find a wealth of articles on diverse topics including UFOs and extraterrestrials, the paranormal, healing, earth changes, spirituality, the latest sightings, channeling, astrology, book reviews, art, poetry, plus conference news and reports, and a whole lot more.
WHERE WOULD YOU
LIKE TO GO?


The Star Beacon: Earth Star's monthly paranormal newsletter. Subscription info can be found by clicking here.




BOOKS, T-SHIRTS, TAPES -- NEW!
Earth Star's Store features metaphysical, self-help, children's literature and adult fiction, plus original T-shirts and conference lecture tapes. Visit now by clicking here.





PSYCHIC READERS
The NEW Psychic Readers Directory lists Intuitive Counselors from all over. Check out who's doing what, and how to contact them, by clicking here.




THE BEST OF
THE BEACON
Selected articles which have appeared over the years in The Star Beacon
Click here.




CONFERENCES
Check out conferences by clicking here.





FRIENDSHIP CLUB
Earth Star's Galaxy Wide Friendship Club is the place to find like-minded pen pals. Visit now by clicking here.





ART GALLERY
Earth Star's NEW Art Gallery features paintings by Ryan Ulrich plus an assortment of art (including extraterrestrial). Visit now by clicking here.





ARIZONA PAGE
Visit exotic and beautiful Why, Arizona. You can go there by clicking here.




MULES
Animal lovers will get a "kick" out of our Mule Page, featuring the Stucker Mesa Mules. Click here.


PUBLISHING
Earth Star Publications offers book packaging services for self-publishing authors, as well as a lot more. Please see our List of Services.
ADVERTISE HERE!
Advertise your wares or services here by placing an ad in The Star Beacon. To view CLASSIFIED ADS click here. For more information on advertising, e-mail us at UFOeditor@yahoo.com. For information regarding the Psychic Readers and Healers Directory, please email starbeacon@gmail.com.
DISC-ussion

from the May 2008 Star Beacon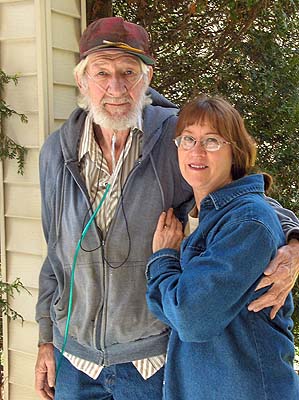 by Ann Ulrich Miller
The editor and her husband at
their home in southeastern Ohio
Sightings stir UFO buzz
Stephenville, Texas was the center of UFO attention last January. The following article, which appeared in the Lubbock Avalanche-Journal, was written by Associated Press reporter Angela K. Brown, and was sent in by subscriber Charlene Finkner (see her letter on page 2).
STEPHENVILLE — In this farming community where nightfall usually brings clear, starry skies, residents are abuzz over reported sightings of what many believe is a UFO.
Several dozen people — including a pilot, county constable and business owners — insist they have seen a large silent object with bright lights flying low and fast. Some reported seeing fighter jets chasing it.
"People wonder what in the world it is because this is the Bible Belt, and everyone is afraid it's the end of times," said Steve Allen, a freight company owner and pilot who said the object he saw last week was a mile long and half a mile wide. "It was positively, absolutely nothing from these parts."
While federal officials insist there's a logical explanation, locals swear that it was larger, quieter, faster and lower to the ground than an airplane. They also said the object's lights changed configuration, unlike those of a plane. People in several towns who reported seeing it over several weeks have offered similar descriptions of the object.
Machinist Ricky Sorrells said friends made fun of him when he told them he saw a flat, metallic object hovering about 300 feet over a pasture behind his Dublin home. But he decided to come forward after reading similar accounts in the Stephenville Empire-Tribune.
"You hear about big bass or big buck in the area, but this is a different deal," Sorrells said. "It feels good to hear that other people saw something, because that means I'm not crazy."
Sorrells said he's seen the object several times. He said he watched it through his rifle's telescopic lens and described it as very large and without seams, nuts or bolts.
Maj. Karl Lewis, a spokesman for the 301st Fighter Wing at the Joint Reserve Base Naval Air Station in Fort Worth, said no F-16s or other aircraft from his base were in the area the night of Jan. 8, when many sightings were reported.
Lewis said the object may have been an illusion caused by two commercial airplanes. Lights from the aircraft would seem unusually bright and may appear orange due to the setting sun.
"I'm 90 percent sure this was an airliner," Lewis said. "With the sun's angle, it can play tricks on you."
Officials at the region's two Air Force bases — Dyess in Abilene and Sheppard in Wichita Falls — also said none of their aircraft were in the area last week. The Air force no longer investigates UFOs.

Sanni featured in Grand Jct. Sentinel
On March 30, Commander Sanni Ceto's story was told in a feature article that appeared in Grand Junction (Colo.'s) Daily Sentinel. Gary Harmon wrote the article, with the headline: UFOs, Aliens No Strangers to Grand Valley. You can read the article on the UFO Casebook's Web site at http://www.ufocasebook.com/040708.html. Also, if you haven't done so yet, it's worth checking out Sanni's new Web site at http://sanniceto.tripod.com/index.html. She has certainly come a long way in eight years! Now she is preparing to leave Colorado and continue her mission in southern Arizona. We wish you the best of luck, Sanni.
Ann Ulrich Miller is publisher of The Star Beacon.
Check out WHAT'S NEW
Subscribe to The Star Beacon
---
Copyright © 2008 Earth Star Publications
For permission to reprint articles or use graphics, e-mail lightworker@earthstarpublications.com.