GREETINGS, TERRANS!
CHECK OUT
WHAT'S NEW!

Read Ann's
SPACE TRILOGY
Order
At DISCOUNT!

Welcome to Earth Star on the Web. Here you will find a wealth of articles on diverse topics including UFOs and extraterrestrials, the paranormal, healing, earth changes, spirituality, the latest sightings, channeling, astrology, book reviews, art, poetry, plus conference news and reports, and a whole lot more.
WHERE WOULD YOU
LIKE TO GO?


The Star Beacon: Earth Star's monthly paranormal newsletter. Subscription info can be found by clicking here.




BOOKS, T-SHIRTS, TAPES -- NEW!
Earth Star's Store features metaphysical, self-help, children's literature and adult fiction, plus original T-shirts and conference lecture tapes. Visit now by clicking here.





PSYCHIC READERS
The NEW Psychic Readers Directory lists Intuitive Counselors from all over. Check out who's doing what, and how to contact them, by clicking here.




THE BEST OF
THE BEACON
Selected articles which have appeared over the years in The Star Beacon
Click here.




CONFERENCES
Check out conferences by clicking here.





FRIENDSHIP CLUB
Earth Star's Galaxy Wide Friendship Club is the place to find like-minded pen pals. Visit now by clicking here.





ART GALLERY
Earth Star's NEW Art Gallery features paintings by Ryan Ulrich plus an assortment of art (including extraterrestrial). Visit now by clicking here.





ARIZONA PAGE
Visit exotic and beautiful Why, Arizona. You can go there by clicking here.




MULES
Animal lovers will get a "kick" out of our Mule Page, featuring the Stucker Mesa Mules. Click here.


PUBLISHING
Earth Star Publications offers book packaging services for self-publishing authors, as well as a lot more. Please see our List of Services.
ADVERTISE HERE!
Advertise your wares or services here by placing an ad in The Star Beacon. To view CLASSIFIED ADS click here. For more information on advertising, e-mail us at UFOeditor@yahoo.com. For information regarding the Psychic Readers and Healers Directory, please email starbeacon@gmail.com.
DISC-ussion

from the June 2008 Star Beacon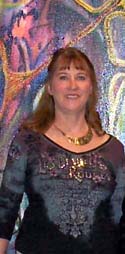 by Ann Ulrich Miller
Moving NESARA Forward
The National Economic Security and Reformation Act (NESARA) restores Constitutional law in the United States, abolishes income tax, forgives bank debts and removes US administration officials and all members of the US Congress from their positions due to their continuous unconstitutional actions.
That's right, there actually is a law on the books that, when announced, immediately improves your life. According to its Web site, NESARA declares that "Bush, Cheney, Cabinet members, and all members of Congress are immediately removed from office by NESARA's public announcement; specific law enforcement personnel shall physically remove Bush government officials from their offices. These removals allow a fresh start at the national level. Using the Constitutional Line of Succession, NESARA installs Constitutionally acceptable NESARA President and Vice President Designates until new federal elections can take place within six months after NESARA's announcement."
I recently watched the three-hour DVD of a NESARA meeting in Los Angeles in October 2005 in which Dove presents documents and explains NESARA. Dove is the pen name for Shaini Goodwin, who is the executive director of International NESARA Take Action Teams, out of Olympia, Wash. The Web site (www.nesara.us/) gives details and posts updates as they come in. You can get on their free e-mail list to receive these interesting updates.
After viewing the video, I understood a lot more what is involved with NESARA, which I'd heard about but really never understood. I'm sure there are many disillusioned people who first grew excited when they heard about NESARA, then began to doubt its authenticity due to nothing happening. After all, it does sound too good to be true.
However, you must make up your own mind about this law and the possibility of its revolutionizing our world. The video explains the reason why NESARA's announcement has not happened, due to a gag order placed upon all public officials. Dove, being exempt from this gag order, is able to talk about it and has devoted her life to bringing its announcement forward for a better world.
NESARA brings better health and free health care which does not cost Americans anything, according to a recent status report.
NESARA's health care system will make natural health care and therapies government approved and authorized by the post NESARA federal government. The FDA will be prohibited from controlling any natural health care therapies. The FDA will no longer be protectors and "secret employees" of the pharmaceutical industry.
This is just one of the many wonderful things in our future when NESARA is announced. To learn more about this law and what you can do to help, go to http://www.nesara.us.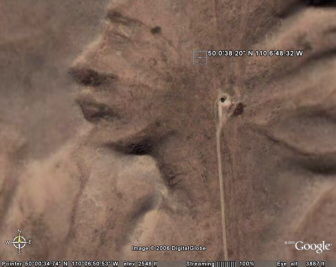 Indian head formation found in Canada on Google Earth
An article by Doug Yurchey on the Internet tells of a discovery reminiscent of the Nazca Lines in Peru. If you have Google Earth on your computer, you can zoom right in on a huge Indian head over Canada. The coordinates are:
50 0'38.20" N
110 6'48.32" W.

Seen from high in the air on the Canadian terrain is a detailed image of an Indian head among the copper-colored hills. Speculation is that the Indian in the mountains is the first evidence of prehistoric Canadians. What is an Indian doing in Canada?
"The Cradles of Civilization were built on a global grid," the article says. "The significance of this geographical FACT is the 12 Atlantean colonies were all connected to the main Power-Station in the Atlantic. Global grids (as they would in today's wired world) exist IN A PATTERN, connected in a worldwide system. If we observe a repeating, global pattern or network around the entire planet... we are forced to conclude a high-tech 'intelligence' was the architect. In the case of a technical 'Eden,' that prehistoric empire was Atlantis. Atlantis was not a legend, but the ancestors of the Pre-Egyptians and Pre-Incas."
To read more about this fascinating subject, see http://www.fourwinds10.com/siterun_data/history/world/news.php?q=1210001181
Ann Ulrich Miller is publisher of The Star Beacon.
Check out WHAT'S NEW
Subscribe to The Star Beacon
---
Copyright © 2008 Earth Star Publications
For permission to reprint articles or use graphics, e-mail lightworker@earthstarpublications.com.