GREETINGS, TERRANS!
CHECK OUT
WHAT'S NEW!

Just Released!
STRANDED ON EARTH
The Story of a Roswell Crash Survivor

Welcome to Earth Star on the Web. Here you will find a wealth of articles on diverse topics including UFOs and extraterrestrials, the paranormal, healing, earth changes, spirituality, the latest sightings, channeling, astrology, book reviews, art, poetry, plus conference news and reports, and a whole lot more.
WHERE WOULD YOU
LIKE TO GO?


The Star Beacon: Earth Star's monthly paranormal newsletter. Subscription info can be found by clicking here.




BOOKS, T-SHIRTS, TAPES -- NEW!
Earth Star's Store features metaphysical, self-help, children's literature and adult fiction, plus original T-shirts and conference lecture tapes. Visit now by clicking here.





PSYCHIC READERS
The NEW Psychic Readers Directory lists Intuitive Counselors from all over. Check out who's doing what, and how to contact them, by clicking here.




THE BEST OF
THE BEACON
Selected articles which have appeared over the years in The Star Beacon
Click here.




CONFERENCES
Earth Star's annual Love and Light Conference. Also check out other conferences by clicking here.





FRIENDSHIP CLUB
Earth Star's Galaxy Wide Friendship Club is the place to find like-minded pen pals. Visit now by clicking here.





ART GALLERY
Earth Star's NEW Art Gallery features paintings by Ryan Ulrich plus an assortment of art (including extraterrestrial). Visit now by clicking here.





ARIZONA PAGE
Visit exotic and beautiful Why, Arizona. You can go there by clicking here.




MULES
Animal lovers will get a "kick" out of our Mule Page, featuring the Stucker Mesa Mules. Click here.


PUBLISHING
Earth Star Publications offers book packaging services for self-publishing authors, as well as a lot more. Please see our List of Services.
ADVERTISE HERE!
Advertise your wares or services here by placing an ad in The Star Beacon. To view CLASSIFIED ADS click here. For more information on advertising, e-mail us at UFOeditor@yahoo.com. For information regarding the Psychic Readers and Healers Directory, please e-mail earthstar@tripod.net.
DISC-ussion

from the July 2004 Star Beacon

by Ann Ulrich Miller
Strange Entity Photo from the Netherlands
HOEVEN, Holland — On May 6, 2004, Robbert van den Broeke, age 24, took an image of a strange creature late at night. He got an urge to get his Olympus digital camera and wait in the living room to photograph something he felt was around. At first he saw a faint mist which he photographed. He took a series of photographs over the next 40 minutes and this is the fifth image of a strange alien-like entity.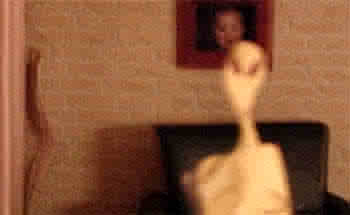 Robbert van den Broeke from Hoeven is a renowned medium, who claims to be in contact with entities from another dimension. He also regularly discovers crop circles and has seen balls of light with researcher Nancy Talbot. The entities usually show themselves to him as Balls of Light. This week they showed themselves differently: as a gray-white form with a small head and big almond-shaped, slanted eyes.
According to Van den Broeke, we don't need to be afraid. The alien beings come "with love, to teach us to take care of the earth and to be better for each other." Thanks to Toine Trust,
http://www.ufoplaza.nl/ ~ganzegal/pix/alien350x215.jpg
.


Looking down the eye of God
The first week in June, Emma O. and her brother were driving home in Washington state when he hit something on the road. She looked over at him and said, "What did you just hit?"

He said, "Nothing. Why?" Just then a huge white light showed up in the sky. According to Emma, they looked to the left and saw a meteor crash to Earth. "Nothing like looking into the eye of God and thinking it's a firecracker," said Emma. She said to her brother, "What the hell was that!" Her brother said it was probably people shooting off fireworks behind the water tower alongside the road.

But it was huge! Emma drove her own car home from her brother's and took her time, thinking about what they had seen. When she got home, her other brother ran out of the house and asked if she'd seen the big light show.
Emma then called 911 and asked if anyone had reported an explosion behind the water towers up Deer Park Road. "They said that everyone from Neha Bay to Seattle saw a meteor blow up. But if no fires were reported, nothing would come of it."

So Emma called back a short time later and again asked if anyone had seen what they had. "Seattle took all the credit for the sighting," she said. "They say this object broke up 60 miles away and 27 miles up... my brother and I looked right down the belly of this object. We got hit... sounded like gravel."

A neighbor woman living only a short distance away claimed that her house got graveled, too. "I believe her," said Emma, "because we saw this object. I don't care what the newspapers say. It was bigger than what what they reported to the sleepers. We looked down the eye of God and thought it was a firecracker."

What? Who says birthdays aren't important?
People have different ideas about themselves when it comes to birthdays. It seems that as we enter middle age and the mature years, we tend to brush birthdays aside, perhaps because they are a reminder of how "old" we are getting — something we don't like to think about. And milestone birthdays seem to distress us the most. Yet, once we reach a certain plateau (say, 80? 90?), birthdays are a great cause for celebration. Reaching 100 is bound to get your picture in the local newspaper.

I remember as a child how exciting it was to have a birthday. It was truly a day filled with delight and surprises. I have fond memories of childhood birthdays, surrounded by my closest girlfriends, usually involving a slumber party — often outside under the stars — because my birthday is in July.

Some prefer not to make a big deal over that particular day, and that is their right. My husband always grumbles, "You can only have ONE birthday..." and so instead we call it his "birth anniversary," and have to coax a smile out of him when that day rolls around. I truly think people are cheating themselves by not acknowledging they deserve to celebrate. After all, we celebrate other special days of the year: Thanksgiving, Fourth of July, Mother's Day, Christmas and Hannukah, to name a few.

I, too, have experienced a birthday all alone, where it was just "another day." I was not impressed, which is why — two years later — I'm making plans to throw a celebration to mark that half-century. The important thing is not the fact that I'm having a birthday, but the joy in getting together with good friends again, sharing a meal cooked outdoors, listening to music and gorging ourselves with cake and ice cream. A good time is sure to be had by all.

I must admit, the first half-century has been a fabulous adventure, and I'm comfortable where I am today. But I'm excited, too, about the second half-century. Having seen all the changes and growth in the first 50+ years, just imagine what the next 50+ will be like. It's bound to be a blast! If that isn't cause for celebration, I don't know what is!


About the Author:
Ann Ulrich Miller is publisher of The Star Beacon.
Check out WHAT'S NEW
Subscribe to The Star Beacon
---
Copyright © 2004 Earth Star Publications
For permission to reprint articles or use graphics, e-mail earthstar@tripod.net.