GREETINGS, TERRANS!
CHECK OUT
WHAT'S NEW!

Just Released!
ALL THE BAD STUFF COMES IN THREES

ZETI CHILD, LOST UPON A ONE STAR WORLD

Welcome to Earth Star on the Web. Here you will find a wealth of articles on diverse topics including UFOs and extraterrestrials, the paranormal, healing, earth changes, spirituality, the latest sightings, channeling, astrology, book reviews, art, poetry, plus conference news and reports, and a whole lot more.
WHERE WOULD YOU
LIKE TO GO?


The Star Beacon: Earth Star's monthly paranormal newsletter. Subscription info can be found by clicking here.




BOOKS, T-SHIRTS, TAPES -- NEW!
Earth Star's Store features metaphysical, self-help, children's literature and adult fiction, plus original T-shirts and conference lecture tapes. Visit now by clicking here.





PSYCHIC READERS
The NEW Psychic Readers Directory lists Intuitive Counselors from all over. Check out who's doing what, and how to contact them, by clicking here.




THE BEST OF
THE BEACON
Selected articles which have appeared over the years in The Star Beacon
Click here.




CONFERENCES
Earth Star's annual Love and Light Conference. Also check out other conferences by clicking here.





FRIENDSHIP CLUB
Earth Star's Galaxy Wide Friendship Club is the place to find like-minded pen pals. Visit now by clicking here.





ART GALLERY
Earth Star's NEW Art Gallery features paintings by Ryan Ulrich plus an assortment of art (including extraterrestrial). Visit now by clicking here.





ARIZONA PAGE
Visit exotic and beautiful Why, Arizona. You can go there by clicking here.




MULES
Animal lovers will get a "kick" out of our Mule Page, featuring the Stucker Mesa Mules. Click here.


PUBLISHING
Earth Star Publications offers book packaging services for self-publishing authors, as well as a lot more. Please see our List of Services.
ADVERTISE HERE!
Advertise your wares or services here by placing an ad in The Star Beacon. To view CLASSIFIED ADS click here. For more information on advertising, e-mail us at UFOeditor@yahoo.com. For information regarding the Psychic Readers and Healers Directory, please e-mail earthstar@tripod.net.
DISC-ussion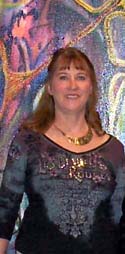 from the July 2007 Star Beacon
edited by Ann Ulrich Miller
Chemtrail activity is ongoing
These two snapshots were taken from a passenger window on a Swiss Air flight near Geneva, Nov. 10, 2006. The projection is presumed to be a chemtrail nozzle.

Photos by
William Mitchell Copyright © 2006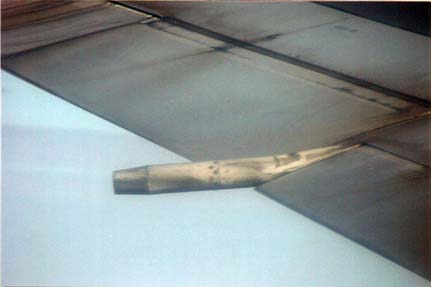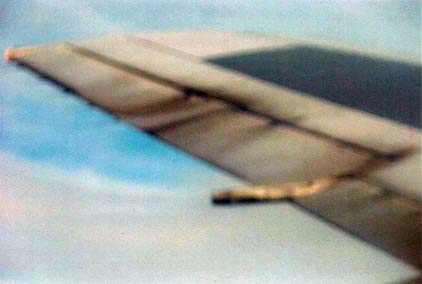 A recent message came from Will Mitchell of San Antonio, Texas, along with two photographs. He wrote, "I want to send you a picture I took out of a plane — on Swiss Air. I got a great closeup of a chemtrail hose sprayer attached to a wing. As I landed in Zurich, I noticed a hundred chemtrails in the sky, and all the planes at the airport had the nozzles."

Disclosures
FAA Division Chief of Accidents and Investigations John Callahan states, "I was the Division Chief of the Accidents and Investigations Branch of the FAA in Washington, DC, for six years. This particular incident started with a phone call from the people in Alaska ... I said, 'What's the problem?' He said, 'Well, it's that UFO. The UFO was bouncing around the 747 here'… FAA Administrator, Admiral Engen, told me to attend a briefing the next day, where the FBI, CIA, President Reagan's Scientific Study Team, as well as others attended. When we gave the presentation to the Reagan staff, they had all those people swear that this never happened. I've been involved in a lot of cover-ups with the FAA, but they never had me swear it never happened.
"For those people who say that if these UFOs existed, they would someday be on radar and that there'd be professionals who would see it, then I can tell them that, back in 1986, there were enough professional people that saw it. What I can tell you is what I've seen with my own eyes. I've got a videotape. I've got the voice tape. And I've got the reports that were filed that will confirm what I've been telling you. In 1986, Japanese Airlines 747 flight was followed by a huge UFO for 31 minutes over the Alaskan skies. The UFO also trailed a United Airlines flight until the flight landed. There was visual confirmation as well as airborne and ground-based radar confirmation."
Source: Filer's Files #29 (July 19, 2006)
www.nationalufocenter.com

Fire the Grid on July 17
On July 17, 2007, we are being presented with a cosmic opportunity that is unprecedented in our lifetime. Because of the myriad activities of Light that have taken place over the past several decades, humanity is finally in a position to fire the grid that will unite the Divinity within every man, woman and child on this sweet Earth. This grid will also reconnect Humanity directly with our Source, All That Is.
This grid has been a fragmented shadow of its original potential for aeons of time. This situation has prevented humanity from being able to clearly perceive the Oneness of Humanity or to hear the still small voice within. Consequently, our communication with the Realms of Illumined Truth and our Father-Mother God have been very, very limited.
Why July 17, 2007? Well, the Beings of Light have an expression, "Cosmic moments come and cosmic moments go." They say that if humanity misses these cosmic moments, it may be thousands of years before the opportunity will be presented again.
July 17, 2007, is a Cosmic Moment. On this sacred and holy day, there will be a surge of Creation Energy from the very Heart of our Omniscient, Omnipotent, Omnipresent Father-Mother God that will blaze through the whole of Creation. This All-Powerful Light will raise the energy, vibration and consciousness of every facet of Life that was ever breathed forth from the Heart of God.
Through the unified intention of the collective consciousness of Lightworkers around the world, this awesome Creation Energy will also fire the grid and rewire the short circuits and fragments that have caused our self-inflicted separation from God, as well as from each other.
This facet of the Divine Plan is being revealed to humanity by Shelley Yates (her Web site is http://www.firethegrid.org). Please read her story with an open heart and mind. We have all been preparing for this Cosmic Moment for millennia. At long last, our time is at hand.
This amazing story by Shelley Yates tells about a miracle that happened to her and her small son. The miracle revealed an opportunity for humanity that will create an unstoppable shift for Planet Earth and all her Life. Read this information carefully, take it into your heart of hearts, and share it far and wide. Know that YOU are the Hands of God now made manifest in the physical world of form.
(July 17 also happens to be my birthday. What a way to celebrate! — AUM)

Source: Patricia Diane Coates-Robles

Goldwater discusses UFOs
Clark C. McClelland wrote about his conversation with Barry Goldwater. The former NASA ScO, Space Shuttle Fleet, KSC, said, "On July 16, 1969, the day of the launch of Apollo 11 for the first landing of men on the moon, I met Sen. Barry M. Goldwater of Arizona, who had been the Republican presidential candidate in 1964.
"Goldwater said, 'Mac, you work in one of the most secretive and important areas of our national security on the cutting edge of space science and are no doubt aware of much that has and is happening during our missions into space.' I confirmed his statement, saying I was also part of an Office of Naval Intelligence unit at Patrick Air Force Base.
Goldwater then asked me if I was aware of Senator Russell's UFO sighting in the Soviet Union. Senator Russell told Goldwater that around sundown on 4 October 1955, he saw two separate saucer-shaped crafts while traveling on a train through the Soviet Union. He made a small sketch of the object that sparkled, flashing under its base. It had two lights on its top portion that remained stationary, while the outer section of each disc revolved or spun. He said it had a slight yellowish color and may have been 25 to 35 feet in diameter. He told me that it was classified Top Secret by the FBI and military, and did not want the sketch to end up in the wrong hands.
"Goldwater told me that Russell then detailed how he watched from his train window as one saucer-shaped craft was seen to rise slowly from the ground, about two miles away, and flew over his train at a slow rate of speed at about 5,500 feet in altitude. Goldwater emphasized, Dick was so excited about his UFO sighting, he tried to summon his aid, U.S. Army Colonel E. U. Hathaway, and his Russian language interpreter, Ruben Efron. They both got a brief view of the initial craft. All three witnessed the second disc in detail. Russell said the CIA and FBI, and perhaps the NSA, were apparently briefed in DC concerning this very important event and had a US Air Force officer interview Russell, Ruben, and Colonel Hathaway in Europe.
"Later, I discovered it was Lt. Colonel Thomas Ryan who prepared a detailed report on the sighting that was made public by Dr. Bruce Maccabee; Chairman of the Fund for UFO Research through the Freedom of Information Act. It was not declassified for public viewing until 1985!"

Source: Filer's Files #33

Alien Agenda talk show
An Internet radio show, The Alien Agenda, is hosted by Karrie Dutko, and airs at 11:30 pm EST at http://blogtalkradio.com/hostpage.aspx?host_id=2571
If you can't catch the show, it is archived and you can listen to it later at your leisure.
Check out WHAT'S NEW

Subscribe to The Star Beacon




---
Copyright © 2007 Earth Star Publications
For permission to reprint articles or use graphics, e-mail starbeacon@gmail.com.