GREETINGS, TERRANS!
CHECK OUT
WHAT'S NEW!

Just Released!
ALL THE BAD STUFF COMES IN THREES

ZETI CHILD, LOST UPON A ONE STAR WORLD

Welcome to Earth Star on the Web. Here you will find a wealth of articles on diverse topics including UFOs and extraterrestrials, the paranormal, healing, earth changes, spirituality, the latest sightings, channeling, astrology, book reviews, art, poetry, plus conference news and reports, and a whole lot more.
WHERE WOULD YOU
LIKE TO GO?


The Star Beacon: Earth Star's monthly paranormal newsletter. Subscription info can be found by clicking here.




BOOKS, T-SHIRTS, TAPES -- NEW!
Earth Star's Store features metaphysical, self-help, children's literature and adult fiction, plus original T-shirts and conference lecture tapes. Visit now by clicking here.





PSYCHIC READERS
The NEW Psychic Readers Directory lists Intuitive Counselors from all over. Check out who's doing what, and how to contact them, by clicking here.




THE BEST OF
THE BEACON
Selected articles which have appeared over the years in The Star Beacon
Click here.




CONFERENCES
Earth Star's annual Love and Light Conference. Also check out other conferences by clicking here.





FRIENDSHIP CLUB
Earth Star's Galaxy Wide Friendship Club is the place to find like-minded pen pals. Visit now by clicking here.





ART GALLERY
Earth Star's NEW Art Gallery features paintings by Ryan Ulrich plus an assortment of art (including extraterrestrial). Visit now by clicking here.





ARIZONA PAGE
Visit exotic and beautiful Why, Arizona. You can go there by clicking here.




MULES
Animal lovers will get a "kick" out of our Mule Page, featuring the Stucker Mesa Mules. Click here.


PUBLISHING
Earth Star Publications offers book packaging services for self-publishing authors, as well as a lot more. Please see our List of Services.
ADVERTISE HERE!
Advertise your wares or services here by placing an ad in The Star Beacon. To view CLASSIFIED ADS click here. For more information on advertising, e-mail us at UFOeditor@yahoo.com. For information regarding the Psychic Readers and Healers Directory, please e-mail earthstar@tripod.net.
DISC-ussion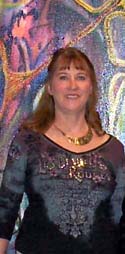 from the August 2007 Star Beacon
by Ann Ulrich Miller
UFO activity at Needle Rock
Norma Jean Foust reported UFO activity around Needle Rock near Crawford, Colo., on Friday, June 22, around 9 pm and again Saturday night, June 23. She lives on a mountain side west of Needle Rock and was able to observe Crawford's Needle Rock. "Interesting how it (the UFO) would flit rapidly ... first you see it, then you don't," she wrote in her e-mail. "(It) shows up at another spot. Substantially huge, bright lights blinking. Interesting."


Japanese UFO
A letter from Chris Lock in Japan included a photocopy of a newspaper cover featuring a UFO.
He wrote:
Dear Ann,
Here's some pretty big UFO news from Japan! The big main picture is of a UFO taken three years ago in Nagano prefecture, Japan, by a high school student on her mobile phone. Her whole family saw it in the clear, star-filled sky on Sept. 14, 2004. The young girl took 10 pictures of it, but only one came out.
A UFO researcher by the name of Miyazaki says it is about one meter in diameter and possibly an unmanned "scanning disk." Aiko, the high school student who took the shot, showed it to many people, but no one believed her, so she eventually sent it to the newspaper, Osaka Sports or Ohsupo. They were impressed with it, noticing the antenna on top, and decided to publish it on their front page.
The photo at the bottom of the page was taken in Tokyo this May 12, 2007. This was taken by Mr. Kanei, working in an office in Shinjiku, right downtown in Tokyo. This is also thought to be a "scanning disk" UFO, and therefore unmanned. The box shows the UFO enlarged. Both UFOs are thought to be remote-controlled.
I asked Wada san just now about these, and he said, "Yes. I think they are good photos, and genuine UFOs." You may remember Wada san is the Osaka man who has photographed most UFOs in this area of Japan. He added: "My first UFO sighting was on Sept. 14, which began a decade of UFO photographing, so I think there is a synchronicity or high likelihood of this being genuine, because many UFOs are seen around that date."
Of course, fall is always that active time of year for psychic and unusual phenomena. My "Mythic Death" or "Thunderous Silence of Zen" experience was Sept. 16-17, too. Maybe things will become active again this September. September is a wonderful time to be ready for these things and experiences — or even if you are not ready for them, they often just happen!
Warm regards,
Chris Lock
Osaka, Japan
ED.'S NOTE:
It's interesting to note that Sept. 1 (1989) was the date of a major sighting I had over Delta, Colo. Plus the Betty and Barney Hill encounter took place on Sept. 19-20, 1961 in New Hampshire.
France's disclosure
Charlene Finkner, a subscriber in Lubbock, Texas, wrote in and sent the clipping which follows. She says, "You may have heard by now that France released 100,000 UFO documents. My friend, Geraldine, saw it on Fox TV. They did a line, like when they give a storm warning or something. They gave it twice. The next day, our newspaper had a small article. I thought you might like to have it. The TV announcement was March 23, and the article dated March 24."
The following article, with the headline, "UFO files posted to Web by French space agency," ran in her Texas paper, compiled from wire reports:
PARIS — A saucer-shaped object is said to have touched down in the south of France and then zoomed off. It left behind scorch marks and that haunting age-old question: Are we alone?
This is just one of the cases from France's secret "X-Files" — some 100,000 documents on supposed UFOs and sightings of other unexplained phenomena that the French space agency is publishing on the Internet.
France is the first country to put its entire weird sightings archive online, said Jacques Paternet, who heads the space agency's UFO cell — the Group for Study and Information on Unidentified Aerospace Phenomena.
Their oldest recorded sighting dates from 1937, Patenet told The Associated Press in an interview Friday. The first batch of archives went up on the agency's Web site this week, drawing a server-busting wave of traffic.
The archive includes police and expert reportings, witness sketches, maps, photos, videos and audio recordings.
Check out WHAT'S NEW

Subscribe to The Star Beacon




---
Copyright © 2007 Earth Star Publications
For permission to reprint articles or use graphics, e-mail starbeacon@gmail.com.