In mid August, Sanni Ceto and I went to the San Luis Valley in southern Colorado to attend the 2005
San Luis Valley UFO Event
at the UFO Watchtower. This was our second year at the conference, and Sanni had the privilege of speaking again on her experiences as a hybrid and retaining her memories as the short-term survivor of the Roswell crash of 1947. There was quite a lineup of speakers this year and I was sorry we couldn't stay for Sunday because there were many talks I had looked forward to hearing, including Paola Harris on the Tall Whites, Tim Edwards of Salida on his UFO videos, Mary Munoz on the comical side of abductions, plus others.
I did get to listen to Chuck Zukowski and Debbie Zieglemeyer on the 2005 Roswell Dig, and Sanni gave her talk, which was a sharpened version of last year's presentation. You can obtain a DVD of her talk for $9.95 by contacting Judy Messoline at the UFO Watchtower (ufowatchtower@yahoo.com) or by calling 719/378-2271.
Friday night, while Sanni was in her small tent, she heard an engine noise overhead and believes her father, Khinyeo, was paying her a visit. Because my husband Ethan couldn't leave our animals, he didn't come with the camper and I spent both nights at my son's house in Alamosa.
We noticed all three mornings how intense the chemtrails were in the Colorado sky. Sanni experienced a degree of illness which she believes was a result of being exposed to chemtrails. I noticed on the way home, going over Cochetopa Pass, that a fine gray grit seemed to be dropping onto my windshield from the blue sky, possibly residue from these chemtrails.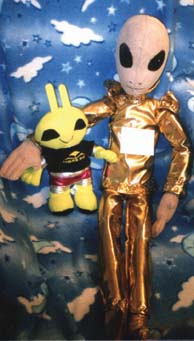 A happy customer

A subscriber from New York, who goes by the nickname "Nebula," sent an e-mail after she received an ET doll handcrafted by Sanni Ceto. She said, "I am so happy! My beautiful ET doll is finally here. When I opened the box, I held it in my arms as it was a baby or a real ET friend. It is so sweet! And so soft! I am buying a little chair, maybe a rocking chair, and that will be only his/her chair. Do I sound like someone who lost it? Who cares? It's a moment of happiness; everyone should feel like this once in a while. Love! In the back of the note Sanni wrote, 'Ha Tah.' What does it mean? Can I call him or her Ha Tah? Or does he/she have a special name? Thank you, thank you, thank you! Wait till my daughter sees it, she might want her own. She is not touching my sweet golden one. Ha Tah is sitting on my lap as I am writing you this e-mail. You made my day!"
Sanni later explained that "Ha Tah" was the new doll's name and means in Zeti "Light Giver."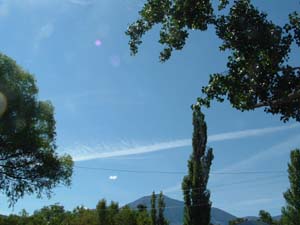 Photo by Sanni Ceto © 2005
Chemtrails continue
Those perplexing streaks of vapor in our blue skies that linger for hours in cross patterns continue off and on. Is our government trying to do us in?
Sanni Ceto took this photo of a chemtrail and picked up a lavender orb. She shares with readers how to make a "chemtrail blaster":
"You get four copper tubes about 1-to-2 ft in length. You place them over metal rods and you install a wand type quartz in the center of the four tubes. This is held together by a silver wire at the top and bottom. This is then placed into a round metal base that sits level into the ground. A blaster dissipates negative orgone and helps generate positive energies in place of a chemtrail's negative energies."
A visit from Dr. Sprinkle
On Saturday, Aug. 6 we were honored by a visit from Dr. R. Leo Sprinkle of Laramie, Wyo., who drove all the way down to Colorado to meet Sanni Ceto and visit his old friend, Lucille McNames (Sari) in Cedaredge. (Read Leo's report)