GREETINGS, TERRANS!
CHECK OUT
WHAT'S NEW!

READ TODAY'S BLOG

NEWEST RELEASE!
The Mystery at Hickory Hill
Young Adult fiction by Ann Carol Ulrich
NEW RELEASE!
Night of the White Raven
Historical fiction by Ethan Miller
SIGN UP for Star Beacon monthly updates!


Click to join starbeacon
Welcome to Earth Star on the Web. Here you will find a wealth of articles on diverse topics including UFOs and extraterrestrials, the paranormal, healing, earth changes, spirituality, the latest sightings, channeling, astrology, book reviews, art, poetry, plus conference news and reports, and a whole lot more.
WHERE WOULD YOU
LIKE TO GO?


The Star Beacon: Earth Star's monthly paranormal newsletter. Subscription info can be found by clicking here.




BOOKS, T-SHIRTS, TAPES AND MORE!
Earth Star's Store features metaphysical, self-help, children's literature and adult fiction, plus original T-shirts and conference lecture tapes. Visit now by clicking here.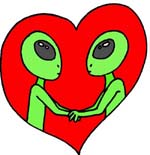 GALAXY WIDE
FRIENDSHIP CLUB
Join the snail-mail pen pal club. Find like-minded friends! Code name protects your identity. Learn more by clicking here.




THE BEST OF
THE BEACON
Selected articles which have appeared over the years in The Star Beacon
Click here.





PSYCHIC READERS
The Psychic Readers Directory lists Intuitive Counselors from all over. Check out who's doing what, and how to contact them, by clicking here.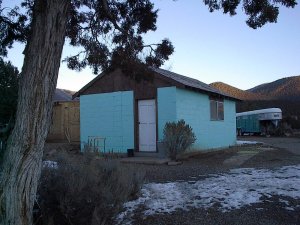 FICTION WRITING
COURSE
Sign up for a 10-week Fiction Writing Course with Ann Ulrich Miller
Click here.




CONFERENCES
Earth Star's Love and Light Conference. Order conference tapes. Check out other conferences by clicking here.





HANDMADE E.T. DOLLS
Handcrafted, hand-sewn Zeta Reticulan dolls made lovingly by Sanni Ceto. View them by clicking here.





ART GALLERY
Earth Star's Art Gallery features paintings by Ryan Ulrich plus an assortment of art (including extraterrestrial). Visit now by clicking here.





ARIZONA PAGE
Visit exotic and beautiful Why, Arizona. You can go there by clicking here.




MULES SOLD!
The Stucker Mesa Mules found a new home. Click here.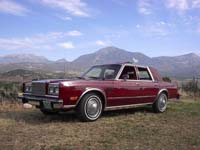 '83 CHRYSLER NEW YORKER 5th AVE
Here's a Classic Car in excellent shape! It's for sale! Click here.


PUBLISHING
Earth Star Publications offers book packaging services for self-publishing authors, as well as a lot more. Please see our List of Services.
ADVERTISE HERE!
Advertise your wares or services here by placing an ad in The Star Beacon. To view CLASSIFIED ADS click here. For more information on advertising, e-mail us at earthstar@
tripod.net. For information regarding the Psychic Readers and Healers Directory, please e-mail earthstar@tripod.net.
Astronomers decide Pluto's status
from the September 2006 Star Beacon
DISC-ussion
By Ann Ulrich Miller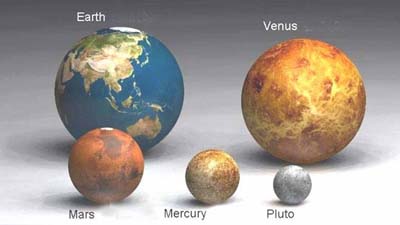 Sighting in Wyoming
Sheri Gould in Buffalo, Wyo., reported the following UFO sighting: "On Aug. 3, 2006, a little after 3 am (that most magical time), I watched something moving very slowly across the sky northward, right in the direction between Cassiopia and the Pleiades, until I could see it no longer. It looked like three stars moving, but totally synchronous with each other. It looked like an 'L' shape — that is to say, it didn't move like a triangle point, but rather the top and left bottom of the 'L' were the front with the right bottom in the rear. It 'seemed' that you could see stars right through it, as if it were cloaked somehow. I 'perceived' it to be triangular. This was HUGE from my perspective, as it filled the space between Cassiopia and the Pleiades."

Poor little Pluto
On Aug. 24, the International Astronomical Union voted to strip Pluto of its planethood, down-grading it to a "dwarf planet" and leaving our solar system with only eight planets. The IAU has never had a definition on record for planets as everyone instinctively knew what a planet was. Apparently not any more. The gray areas between planets and brown dwarfs boil down to three things: their genesis, their orbit and their size. The IAU is working on a new definition, due out in mid-November.
---
PROPERTY FOR SALE: 14+ Acre Ranchette - North Fork Valley! 3 BDRM remodeled home plus 2 BDRM mobile and outbuildings.


View My Guestbook
Sign My Guestbook
Back to Earth Star's Home Page
This page has been visited by

Light Beings

This site last updated September 8, 2006