GREETINGS, TERRANS!
CHECK OUT
WHAT'S NEW!

SIGN UP FOR
EARTH STAR'S
ON-LINE FICTION
WRITING COURSE

Welcome to Earth Star on the Web. Here you will find a wealth of articles on diverse topics including UFOs and extraterrestrials, the paranormal, healing, earth changes, spirituality, the latest sightings, channeling, astrology, book reviews, art, poetry, plus conference news and reports, and a whole lot more.
WHERE WOULD YOU
LIKE TO GO?


The Star Beacon: Earth Star's monthly paranormal newsletter. Subscription info can be found by clicking here.




BOOKS, T-SHIRTS, TAPES -- NEW!
Earth Star's Store features metaphysical, self-help, children's literature and adult fiction, plus original T-shirts and conference lecture tapes. Visit now by clicking here.





PSYCHIC READERS
The NEW Psychic Readers Directory lists Intuitive Counselors from all over. Check out who's doing what, and how to contact them, by clicking here.




THE BEST OF
THE BEACON
Selected articles which have appeared over the years in The Star Beacon
Click here.




CONFERENCES
Earth Star's annual Love and Light Conference. Also check out other conferences by clicking here.





FRIENDSHIP CLUB
Earth Star's Galaxy Wide Friendship Club is the place to find like-minded pen pals. Visit now by clicking here.





ART GALLERY
Earth Star's NEW Art Gallery features paintings by Ryan Ulrich plus an assortment of art (including extraterrestrial). Visit now by clicking here.





ARIZONA PAGE
Visit exotic and beautiful Why, Arizona. You can go there by clicking here.




MULES
Animal lovers will get a "kick" out of our Mule Page, featuring the Stucker Mesa Mules. Click here.


PUBLISHING
Earth Star Publications offers book packaging services for self-publishing authors, as well as a lot more. Please see our List of Services.
ADVERTISE HERE!
Advertise your wares or services here by placing an ad in The Star Beacon. To view CLASSIFIED ADS click here. For more information on advertising, e-mail us at UFOeditor@yahoo.com. For information regarding the Psychic Readers and Healers Directory, please e-mail earthstar@tripod.net.
DISC-ussion
from the November 2003 Star Beacon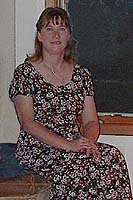 edited by Ann Ulrich Miller
UFO sightings
Sanni (Marcellina Beckwith) reports what she saw recently: "I was up on Lost Lake on Friday, Sept. 26, and saw a plane making strange contrails that werenít like regular planes make. As I watched, a silver disk came from behind the mountain and then went in and out from the contrail, then vanished rapidly - the sky was clear with only a few clouds near the mountain. My friend was in the restroom and missed it."
An asteroid discovered by Arizona astronomers in September passed within 52,000 miles of Earth - the closest documented approach of an asteroid that didnít collide with the atmosphere. Images of SQ222, as itís been dubbed, were captured by Lowell Observatory in Flagstaff and documented by Fountain Hills-based nonprofit Minor Planet Research. MPR was testing a computer and image system designed to allow students to look for asteroids and other space objects when a researcher spotted an object moving about twice the speed of the moon that passed less than a quarter of the distance to the moon, on Sept. 27. Had it struck the Earthís atmosphere, it likely would have simply burned up. (Source: Filerís Files #43)
To check out more UFO sightings, visit www.georgefiler.com. You can sign up for his weekly e-mail report.
Earth changes
Mitch Battros (Earth Changes TV) warns that
Mount Vesuvius
poses imminent danger. The Italian government believes the volcano to be such an imminent threat that they are offering hundreds of families $35,000 each to move outside the eruption danger zone. Many geologists believe that it is only a matter of time before another major eruption will devastate populated areas around the volcano. A large eruption in 79A.D. buried the towns of Pompeii and Herculaneum. Vesuvius is part of a Super-Volcano named "Somma" that sits in a caldera formed about 34,000 years ago. This is similar to North Americaís Yellowstone Super-Volcano that is also acting up. An area of 31 square miles was uplifted, in places up to 5.9 feet, damaging homes. Vesuvius is a dangerous and deadly volcano that killed 3,500 people in 631. About 3,360 people died in the 79 A.D. eruption. For more information, check out
www.earthchangestv.com/breaking/2003/october_2003/06vesuvius.htm
.
In the Philippines, 1,000 families may be evacuated, according to the Provincial Disaster Management Office of Legazpi City, while nearby disaster councils in Albay brace for an imminent eruption. Recently, the Philippine Institute of Volcanology and Seismology (PHIVOLCS) confirmed a general increasing trend of volcanic activity and has now raised the Mayon assessment to Alert Level 2. Incandescence inside the summit crater was confirmed as a persistent and significant phenomenon. Sulfur dioxide emission rates on Oct. 9 rose to 2,386 tons per day. This alert condition signifies a volcano instability that may eventually lead to ash explosions or to magmatic eruption. The most recent eruption, in 1993, began unexpectedly with an explosion that killed 77 people and prompted the evacuation of 60,000 others. (Source: Filerís Files #43)
Sun spot and solar activity is high as of press time. It is believed this may be related to the buildup of pressure at Yellowstone, Mount Rainier in Washington state, Three Sisters, Mayon and Mount Vesuvius. According to George Filer of MUFON, UFO activity is also generally high near expected volcanic and earthquake activity.
Check out WHAT'S NEW
Subscribe to The Star Beacon
---
Copyright © 2003 Earth Star Publications
For permission to reprint articles or use graphics, e-mail earthstar@tripod.net.