GREETINGS, TERRANS!
CHECK OUT
WHAT'S NEW!

NEW!
READ TODAY'S BLOG


Order your copy of
THE LIGHT BEING

Welcome to Earth Star on the Web. Here you will find a wealth of articles on diverse topics including UFOs and extraterrestrials, the paranormal, healing, earth changes, spirituality, the latest sightings, channeling, astrology, book reviews, art, poetry, plus conference news and reports, and a whole lot more.
WHERE WOULD YOU
LIKE TO GO?


The Star Beacon: Earth Star's monthly paranormal newsletter. Subscription info can be found by clicking here.




BOOKS, T-SHIRTS, TAPES -- NEW!
Earth Star's Store features metaphysical, self-help, children's literature and adult fiction, plus original T-shirts and conference lecture tapes. Visit now by clicking here.





PSYCHIC READERS
The NEW Psychic Readers Directory lists Intuitive Counselors from all over. Check out who's doing what, and how to contact them, by clicking here.




THE BEST OF
THE BEACON
Selected articles which have appeared over the years in The Star Beacon
Click here.




CONFERENCES
Earth Star's annual Love and Light Conference. Also check out other conferences by clicking here.





FRIENDSHIP CLUB
Earth Star's Galaxy Wide Friendship Club is the place to find like-minded pen pals. Visit now by clicking here.





ART GALLERY
Earth Star's NEW Art Gallery features paintings by Ryan Ulrich plus an assortment of art (including extraterrestrial). Visit now by clicking here.





ARIZONA PAGE
Visit exotic and beautiful Why, Arizona. You can go there by clicking here.




MULES
Animal lovers will get a "kick" out of our Mule Page, featuring the Stucker Mesa Mules. Click here.


PUBLISHING
Earth Star Publications offers book packaging services for self-publishing authors, as well as a lot more. Please see our List of Services.
ADVERTISE HERE!
Advertise your wares or services here by placing an ad in The Star Beacon. To view CLASSIFIED ADS click here. For more information on advertising, e-mail us at UFOeditor@yahoo.com. For information regarding the Psychic Readers and Healers Directory, please e-mail earthstar@tripod.net.
A Reading on Miracles for Star Beacon Readers
from the February 2005 Star Beacon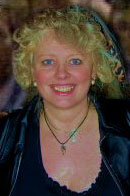 by Linda Maupin
What if we chose our own parents before we were born? What if we choose people to be our parents who are less evolved than we are?
In choosing these kinds of people to be our parents, we offer ourselves the chance to develop deep compassion.
Your soul understood that these were the lessons you would learn. Therefore, your parents have done you quite an incredible favor. In spirit they may be completely different people!
You were delighted to enter this body and take on your role. It may be time to mourn the loss of the parents you never had. You can go back in time to find the child that was you... and nurture yourself.
You can do this in guided meditation, in your imagination, or before you go to sleep The latter is the easiest. You do not need to work at it. Before you go to sleep, tell yourself this is what you are going to do. That is enough.
The amazing thing is that memories of an unseen spirit will begin to surface as a lost memory.
You can go to your heart and feel the love you have for all children on the planet. Think of the lonely, hurting children and send them your love. Include your small self in that lot of children you are thinking of.
Since there is no such thing as time (or in other words all time lines exist at once), you can actually go in and change your past... or your reaction to the events that have happened.
If you existed without true love and understanding (that every child needs), you can now implant that love (from your future self) and this love will suddenly exist through all time lines until the present!
You will suddenly find yourself looking with love and compassion on that little girl you once were. This will produce a new timeline for you to exist on now. The only difference? You will have a feeling of love and acceptance which you do not feel now plus a tremendous love for the little girl you still carry around with you!
You will be delighted in her antics and her upsets and her tantrums... as you will understand they are not serious matters but only the temporary musings of a small child. In other words, her emotions come and go as a soft breeze upon the face. You will learn to separate yourself from her.
For example, in the future, someone may say something to hurt your feelings. In the past, you would take it into the body and shove the feeling down. Somewhere it would hurt deeply... almost too deeply to acknowledge. Your circulation slowed down. You felt sluggish. There is a big ball of knotted negative energy getting caught in the body and the aura.
Here is a different scenario: Someone says something that hurts your feelings, you mentally turn to the little child inside and see what she is doing. She is miffed. She is kicking her feet and obstinate. You hear her crying. She wants to strike out. You offer her a cookie and she throws it down!
You continue to step back and view her with compassion. You are creating distance between yourself and your feelings. The painful feelings do not lodge in the body. They pass through you like a wash.... and are over... as you view the little child becoming upset.
This is now your chance to view her with compassion and love. Because you have distanced yourself from your feelings, you realize that the hurt you often feel is rooted in your childhood pain.
So much of what we feel now is from our past. As Course in Miracles says, "I am not upset for the reason I think I am," and thus follows another passage from the Course in Miracles, "I can feel peace instead of this," or I choose peace.
In doing these simple exercises, you actually become your own parent. And what is better, you become the parent you never had. You become that parent to yourself that you wish you had.
When you start to become adept at this, you suddenly lose anger and resentment that you have been carrying against your own parents.
We often still want something from our parents. It is often not said, but felt deeply. It is felt within yourself. The parent you are resentful against feels it also.
When you learn to parent yourself, soon your resentments against your parents are gone. This leaves a void that can then be filled with love and compassion.
You have shifted. Often your parents shift also. What is ironic, the moment you need nothing more from them, they can be present for you in ways they never were before.
And yet this is no longer mandatory. It is no longer necessary. Your own love for yourself (and your hurting inner child) is an endless funnel The more you give to yourself, the more you have to give to everyone.
You are now meeting your own inner needs. You free up your parents to be who they are... flaws and all.
You are now able to give them all the love you have in your heart. You are free. And your freedom has the ability to set them free. It becomes an added bonus.
As you learn to love all aspects of yourself, (bratty kid and all), you become a conduit for love. It exudes out of your body (and aura) everywhere you go.
You can feel it in your heart. You begin to experience love everywhere. You look at nature and hear its voice. You see children and grasp their spirit. You meet strangers and see a soul.
This is an ongoing process. It becomes an exercise in life. When you feel pain, this becomes an exercise for you. You immediately view who is feeling the pain.
Is it a small child inside? Is it somehow about the past?? (Yes, it is always.)
Can you let the pain wash through you? Can you feel the hurt child inside? Can you hear her? Can you nurture her in a way that helps her through the pain of her past? In doing so, you are healing the present. When you do this, you are standing on hallowed ground. A miracle has occurred.
And as the Course in Miracles says, "When miracles do not occur, something has gone wrong."
Thus we begin to live from this miraculous center within ourselves. This is our natural state. We ourselves become the miracle workers.
We have cleared negativity (or darkness, or lack of light) from our past, replacing it with love and compassion. When love and compassion become the central theme in our lives, we become the vessel for miracles. Miracles begin to happen through us in ways we may never know, but deep down we are sensing it.
The miracles reach out and encompass the planet. We feel joyful for no apparent reason. We bubble over with liveliness and energy. We become love incarnate. We are love and miracles happen through us.
Many blessings.
Linda Maupin resides in Los Gatos, California.

Check out WHAT'S NEW

Subscribe to The Star Beacon


---
Copyright © 2005 Earth Star Publications
For permission to reprint articles or use graphics, e-mail earthstar@tripod.net.