GREETINGS, TERRANS!

CHECK OUT
WHAT'S NEW!
Welcome to Earth Star on the Web. Here you will find a wealth of articles on diverse topics including UFOs and extraterrestrials, the paranormal, healing, earth changes, spirituality, the latest sightings, channeling, astrology, book reviews, art, poetry, plus conference news and reports, and a whole lot more.
WHERE WOULD YOU
LIKE TO GO?


The Star Beacon: Earth Star's monthly paranormal newsletter. Subscription info can be found by clicking here.




BOOKS, T-SHIRTS, TAPES -- NEW!
Earth Star's Store features metaphysical, self-help, children's literature and adult fiction, plus original T-shirts and conference lecture tapes. Visit now by clicking here.





PSYCHIC READERS
The NEW Psychic Readers Directory lists Intuitive Counselors from all over. Check out who's doing what, and how to contact them, by clicking here.




THE BEST OF
THE BEACON
Selected articles which have appeared over the years in The Star Beacon
Click here.




CONFERENCES
Earth Star's annual Love and Light Conference. Also check out other conferences by clicking here.





FRIENDSHIP CLUB
Earth Star's Galaxy Wide Friendship Club is the place to find like-minded pen pals. Visit now by clicking here.





ART GALLERY
Earth Star's NEW Art Gallery features paintings by Ryan Ulrich plus an assortment of art (including extraterrestrial). Visit now by clicking here.





ARIZONA PAGE
Visit exotic and beautiful Why, Arizona. You can go there by clicking here.




MULES
Animal lovers will get a "kick" out of our Mule Page, featuring the Stucker Mesa Mules. Click here.


PUBLISHING
Earth Star Publications offers book packaging services for self-publishing authors, as well as a lot more. Please see our List of Services.
ADVERTISE HERE!
Advertise your wares or services here by placing an ad in The Star Beacon. To view CLASSIFIED ADS click here. For more information on advertising, e-mail us at UFOeditor@yahoo.com. For information regarding the Psychic Readers and Healers Directory, please e-mail earthstar@tripod.net.
Mars to get closer than ever in recorded history in 2003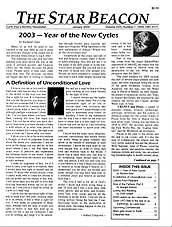 from the January 2003
Star Beacon
At 5:51 a.m. EDT on Aug. 27, 2003, Mars will be within 34,646,488 miles (55,746,199 kilometers) of Earth. This will be the closest that Mars has come to our planet in about 73,000 years, based on detailed computations by Jean Meeus of Belgium.
The Red Planet is getting progressively closer to Earth with each passing night, and the reddish point of light in our night sky will appear more than six times larger and shine some 85 times brighter than it appears now.
On Aug. 28, 2003, Mars will be at "opposition," the moment when the Sun, Earth and Mars will form a straight line; since we are closer to the Sun than Mars, this is also when we are overtaking Mars in our respective orbits. Mars comes to opposition about every 26 months. But because of the elliptical orbits of Earth and Mars, not all oppositions are created equal. The 2003 opposition will be superior to all the others because Mars will be very near to its closest point to the Sun, called perihelion, when it arrives at opposition.
Mars will be closest to Earth on Aug. 27. At the close approach, the Red Planet will be brighter than Jupiter and all the stars in the night sky, outshone only by Venus and the Moon.
-- Joe Rao, SPACE.com
Check out WHAT'S NEW
Subscribe to The Star Beacon
---
Copyright © 2002 Earth Star Publications
For permission to reprint articles or use graphics, e-mail earthstar@tripod.net.