GREETINGS, TERRANS!
CHECK OUT
WHAT'S NEW!

Just Released!
ALL THE BAD STUFF COMES IN THREES

ZETI CHILD, LOST UPON A ONE STAR WORLD

Welcome to Earth Star on the Web. Here you will find a wealth of articles on diverse topics including UFOs and extraterrestrials, the paranormal, healing, earth changes, spirituality, the latest sightings, channeling, astrology, book reviews, art, poetry, plus conference news and reports, and a whole lot more.
WHERE WOULD YOU
LIKE TO GO?


The Star Beacon: Earth Star's monthly paranormal newsletter. Subscription info can be found by clicking here.




BOOKS, T-SHIRTS, TAPES -- NEW!
Earth Star's Store features metaphysical, self-help, children's literature and adult fiction, plus original T-shirts and conference lecture tapes. Visit now by clicking here.





PSYCHIC READERS
The NEW Psychic Readers Directory lists Intuitive Counselors from all over. Check out who's doing what, and how to contact them, by clicking here.




THE BEST OF
THE BEACON
Selected articles which have appeared over the years in The Star Beacon
Click here.




CONFERENCES
Earth Star's annual Love and Light Conference. Also check out other conferences by clicking here.





FRIENDSHIP CLUB
Earth Star's Galaxy Wide Friendship Club is the place to find like-minded pen pals. Visit now by clicking here.





ART GALLERY
Earth Star's NEW Art Gallery features paintings by Ryan Ulrich plus an assortment of art (including extraterrestrial). Visit now by clicking here.





ARIZONA PAGE
Visit exotic and beautiful Why, Arizona. You can go there by clicking here.




MULES
Animal lovers will get a "kick" out of our Mule Page, featuring the Stucker Mesa Mules. Click here.


PUBLISHING
Earth Star Publications offers book packaging services for self-publishing authors, as well as a lot more. Please see our List of Services.
ADVERTISE HERE!
Advertise your wares or services here by placing an ad in The Star Beacon. To view CLASSIFIED ADS click here. For more information on advertising, e-mail us at UFOeditor@yahoo.com. For information regarding the Psychic Readers and Healers Directory, please e-mail earthstar@tripod.net.
Sustainable Living — High Tech Life Off the Grid
from the March 2007 Star Beacon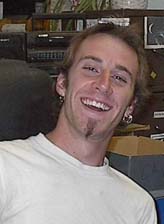 by Marty Ulrich
Part IV — Power from Water
Power from the earth, hydrogen
generators, clean combustible energy,
a renewable and quite handy resource
combined with solar and wind,
hydroponics and biofuels
City life is not going to get simple any time soon. If you want to live a harmonious life with the earth, then you must free yourself from the "grid." Now, by that, I mean that you will provide most things you need for yourself and your community, not that you will be completely disconnected from the rest of the world (although you might want to be). And I don't mean that you'll have to give up that nice TV you just bought or that cool new SUV.
There is a solution that provides the best of both worlds. It's been some time since I last wrote about independent living, but I believe I have found a way to maintain balance.
Welcome to the latter half of the first decade of the 21st Century. This is the dawn of the mobile age. The technology exists to live hundreds of miles from another human being, yet still be in contact with them via the Internet or cell phone. The idea is to live in a commune that operates on both capitalist and communist principles. Everyone does their share of work or service to stay in the community, yet the community as a whole will act as one nonprofit organization, raising capital for improvements requiring resources outside of the community.
People living there are encouraged as well to engage in the free market, but all basic needs will be met by the community, as well as a few luxuries.
The one thing you will need that nature provides is a water source. Plentiful water will be the key to survival of the commune. Whether it's from a well, river or lake, it doesn't matter; just as long as it doesn't run out. Next, you'll need power, and plenty of it. This is where it gets interesting. Solar panels and wind turbines will be used as initial power sources and as backups, but the main power supply will be provided by a generator.
The generator will be driven by a hydrogen-fueled rotary engine. The hydrogen will be produced from water, on site by electrolysis, powered by the solar panels and wind turbines, which will either be used or stored, compressed in a tank. The hydrogen will fuel the rotary engine. Since hydrogen burns over twice as hot as gasoline; constant use will likely overheat the engine. However, this heat will be used to our advantage.
Once the engine reaches operating temperature, hot water is injected into the engine with a reduced amount of hydrogen, effectively creating a steam engine — also creating more horsepower. The more horsepower, the more watts you'll get out of the generator. A 75 horsepower engine can theoretically produce about 56 kilowatts of gross power at only 1800 rpm.
The generator, water splitter, and engine will be directly built into a house. All plumbing will be run through a filter, then a distiller (and also serves the purpose of providing drinking water), and the water fed into the water splitter will go through a de-ionizer before electrolysis. Water taking heat from the engine will be circulated throughout the house, providing hot, clean water at all times. Oxygen (O2) is a side effect of electrolysis of water, which can also be vented into the rooms of your house (which has been clinically proven to reduce the risk of cancer).
So now, with plenty of water and power, the next step is to grow your own food. A greenhouse of good size will keep you and your family and friends alive. Some food and grains can be grown outside (assuming your soil is decent), but most can be grown hydroponically indoors. Plants grown hydroponically can grow faster, at any time of the year. It also gives you complete control of what nutrients your food has. And also, your greenhouse will aid in what is becoming your own personal ecosystem. A good greenhouse has good ventilation. You want to change out the air in a greenhouse about every 60 seconds. The exhaust from the hydrogen rotary engine creates a good deal of carbon dioxide and water, which can be routed into the growing room (as long as you have sufficient exhaust). This will make plants yield more food as this is one of their main foods. I will touch more on hydroponics in another part of this series.
Waste from hydroponics can be collected and recycled for mulch or for something of even greater value — biofuels. Heat from hydrogen combustion can be used to gasify plant biomass into natural gas, and further steps can refine that into more hydrogen and carbon dioxide.
"So why a rotary engine?" you ask. First, due to the high operating temperature of hydrogen combustion, a conventional engine's valves would be the first thing to burn up. A rotary engine has no valves and therefore can run almost constantly without overheating. So why not use a turbine instead? Turbines create a great deal of power, but they also require a great deal of fuel, and since our primary fuel in this generator is water, a turbine would run out of fuel faster than hydrogen, and can be efficiently generated. Only a rotary engine, powered primarily by steam, would work.
A 75 horsepower rotary engine isn't very big — that's just one rotor. A 75 hp electric motor creates 56 kilowatts of power (roughly 20 kw are needed to distill water and create hydrogen). That's enough left-over power to live a normal modern life, with your computer, connected to the Internet via satellite, and then you still can have your SUV converted to run on biofuels.
Live a simple life, with the peace and quiet, yet still be able to order supplies on-line and have them Fed Ex'ed to a nearby postal station. This was not possible years ago, but with today's communications, it could very well become the norm within a few decades.

Marty Ulrich writes about sustainable living from Oceanside, California, where he's cutting metal, cooking pizza, and playing his music every chance he gets.
Check out WHAT'S NEW

Subscribe to The Star Beacon




---
Copyright © 2007 Earth Star Publications
For permission to reprint articles or use graphics, e-mail earthstar@tripod.net.