GREETINGS, TERRANS!
CHECK OUT
WHAT'S NEW!

SIGN UP FOR
EARTH STAR'S
ON-LINE FICTION
WRITING COURSE

Welcome to Earth Star on the Web. Here you will find a wealth of articles on diverse topics including UFOs and extraterrestrials, the paranormal, healing, earth changes, spirituality, the latest sightings, channeling, astrology, book reviews, art, poetry, plus conference news and reports, and a whole lot more.
WHERE WOULD YOU
LIKE TO GO?


The Star Beacon: Earth Star's monthly paranormal newsletter. Subscription info can be found by clicking here.




BOOKS, T-SHIRTS, TAPES -- NEW!
Earth Star's Store features metaphysical, self-help, children's literature and adult fiction, plus original T-shirts and conference lecture tapes. Visit now by clicking here.





PSYCHIC READERS
The NEW Psychic Readers Directory lists Intuitive Counselors from all over. Check out who's doing what, and how to contact them, by clicking here.




THE BEST OF
THE BEACON
Selected articles which have appeared over the years in The Star Beacon
Click here.




CONFERENCES
Earth Star's annual Love and Light Conference. Also check out other conferences by clicking here.





FRIENDSHIP CLUB
Earth Star's Galaxy Wide Friendship Club is the place to find like-minded pen pals. Visit now by clicking here.





ART GALLERY
Earth Star's NEW Art Gallery features paintings by Ryan Ulrich plus an assortment of art (including extraterrestrial). Visit now by clicking here.





ARIZONA PAGE
Visit exotic and beautiful Why, Arizona. You can go there by clicking here.




MULES
Animal lovers will get a "kick" out of our Mule Page, featuring the Stucker Mesa Mules. Click here.


PUBLISHING
Earth Star Publications offers book packaging services for self-publishing authors, as well as a lot more. Please see our List of Services.
ADVERTISE HERE!
Advertise your wares or services here by placing an ad in The Star Beacon. To view CLASSIFIED ADS click here. For more information on advertising, e-mail us at UFOeditor@yahoo.com. For information regarding the Psychic Readers and Healers Directory, please e-mail earthstar@tripod.net.
Mayan Landing 2012 puts you right there
from the October 2003 Star Beacon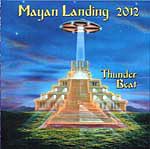 More than a thousand years ago, Mayan priests inscribed a world where jaguars ruled the land in harmony with man, where the feathered serpent - Quetzalcoatl - initiated the enlightened through accession rights so that the people of the ancient Americas would be ready when the Next World began. In historic Mayan calendars, the date Dec. 21, 2012 was noted not as the end of the world, but the end of this world and the birth of a new era under the fifth sun.
This point in time is not arbitrary as Earth will cross the galactic equator and be in alignment with the center of the galaxy for the first time in 26,000 years. ThunderBeatís Mayan Landing 2012, their latest CD, uses music, chant, song and prose to introduce listeners to the wonders to come, while paying homage to those who have gone before. Aided by singer Kaleah and flutist Sunny Heartley on selected tracks, multi-instrumentalist/vocalist ThunderBeat captures a vibration that is both timeless and timely, as we count down to the dawning of the fifth world.
Devara White is ThunderBeat, a Native American of Choctaw and Shawnee heritage, born and raised in Rochester, N.Y., and now residing in Sedona, Ariz. She is best known for her extraordinary drumming, but is also an accomplished composer, teacher and sound healer. ThunderBeatís solo debut on her own ThunderVision Records was 2000ís Fly High, a recording of ethereal trance dance music. This was followed in 2002 by Chakra Journey. Mayan Landing 2012 is her third solo recording. You can order your copy by calling toll free 888/210-1717, or 928/204-0752. Web site: www.thundervisionrecords.com. Write: ThunderVision, P.O. Box 3700, Sedona, AZ 86340.
Check out WHAT'S NEW
Subscribe to The Star Beacon
---
Copyright © 2003 Earth Star Publications
For permission to reprint articles or use graphics, e-mail earthstar@tripod.net.