GREETINGS, TERRANS!
CHECK OUT
WHAT'S NEW!

NEW!
READ TODAY'S BLOG


Order your copy of
THE LIGHT BEING

Welcome to Earth Star on the Web. Here you will find a wealth of articles on diverse topics including UFOs and extraterrestrials, the paranormal, healing, earth changes, spirituality, the latest sightings, channeling, astrology, book reviews, art, poetry, plus conference news and reports, and a whole lot more.
WHERE WOULD YOU
LIKE TO GO?


The Star Beacon: Earth Star's monthly paranormal newsletter. Subscription info can be found by clicking here.




BOOKS, T-SHIRTS, TAPES -- NEW!
Earth Star's Store features metaphysical, self-help, children's literature and adult fiction, plus original T-shirts and conference lecture tapes. Visit now by clicking here.





PSYCHIC READERS
The NEW Psychic Readers Directory lists Intuitive Counselors from all over. Check out who's doing what, and how to contact them, by clicking here.




THE BEST OF
THE BEACON
Selected articles which have appeared over the years in The Star Beacon
Click here.




CONFERENCES
Earth Star's annual Love and Light Conference. Also check out other conferences by clicking here.





FRIENDSHIP CLUB
Earth Star's Galaxy Wide Friendship Club is the place to find like-minded pen pals. Visit now by clicking here.





ART GALLERY
Earth Star's NEW Art Gallery features paintings by Ryan Ulrich plus an assortment of art (including extraterrestrial). Visit now by clicking here.





ARIZONA PAGE
Visit exotic and beautiful Why, Arizona. You can go there by clicking here.




MULES
Animal lovers will get a "kick" out of our Mule Page, featuring the Stucker Mesa Mules. Click here.


PUBLISHING
Earth Star Publications offers book packaging services for self-publishing authors, as well as a lot more. Please see our List of Services.
ADVERTISE HERE!
Advertise your wares or services here by placing an ad in The Star Beacon. To view CLASSIFIED ADS click here. For more information on advertising, e-mail us at UFOeditor@yahoo.com. For information regarding the Psychic Readers and Healers Directory, please e-mail earthstar@tripod.net.
The Meaning of It All

from the February 2007 Star Beacon

Earth Star relocates after 20 years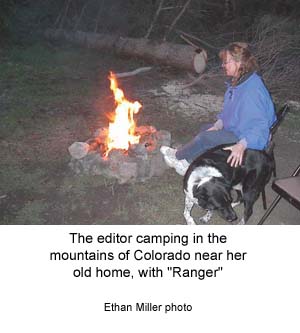 by Ann Ulrich Miller
I have watched events manifest from thought throughout my life. It is an amazing phenomenon, the Law of Attraction. Long before I heard about the movie The Secret, which came to Spiritual Cinema Circle in December, I became aware of this almost unbelievable manifestation that would occur over and over, depending upon how my thoughts were focused.
In the late '90s, I saw the Love and Light Conferences emerge from the desire to share metaphysical knowledge and bring people together in one place for a glorious experience. It took lots of focus and planning, but it was a dream fulfilled.
My dream of having a weekly newspaper in the San Luis Valley was another manifestation from thought that conjured rapidly. But due to fears and lack of self-confidence that I allowed to possess me, the business failed after six months of publication. My fear of not having enough money to keep it going spiraled into my need to borrow more and more money to keep us afloat. It was the Law of Attraction in action, but headed in the wrong direction. Universe didn't care. It was giving me just exactly what I was asking for — what I dwelled on.
Almost a year ago, a health crisis occurred in my family which led to the realization last fall that a move to a lower altitude might buy us time and bring more favorable circumstances into our lives. In late September we took an impromptu trip to southeastern Ohio, where we had found a piece of property we liked on the Internet. I consulted psychics to get direction in my life, and basically ignored what they had to say because I was focused on the "goal."
The psychics were right about difficulties and taking the trip when we did, but at the time it was a window of opportunity I had to seize. And our experiment was a success. The lower altitude did appear to be beneficial for the condition of concern.
My focus then became selling the property in Colorado, and moving us to the new location as soon as possible.
We named the time we wanted to go there — January — even though no one could guarantee when our place would sell or what the future would bring. The housing market was going into a slump, but we listed our mountain paradise in October and hoped for the best. Surely a beautiful place such as ours would be snatched up right away.
Meanwhile, I prayed the property in Ohio we wanted to buy would not be lost to another offer while we waited for our place to sell.
December came and there had been a few showings, but nothing serious. I was beginning to feel some panic, but quickly stifled it, knowing just what that would do.
My focus stayed on living in the beautiful woods we had chosen to live in, with the green grass and the deciduous trees and the Eastern birds that I so looked forward to getting reacquainted with.
Keeping the focus meant thinking about us living there, imagining what it felt like, remembering what each room was like, and I even put a photo of the house up on my computer desktop, so it was in my face every day. I played my morning songbird CD over and over, meditating to those nature sounds and imagining myself in the spring, hiking through the woods with binoculars in hand.
Then, within days, we received an unexpected offer. The man had not even seen the whole property yet, but he was convinced he wanted to buy it. We accepted his offer and things fell into place, step by step. And our projected date for moving was well within our expected timeframe.
About the time this month's newsletter gets mailed out, we will be closing on our new home in New Matamoras, Ohio, a tiny town along the Ohio River, not far from Marietta.
The Star Beacon and Earth Star Publications will continue to exist and thrive just as it always has, only from a different address. I intend to see The Star Beacon's 20th birthday celebration in April of this year, and in the future hope that Earth Star will continue to produce books of interest. For the time being, book publication will be on hold.
I have managed thus far to keep from dwelling on all that I will miss about Colorado. I am leaving not only the most beautiful place I've ever lived, with its blue skies, snowy peaks and ideal climate, but a secure job that I've held for 18 years, and many wonderful friends and light workers. I don't know a soul in our new town.
I'd like to thank a special lady for all the years of help she has given me and The Star Beacon. That is Commander Sanni Ceto, a/k/a Marcellina Beckwith, who helped me process the Beacons each month for mailing. She has been an exceptional worker and is also the world's best house sitter, if you ever need one. Our animals all loved her.
My focus now is on my new job... care giver and nurse to the most special man in my life. And with gratitude and joy in this new beginning, I step into 2007 with the vision of renewed health, happiness and peace in all our lives.

Ann Ulrich Miller is publisher of The Star Beacon.
Copyright © 2007 Ann Ulrich Miller
Check out WHAT'S NEW

Subscribe to The Star Beacon


---
Copyright © 2006 Earth Star Publications
For permission to reprint articles or use graphics, e-mail earthstar@tripod.net.