GREETINGS, TERRANS!
CHECK OUT
WHAT'S NEW!

Order your copy of
THROUGHOUT ALL TIME
A Cosmic Love Story

Welcome to Earth Star on the Web. Here you will find a wealth of articles on diverse topics including UFOs and extraterrestrials, the paranormal, healing, earth changes, spirituality, the latest sightings, channeling, astrology, book reviews, art, poetry, plus conference news and reports, and a whole lot more.
WHERE WOULD YOU
LIKE TO GO?


The Star Beacon: Earth Star's monthly paranormal newsletter. Subscription info can be found by clicking here.




BOOKS, T-SHIRTS, TAPES -- NEW!
Earth Star's Store features metaphysical, self-help, children's literature and adult fiction, plus original T-shirts and conference lecture tapes. Visit now by clicking here.





PSYCHIC READERS
The NEW Psychic Readers Directory lists Intuitive Counselors from all over. Check out who's doing what, and how to contact them, by clicking here.




THE BEST OF
THE BEACON
Selected articles which have appeared over the years in The Star Beacon
Click here.




CONFERENCES
Check out conferences by clicking here.





FRIENDSHIP CLUB
Earth Star's Galaxy Wide Friendship Club is the place to find like-minded pen pals. Visit now by clicking here.





ART GALLERY
Earth Star's NEW Art Gallery features paintings by Ryan Ulrich plus an assortment of art (including extraterrestrial). Visit now by clicking here.





ARIZONA PAGE
Visit exotic and beautiful Why, Arizona. You can go there by clicking here.




MULES
Animal lovers will get a "kick" out of our Mule Page, featuring the Stucker Mesa Mules. Click here.


PUBLISHING
Earth Star Publications offers book packaging services for self-publishing authors, as well as a lot more. Please see our List of Services.
ADVERTISE HERE!
Advertise your wares or services here by placing an ad in The Star Beacon. To view CLASSIFIED ADS click here. For more information on advertising, e-mail us at UFOeditor@yahoo.com. For information regarding the Psychic Readers and Healers Directory, please email starbeacon@gmail.com.
The Meaning of It All

from the May2009 Star Beacon
by Ann Ulrich Miller
The Magic of Manifestation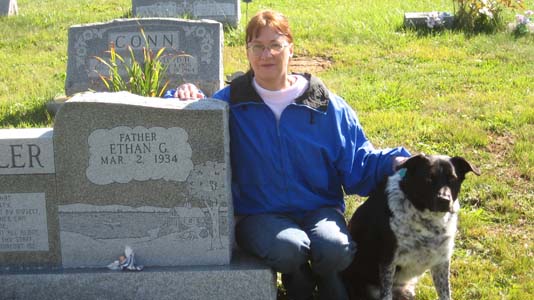 What an incredible adventure I'm having this spring. In late March I flew to Colorado for the Aztec UFO Symposium, March 27-28. My friend Niara Isley invited me to stay with her in Durango, Colo., and my intention was to look around the Four Corners area and decide where I should live.
When March came in (like a "lion"), I started feeling frustrated because, although I'd had a few house showings since January, things in the real estate world had slowed considerably and fear crept into my mind — What if I don't sell my house? My "plan" last fall had been to move to Colorado in the spring. If my house didn't sell, how was I going to be able to accomplish that? The more I fretted, the more I began pushing away my goals.
Sleepless nights and dragged-out days were no fun. I realized I was blocking myself with worrisome thoughts and, even though I was praying hard, I wasn't allowing the results to manifest. I had to step out of the way.
On the spur of the moment I decided to take action and get rid of the unnecessary junk in the garage that Ethan's sons didn't want. I felt "nudged" to hold a garage sale, so went to work sorting through everything and setting up for a weekend sale on Friday and Saturday, March 13-14. Past experience with yard sales had been disappointing. It was a lot of work and people hadn't turned out because of rain or some other reason.
However, I was committed when I placed ads in the local papers. I had to do everything myself, which was hard in my weakened state of reduced energy due to grieving and lack of sleep.
The morning of the garage sale, however, I was up early, had coffee made, and delivered road signs two hours ahead of my scheduled opening time (9:00). Early birds arrived around 8:00. Actually, two guys had dropped by Thursday afternoon to check out what I had, and I didn't begrudge them a preview because they bought a bunch of stuff and promised to return the next day — which they did.
Soon there were customers streaming into my garage — mostly men, because I had advertised tools, generators, hunting supplies, etc. — and it was a delight to watch their faces light up as they rummaged through my carefully organized tables. They reminded me of kids in a candy shop. Some of the men stayed for an hour or more, paying for things and carrying arm loads out to their pickup trucks, only to return again and again for more.
I unloaded a bundle of stuff and was pleased with the bit of money I made that day. But the best outcome was yet to come into play.
An older man asked about the house, which was for sale, and he told me his in-laws were looking for a home in the area to buy. Could he walk through the house? Well, it wasn't a formal showing and things weren't exactly in show condition, but I let him into my house. An hour later, he returned with his wife, and we walked through the rooms again.
His wife was excited and said her sister-in-law would contact me, but a couple of days passed and I didn't hear from her. Then the woman called to say they were coming to see the house the next day — would I be there? The time was set, and I called my real estate agent.
The next afternoon was gorgeous. I wasn't too surprised when I heard from my real estate agent the following day that an offer was expected on my house. I was busy getting ready for my flight to Colorado the next week, but felt the possibility might exist that I'd be "house shopping" while there. This thought excited me and inspired me to study my growing list of Colorado properties and arrange dates with a couple of Realtors, one in Durango and one in Pagosa Springs. I focused all my attention now on buying the right house in Colorado. I held the thought that this would happen — and I knew in my heart that it was going to happen.
I flew into Durango, tired and sore with a throbbing headache that Tuesday evening. Three flights in one day is no picnic. I wondered how I was going to have the energy to get into my rental car the next morning and drive to Pagosa to look at houses. Niara was also trying to sell me on relocating to Durango. She pointed out all the benefits of living in a larger city, plus the likelihood of finding a good job. I thought Durango was okay, but ...
Wednesday morning I drove Highway 160 east toward Pagosa. Halfway there, the energy hit me. Oh my God — this was Home! Tears welled up and I cried the closer I got, with the beauty of the mountains, the Ponderosa pine, Chimney Rock... there was no doubt in my mind that I needed to live in Pagosa Springs.
I spent that day looking at about a dozen properties, all in the Pagosa Lakes development, and ended up going back to the first house we'd seen. I guess I knew even then that I'd be coming back in a few days to put an offer on it.
But to be fair, I went out with the Durango Realtor on Thursday and looked at homes in Durango West and Bayfield. I really think he knew that my heart was set on Pagosa, but what a sweet man he was to tell me things an ordinary agent probably wouldn't disclose. We spoke of personal matters as well and I found out we knew someone in common back in my neck of the woods in Ohio. Such a small world it is, really.
Friday, just before heading south to Aztec for the UFO conference, I got a call on my cell phone from my real estate agent in Ohio, with news of the offer on my home. I accepted it, already knowing what the offer would be as we'd discussed it at the showing. I was ecstatic, of course.
On Friday night I attended the Meet 'N Greet dinner at the Aztec conference and met some new friends. Niara and I shared a motel room and she was naturally a bit nervous about giving her talk in the morning, so I did a chakra balancing on her and we turned out the lights early. Out of respect for her, I didn't even read in bed. Instead, I laid awake for an hour or more, my mind whirling with all the wonderful events taking place around me — the prospect of moving, new friends, being back in attendance at UFO conferences — my energy was high.
Then... something happened to me. I was sleeping when I woke up, paralyzed, aware of a presence. If you've ever experienced night paralysis, you'll know that it's not a comfortable feeling. I struggled with it and fought it off, and then dropped off to sleep once more. Later, it happened again. Only this time there was a "black blob" pressing against my right side. I could feel the weight of it. I tried to yell out, to scream at it and regain control. Finally, I heard my voice cry, "No! No! GO!!" And the black blob hurled away from me and disappeared into the window next to my bed.
At that point I was panting, shaken, and afraid to fall back to sleep. I wasn't really frightened because I don't think it was there to harm me. I prayed and surrounded myself with protection. This happened twice more in the night, but at least the black blob didn't reappear. When I told Niara about it in the morning, she said she'd heard me cry out but didn't know what she should do.
Saturday was spent attending the five lectures at the UFO conference. I told some people about my experiences at lunch. It felt wonderful to be able to share such things with like-minded folks. I felt myself "opening up" and becoming something more than I was. It felt wonderful.
Because I wanted to squeeze in time to visit my son Ryan, his wife Trish, and my grandson Vorian in La Jara, I decided not to attend the Dulce conference on Sunday. Instead I drove to the San Luis Valley and had a wonderful visit with the kids. Vorian and I bonded that visit. Looking into his blue eyes, he and I "knew" who we were to each other. I can't wait to be there permanently, where I can see him often.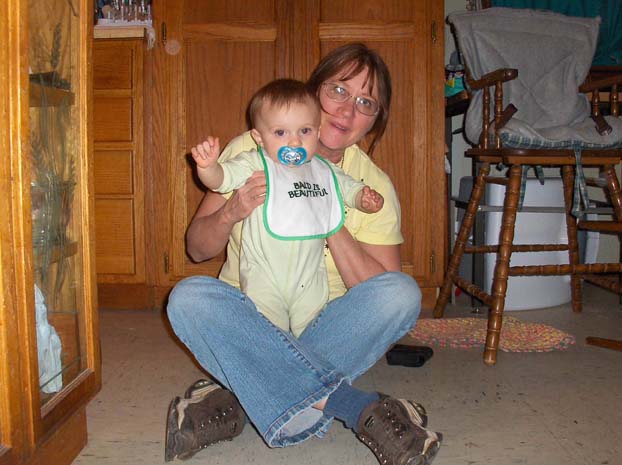 Monday I spent the evening with my friend Norma Jean Foust in South Fork, and on Tuesday I drove to Pagosa Springs and planted some roots. I opened a bank account, got a mailing address, and wrote up an offer on my chosen place. The offer was accepted immediately!
Tuesday night Victoria Liljenquist held a party in her home on Lake Pagosa. She had invited a lot of lightworkers to welcome a couple of us who want to move there. It was also a belated birthday party for Victoria (March 22). I met a lot of great people. Earlier in the day I had met Judy Horky in the coffee shop. We'd become e-mail pen pals after I read her book, EarthShift (see the review in TSB, March 2008). Charlotte Goodwin and her husband Don were there, too.
Because I was leaving on an early flight the next morning, Niara and I (in separate cars) left the party early to drive back to Durango. The sky was filled with cloud ships! It was awesome. I'd never seen that many cloud ships (UFO saucer shapes draped by clouds) in one place. Victoria is notorious for "calling in" the ships.
The energy I felt as I drove back to Durango is indescribable. I think I sang the whole way back. My heart was filled with joy and celebration because I knew I'd found my spiritual home at last.
In a reading with Robin Campbell just this week, I discovered that the cloud ships in Pagosa Springs the night of March 31 were a "welcome." She also said that the "paralysis" I'd felt in Aztec came about as a means of awakening me. It wasn't psychic attack after all, but a sort of "bump on the head," to give me clarity and understanding of my mission.
Ever since then, things have come to me that confirm that I am on the right path, and the manifestations in my life continue to build and accelerate. It truly is awesome.
By the time you get this newsletter in your mailbox, the movers will be here, loading up my furniture for the trek west. Niara Isley is flying out to Ohio to meet me after a short visit with her family, and together we are driving back to Colorado with my dog Ranger and cat Jessica.
My experience in Ohio has ended and my real work is just beginning. Whatever that is, I am allowing Spirit to guide me and use me for the highest good. The Star Beacon will definitely continue, and who knows in what direction it will expand?
This manifestation process is very exciting once you grasp hold of the concept and understand how it works. Just wanting something and praying for it is not enough. You definitely have to feel it — envision it — and if you listen to your heart, it will guide you.


Ann Ulrich Miller is publisher of The Star Beacon. In September she lost her husband and soulmate. Read the whole story in her newly released book, Throughout All Time, A Cosmic Love Story. Click HERE for ordering information.
Check out WHAT'S NEW
Subscribe to The Star Beacon
---
Copyright © 2009 Earth Star Publications
For permission to reprint articles or use graphics, e-mail lightworker@earthstarpublications.com.