GREETINGS, TERRANS!
CHECK OUT
WHAT'S NEW!

NEW!
READ TODAY'S BLOG


Order your copy of
THE LIGHT BEING

Welcome to Earth Star on the Web. Here you will find a wealth of articles on diverse topics including UFOs and extraterrestrials, the paranormal, healing, earth changes, spirituality, the latest sightings, channeling, astrology, book reviews, art, poetry, plus conference news and reports, and a whole lot more.
WHERE WOULD YOU
LIKE TO GO?


The Star Beacon: Earth Star's monthly paranormal newsletter. Subscription info can be found by clicking here.




BOOKS, T-SHIRTS, TAPES -- NEW!
Earth Star's Store features metaphysical, self-help, children's literature and adult fiction, plus original T-shirts and conference lecture tapes. Visit now by clicking here.





PSYCHIC READERS
The NEW Psychic Readers Directory lists Intuitive Counselors from all over. Check out who's doing what, and how to contact them, by clicking here.




THE BEST OF
THE BEACON
Selected articles which have appeared over the years in The Star Beacon
Click here.




CONFERENCES
Earth Star's annual Love and Light Conference. Also check out other conferences by clicking here.





FRIENDSHIP CLUB
Earth Star's Galaxy Wide Friendship Club is the place to find like-minded pen pals. Visit now by clicking here.





ART GALLERY
Earth Star's NEW Art Gallery features paintings by Ryan Ulrich plus an assortment of art (including extraterrestrial). Visit now by clicking here.





ARIZONA PAGE
Visit exotic and beautiful Why, Arizona. You can go there by clicking here.




MULES
Animal lovers will get a "kick" out of our Mule Page, featuring the Stucker Mesa Mules. Click here.


PUBLISHING
Earth Star Publications offers book packaging services for self-publishing authors, as well as a lot more. Please see our List of Services.
ADVERTISE HERE!
Advertise your wares or services here by placing an ad in The Star Beacon. To view CLASSIFIED ADS click here. For more information on advertising, e-mail us at UFOeditor@yahoo.com. For information regarding the Psychic Readers and Healers Directory, please e-mail earthstar@tripod.net.
The Meaning of It All

from the June 2007 Star Beacon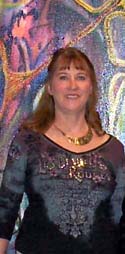 Be the Light
by Ann Ulrich Miller
Four months ago, we moved to this remote woods in southeastern Ohio, where it is peaceful and green. The deciduous woods surrounding us has a healing energy, both with its abundance of oxygen and its colors and sounds — particularly its bird life. The creek that runs along our road plays music of its own and contributes to the peaceful atmosphere.
Coming here was good for a number of reasons, but leaving the mountains and our home in the West was a sacrifice. Let's face it. The energy of the mountains does not compare to the lowlands of the East, at least in my opinion. I really have appreciated the beauty of this area, and the friendliness of the local people. River people are outgoing, generous and friendly.
On the other hand, I've found it necessary to keep my vibration high. Like-minded people — as in "lightworkers" and "new agers" — are scarce here. I miss the socialization and sharing of metaphysical ideas. It is difficult to get excited about such mundane things as shopping, drinking beer, watching television, and discussing sports and the latest TV star scandal. I can carry on a casual conversation easily enough, but don't talk to me about TV shows, or ask me to go to the mall for no reason.
I'd rather stay home and listen to the birds than make idle gossip with somebody who has nothing good to say about the next person. I don't get worked up about the latest fashions or how much money so-and-so makes. Concentrating on Nature around me has helped maintain that steady vibration I feel I must have in order to ward off the doldrums of social isolation.
Sometimes I'm starving for intellectual discussion, for talk about our ascension, our spirit guides, how we are healing ourselves, helping others and spreading awareness for a better world in which everyone is one. I often am flabbergasted that some people aren't the remotest bit interested in such things. What could be more important than our spirituality?
I suppose some people are just not yet awake. Some prefer to remain asleep. Perhaps one day the egg shell will begin to crack, as was so wisely stated by one of my favorite lightworker friends. In the meantime, I can simply turn on My Light and help guide the way for them.
And as long as I can BE the Light, I feel vibrant and glowing, no matter what is happening around me. My husband is seriously ill and had to be hospitalized recently. The only way I keep from falling apart is by keeping my vibration high. I AM the Light. Remembering that in everything there is a purpose, a deeper meaning, has been what uplifts me. Every day I face uncertainty about my future — well, doesn't everyone? — but by staying in the present moment, knowing I am a lightworker and that my Light is projecting outward, gives me purpose and value, even if I'm not interacting with a lot of people as before.
The world is in a terrible crisis politically, economically and environmentally. This in itself is reason for major depression in a lot of people, who feel hopeless to do anything about it.
Well, there is one thing we can do — Be the Light. Shine our Light, maintain that high vibration wherever we go, and it will make a difference.

Ann Ulrich Miller is publisher of The Star Beacon.
Copyright © 2007 Ann Ulrich Miller
Check out WHAT'S NEW

Subscribe to The Star Beacon


---
Copyright © 2006 Earth Star Publications
For permission to reprint articles or use graphics, e-mail earthstar@tripod.net.