GREETINGS, TERRANS!
CHECK OUT
WHAT'S NEW!

SIGN UP FOR
EARTH STAR'S
ON-LINE FICTION
WRITING COURSE

Welcome to Earth Star on the Web. Here you will find a wealth of articles on diverse topics including UFOs and extraterrestrials, the paranormal, healing, earth changes, spirituality, the latest sightings, channeling, astrology, book reviews, art, poetry, plus conference news and reports, and a whole lot more.
WHERE WOULD YOU
LIKE TO GO?


The Star Beacon: Earth Star's monthly paranormal newsletter. Subscription info can be found by clicking here.




BOOKS, T-SHIRTS, TAPES -- NEW!
Earth Star's Store features metaphysical, self-help, children's literature and adult fiction, plus original T-shirts and conference lecture tapes. Visit now by clicking here.





PSYCHIC READERS
The NEW Psychic Readers Directory lists Intuitive Counselors from all over. Check out who's doing what, and how to contact them, by clicking here.




THE BEST OF
THE BEACON
Selected articles which have appeared over the years in The Star Beacon
Click here.




CONFERENCES
Check out conferences by clicking here.





FRIENDSHIP CLUB
Earth Star's Galaxy Wide Friendship Club is the place to find like-minded pen pals. Visit now by clicking here.





ART GALLERY
Earth Star's NEW Art Gallery features paintings by Ryan Ulrich plus an assortment of art (including extraterrestrial). Visit now by clicking here.





ARIZONA PAGE
Visit exotic and beautiful Why, Arizona. You can go there by clicking here.




MULES
Animal lovers will get a "kick" out of our Mule Page, featuring the Stucker Mesa Mules. Click here.


PUBLISHING
Earth Star Publications offers book packaging services for self-publishing authors, as well as a lot more. Please see our List of Services.
ADVERTISE HERE!
Advertise your wares or services here by placing an ad in The Star Beacon. To view CLASSIFIED ADS click here. For more information on advertising, e-mail us at UFOeditor@yahoo.com. For information regarding the Psychic Readers and Healers Directory, please email starbeacon@gmail.com.
The Meaning of It All

from the June 2008 Star Beacon

by Ann Ulrich Miller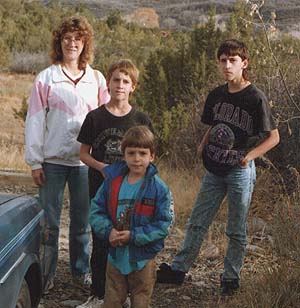 DIVINE ASSISTANCE
Ann and her three sons in 1989
I have almost completed my autobiography and cosmic love story, Throughout All Time, so this month I thought I'd share a passage from Chapter 26. This was an incident that occurred back in the spring of 1991, when I had recently been divorced from my first husband, and Ethan (my present husband) had only been with me a short time.
On Palm Sunday, March 24, Ethan returned to Colorado from his 1991 winter in Why. I was happy to have him home again, and on the following Tuesday (my day off), we took the three boys to Glenwood Springs, over the pass, to soak in the hot springs pool. It was spring break, so the boys didn't have school, and it was a rainy, overcast sort of day. We decided to take my little blue Datsun B-210 instead of Ethan's truck, which was a gas guzzler.
We had a wonderful time at the pool and ate at Pizza Hut afterwards. Ryan (my oldest, who was 14 at the time), had crutches and was wearing a brace because he had sprained his knee during a fall at his youth group meeting.
We were on our way home, on Highway 133 out of Carbondale heading toward McClure Pass, when a freak spring snowstorm hit. In a matter of minutes the road turned treacherous and we encountered blizzard-like conditions. I started up McClure Pass in the Datsun, but soon started skidding.
Marty (age 10 at the time) screamed, "Mom, you're gonna go over the cliff!"
The Datsun didn't have front-wheel drive and it became apparent that we weren't going to make it over the pass. The alternative was to turn around and drive all the way to Grand Junction and around, through Delta, which was at least another three or four hours. Oh, how I wished right then we had taken Ethan's truck!
My Datsun soon spun its wheels and I began to lose control as the car slid over the icy pavement. The boys were terrified and started screaming. I guess they thought Mom's car was going to go over the side of the hill. My heart was racing and I was in a panic. Ryan was riding in the passenger seat beside me, because of his leg and crutches, which meant Ethan was in the back seat with the two younger boys.
We were stuck! Ethan immediately took charge of the situation. Amidst the fearful yells of the kids, he climbed out of the car and got behind the Datsun and started pushing us up the hill. He instructed me to gun the accelerator. At first, I didn't want to do it. I was so scared, and I thought, "What if the car starts going backwards and runs over Ethan?" But I did as he told me, and the car began moving uphill — very slowly, with its engine roaring — but it was going.
It must have been a sight. Other cars and trucks that had four-wheel drive or front-wheel drive passed us on the road as they easily climbed the long hill of McClure Pass. Everyone stared at Ethan pushing my blue car up the pass. One lady even stopped her Jeep and ran over to us, to see if there was anything she could do. Ethan kept pushing and grunting. The lady patted him on the back, then returned to her Jeep and went on up the hill. It seemed like an hour — and it might well have been an hour — before we finally reached the top of the mountain and Ethan no longer needed to push the car.
He climbed into the back seat of the car, exhausted, and I was able to drive the rest of the way home to Paonia — cautiously, of course, because the roads were still slippery — but we made it to Paonia. All the benefits of relaxing in the hot springs and the joy of being together for that day had been sucked out of me. I was a nervous wreck after that experience. Ethan, however, only smiled and said, "That was a good experience." I think he actually had enjoyed the challenge.
Looking back at that experience today, I realize we must have had divine assistance. It's hard to believe that one man could push a car with four people up a slippery mountain pass! I know that our guardian angels were there and that some force outside ourselves was helping us along.
As I recall other similar incidences in our lives, I have no doubt that our angels and helpers from unseen dimensions were there to see us through. How many times in your life have you felt you had a very close call with injury or even death? No doubt your guardians were there to avert catastrophe.
Sometimes an event or accident is supposed to happen, though, and interference is not permitted. I have no doubt that when that time comes, there will also be divine assistance to help us through whatever difficulty we face.
Ann Ulrich Miller is publisher of The Star Beacon.
Check out WHAT'S NEW
Subscribe to The Star Beacon
---
Copyright © 2008 Earth Star Publications
For permission to reprint articles or use graphics, e-mail lightworker@earthstarpublications.com.