GREETINGS, TERRANS!
CHECK OUT
WHAT'S NEW!

NEW!
READ TODAY'S BLOG


Order your copy of
THE LIGHT BEING

Welcome to Earth Star on the Web. Here you will find a wealth of articles on diverse topics including UFOs and extraterrestrials, the paranormal, healing, earth changes, spirituality, the latest sightings, channeling, astrology, book reviews, art, poetry, plus conference news and reports, and a whole lot more.
WHERE WOULD YOU
LIKE TO GO?


The Star Beacon: Earth Star's monthly paranormal newsletter. Subscription info can be found by clicking here.




BOOKS, T-SHIRTS, TAPES -- NEW!
Earth Star's Store features metaphysical, self-help, children's literature and adult fiction, plus original T-shirts and conference lecture tapes. Visit now by clicking here.





PSYCHIC READERS
The NEW Psychic Readers Directory lists Intuitive Counselors from all over. Check out who's doing what, and how to contact them, by clicking here.




THE BEST OF
THE BEACON
Selected articles which have appeared over the years in The Star Beacon
Click here.




CONFERENCES
Earth Star's annual Love and Light Conference. Also check out other conferences by clicking here.





FRIENDSHIP CLUB
Earth Star's Galaxy Wide Friendship Club is the place to find like-minded pen pals. Visit now by clicking here.





ART GALLERY
Earth Star's NEW Art Gallery features paintings by Ryan Ulrich plus an assortment of art (including extraterrestrial). Visit now by clicking here.





ARIZONA PAGE
Visit exotic and beautiful Why, Arizona. You can go there by clicking here.




MULES
Animal lovers will get a "kick" out of our Mule Page, featuring the Stucker Mesa Mules. Click here.


PUBLISHING
Earth Star Publications offers book packaging services for self-publishing authors, as well as a lot more. Please see our List of Services.
ADVERTISE HERE!
Advertise your wares or services here by placing an ad in The Star Beacon. To view CLASSIFIED ADS click here. For more information on advertising, e-mail us at UFOeditor@yahoo.com. For information regarding the Psychic Readers and Healers Directory, please e-mail earthstar@tripod.net.
The Meaning of It All

from the August 2007 Star Beacon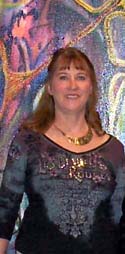 A visit to the light workers
by Ann Ulrich Miller
In July, I flew to Colorado to attend my oldest sonís wedding. He got married on July 7, 2007 (7-7-7) in Conejos Canyon, west of Antonito in southern Colorado. Ryan and Trish chose that ďday of days,Ē reportedly the most popular wedding date in history, and not by accident. The number ď7Ē has significance in my sonís life (he was born on Oct. 7, and he weighed 7 lbs. 7 oz. and was 21 inches long at birth).
I flew into Colorado Springs on July 2 and rented a car to use during my week in the mountains. What a glorious feeling it was to be back in the mountains. I spent my first night in Alamosa, where I met the brideís family and spent some time with Ryan and Trish. The San Luis Valley holds memories for me, as does the North Fork Valley, which is where I headed Tuesday morning.
I arrived in Paonia around noon, and met some friends from High Country News for lunch at the Flying Fork Cafť. It was 100 degrees that day, but a welcome change from the oppressive humidity of the East, which makes you sweat. I stopped in at the book store to see Stephanie, who carries The Star Beacon, and arranged for a table massage with Cindy for the next afternoon.
Next stop was a surprise visit to Marcy Beckwith (Sanni Ceto), who was indeed shocked to have me appear at her door. We visited for about half an hour, and she showed me the colorful crop circle drawings she had done, and asked me if Iíd be interested in running a monthly interpretation of each circle in the Beacon. How could I say no? They are fantastic depictions of crop circles. So, this month begins the first of the monthly crop circle series (see page 16).
I then checked into my motel and drove to my favorite health food store outside Hotchkiss, where I bought some longed-for items we canít seem to find in Ohio or West Virginia. Being in the North Fork was just as though Iíd never left it. It still felt like home.
Wednesday was the 4th of July, and Paonia was celebrating its annual Cherry Days with a parade on Grand Avenue and events in the town park. Still being used to Eastern time, I was up at 4:45 a.m., believing it was daylight. I decided to go for a drive at 7 am. It was a beautiful, sunny morning.
I drove up Stucker Mesa to our old place. I wanted to see it, and find out if anyone was living there, and what changes had been made. It felt strange going there. The first thing I discovered was that new tenants were living in the mobile home. I circled around the big house slowly, so I could get a quick look, and then left, because I felt like I was intruding. The new owner hadnít mowed. Dried weeds and vegetation grew up everywhere, close to the outbuildings and house... a very dangerous situation, in my opinion, especially with the high fire danger in the West.
The house looked forlorn and empty. I could see that the new owner had been working on the rooms off the garage, because a ladder with paint cans stood outside the open door. But nobody was living there. I looked around one last time and sadly drove away. This had been my home since 2000, and we had inhabited the mobile home prior to that. Weíd moved it up onto Julian Joyceís land in May 1994, two months before the Wake Fire burned the nearby mesa and destroyed three homes.
A lot of happy memories enveloped me, but I had to let them go. I couldnít hold onto this place any longer. With this brief visit, I was able to finalize in my mind that ďAnnie doesnít live here any more...Ē and I let it go.
I left Paonia and drove up Stevens Gulch Road into the Gunnison National Forest, another memorable spot for me. Ethan and I spent many years visiting the mountains and camping there. I drove about 26 miles up to Electric Mountain Lodge, which is the location of Rainbow Majesty, the novel I am writing now, only Iíve changed the name and embellished a bit on the lodge itself. Itís a mystery, a modern-day gothic about light workers.
The lodge has been rebuilt. Two years ago, a propane explosion killed three children, and the lodge burned to the ground. It was a tragedy that made national (and international) news. I was glad to see that the owners had rebuilt, even though the lodge is now smaller. They have a big dining room and bar downstairs, and I stopped in, signed the guestbook in the lobby, and had toast and coffee. Nancy, the owner, came over and talked to me, and I learned they are building cabins for people to stay in outside the lodge.
I left, feeling rejuvenated and inspired, and returned to Paonia to take in the parade, the park, and then my massage.
Wednesday evening I enjoyed my visit with a light worker friend, Norma Jean Foust, who had actually been a house guest of ours a few weeks earlier, on her way from Pennsylvania to Crawford, Colo., where she owns land and wants to build a Vaastu house. Norma Jean and I talked about all kinds of things. It was wonderful to have a metaphysical discussion with someone again. She let me borrow Robert Schwartzís new book Courageous Souls, which Iíll be reviewing in the Beacon in a month or two.
I had hoped to catch the Paonia fireworks at dusk, but as I approached Paonia, the fireworks were of a different sort. Instead of cars going to the park where the fireworks were to be held, cars were headed away! Then I saw why. The hill side was on fire! Another 4th of July fire made me think of the big one in 1994. Luckily, they got the fire out without it destroying any structures. I later found out that fireworks were not the cause, but a spark off a train.
Thursday morning I drove to Cedaredge and had breakfast with Arda Golden Eagle Woman, author of This Myth We Call Illusion, and master of the awakenings. Arda was her same wonderful self, and we had a great time. Again, it was as though Iíd never left the mountains.
Later that afternoon, Arda and I met Polly Cady in Delta. Polly just got married June 26 to Ray Kelsey, and we had the privilege of meeting him before he had to take off. Polly does energy work and handwriting analysis.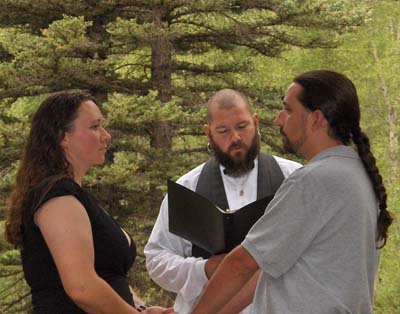 My son, Scott, arrived from Salt Lake City, so we headed back to Paonia, to get ready to drive to Alamosa the next day. The wedding was Saturday, and all went well. The ceremony took place in the woods, very simply, without music, without rings. Afterward, the brideís brother cooked hamburgers and brats on the grill, and most the guests left right away. I stayed for the campfire. Ryan and Trish had invited anyone who wanted to stay and camp to join them that night. I left to return to the motel before it got dark, but Scott camped out in his little pup tent.
Sunday afternoon I headed north toward Salida, where I met more light worker friends, Cindy and Daniel Nichols, who live in Canon City but were camping. Daniel does dowsing work and cleared a troublesome energy spot in our bedroom back in Ohio, using a diagram that I drew on a napkin.
Finally, I headed for Buena Vista and took Highway 24 east into Colorado Springs. The scenery was incredible. Iíd never taken that route before, through South Park, and all I could think about was that someday Iíd like to come live in Colorado again... these mountains were telling me they missed me as much I miss them.
The final night I stayed with my dear light worker friend, Honey Lee (Peggy) French, in her comfortable home not far from the airport. Her chocolate cocker spaniel, Coco, has a coat so soft, itís like fine fur. Peggy had knee replacement surgery on both knees in mid-July. She continues to be in my prayers as she is a most remarkable woman.
It was sad to leave the mountains behind me as I took off on that jet Monday afternoon. But I was actually happy to get home at 12:30 that night to Jackson Run. Ethan and his visiting son were waiting up for me. The dog went ballistic when he saw me, which is always flattering.
Of course, I regretted the fact that I simply didnít have time or energy to go see everyone I had hoped to see. You all know who you are. Iíll be sure to catch you next time.
A place is magical when you can carry it in your heart, no matter where you are. I learned that I donít need to actually be there, in the mountains, to feel that my spirit is there already. I only need to close my eyes and remember.
Ann Ulrich Miller is publisher of The Star Beacon.
Copyright © 2007 Ann Ulrich Miller
Check out WHAT'S NEW

Subscribe to The Star Beacon


---
Copyright © 2006 Earth Star Publications
For permission to reprint articles or use graphics, e-mail earthstar@tripod.net.