GREETINGS, TERRANS!
CHECK OUT
WHAT'S NEW!

NEW!
READ TODAY'S BLOG


Order your copy of
THE LIGHT BEING

Welcome to Earth Star on the Web. Here you will find a wealth of articles on diverse topics including UFOs and extraterrestrials, the paranormal, healing, earth changes, spirituality, the latest sightings, channeling, astrology, book reviews, art, poetry, plus conference news and reports, and a whole lot more.
WHERE WOULD YOU
LIKE TO GO?


The Star Beacon: Earth Star's monthly paranormal newsletter. Subscription info can be found by clicking here.




BOOKS, T-SHIRTS, TAPES -- NEW!
Earth Star's Store features metaphysical, self-help, children's literature and adult fiction, plus original T-shirts and conference lecture tapes. Visit now by clicking here.





PSYCHIC READERS
The NEW Psychic Readers Directory lists Intuitive Counselors from all over. Check out who's doing what, and how to contact them, by clicking here.




THE BEST OF
THE BEACON
Selected articles which have appeared over the years in The Star Beacon
Click here.




CONFERENCES
Earth Star's annual Love and Light Conference. Also check out other conferences by clicking here.





FRIENDSHIP CLUB
Earth Star's Galaxy Wide Friendship Club is the place to find like-minded pen pals. Visit now by clicking here.





ART GALLERY
Earth Star's NEW Art Gallery features paintings by Ryan Ulrich plus an assortment of art (including extraterrestrial). Visit now by clicking here.





ARIZONA PAGE
Visit exotic and beautiful Why, Arizona. You can go there by clicking here.




MULES
Animal lovers will get a "kick" out of our Mule Page, featuring the Stucker Mesa Mules. Click here.


PUBLISHING
Earth Star Publications offers book packaging services for self-publishing authors, as well as a lot more. Please see our List of Services.
ADVERTISE HERE!
Advertise your wares or services here by placing an ad in The Star Beacon. To view CLASSIFIED ADS click here. For more information on advertising, e-mail us at UFOeditor@yahoo.com. For information regarding the Psychic Readers and Healers Directory, please e-mail earthstar@tripod.net.
The Meaning of It All

from the September 2006 Star Beacon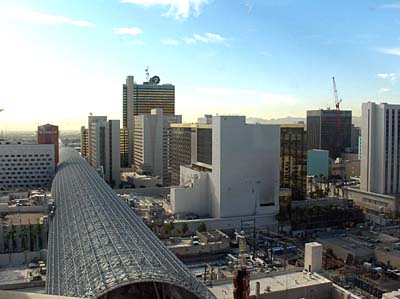 Las Vegas Getaway
Last month I was able to take a much needed five-day vacation to Las Vegas, Nev., to visit family and stay at a downtown casino. I enjoyed the long drive across four states by myself because it gave me a chance to think and do a lot of reflecting.
Being a small town gal, I always find it a bit intimidating to enter a city such as Las Vegas and hassle with heavy traffic. In Paonia, we complain about the increased traffic on our highway, and yet our town doesn't even have a stoplight.
When I stopped for gas in Cedar City, Utah, I decided to give an old friend a call, to see if she was home. I hadn't seen this woman in more than 10 years, and felt it was time to make a reconnection, especially since she was significant in bringing me into the UFO realm. There was no answer at her end, so I left a message that got cut off, and thought perhaps I'd try again on the way back (but it didn't happen as I was pressed for time come Monday).
When I arrived at the downtown hotel, I had several hours' wait till family members from Wisconsin arrived. About an hour passed and my son, Marty, arrived from Vista, Calif. We visited, but didn't have much interest in throwing our money away in the slot machines. So we walked around. Marty was concerned about connecting with a potential employer about an important job he had applied for, and told me about his enrolling in a computer course on line, to get his certification in IT (Internet Technology), the field he works in.
Late that night, the others finally arrived, and we got checked into our rooms. My younger sister, Alice, was delighted to see us. Older brother Jim and his wife Linda were staying over at the Fremont, a couple of blocks away. It took time to get settled down for the night, although I was dead tired after a long day and 11 hours of being in the car.
The weekend consisted of time in the casino, a splash in the pool, and taking in the Fremont Street Experience, which consists of shops, entertainment, hordes of people and flashing lights. It was quite awesome. My Wisconsin relatives are into gambling and did well on the slots. I, however, didn't have the money to invest in the one-armed bandits and found other things to do.
On Friday, we drove 60 miles north to Pahrump, to see our brother, Jon. He had a few UFO experiences to relate to me that I'd not heard before. Jon is a member of MUFON and he and his wife, Sally, are amateur radio operators. He belongs to a ham organization involved with UFOs. He hears things from other experiencers who work with him at the Nevada Test Site.
Sunday at noon was a get-together with all of us, including my two nephews (Jon's sons) and their families at the Draft House in Vegas. I sat beside my editor/publisher nephew, Geoff, who was responsible for getting me an autographed copy of Colm A. Kelleher's and George Knapp's new book, Hunt for the Skinwalker (Paraview Books), about the paranormal happenings at the Gorman ranch in northern Utah. Geoff is the author of Sun, Sin & Suburbia, a book about Las Vegas' history. He is currently writing a book about Howard Hughes, to be published soon by Stephens Media Press.
By Monday morning I was ready to return home. Being among so many people, of so many colors and backgrounds, it made me feel very small and insignificant. I felt like a grain of sand on a huge beach of humanity. It was almost as though my identity had been submerged for a few days.
I suppose that's why I spent many hours in the hotel room on the 19th floor, typing on my laptop computer. I found it necessary to have some "alone" time, reflecting more on my life and delving into my writing. I thought a lot about the "meaning of it all," and my purpose as a human grain of sand. But I soon came to see that my inferior thoughts were an illusion. It is easy to fall victim to being "insignificant" and "ineffective" while in a crowd, but deep within me I knew this was not true. I know that each of us, no matter how small we appear, is a spark of light of All That Is, and each of us makes a difference in the scheme of things, even though we may not think so at times.
It's good to get away and view another perspective on the world. Sometimes, when life gets stressful or mundane, we need to take a trip to a place like Las Vegas. But I'm happy now to be home in my mountains, where my vibration resonates at a higher rate and fills me with tranquility and joy. It is here that I recognize the meaning of it all.

Ann Ulrich Miller is publisher of The Star Beacon.
Copyright © 2006 Ann Ulrich Miller
Check out WHAT'S NEW

Subscribe to The Star Beacon


---
Copyright © 2006 Earth Star Publications
For permission to reprint articles or use graphics, e-mail earthstar@tripod.net.