GREETINGS, TERRANS!
CHECK OUT
WHAT'S NEW!

Just Released!
THE SECRET OF THE GREEN PAINT

ZETI CHILD, LOST UPON A ONE STAR WORLD

Welcome to Earth Star on the Web. Here you will find a wealth of articles on diverse topics including UFOs and extraterrestrials, the paranormal, healing, earth changes, spirituality, the latest sightings, channeling, astrology, book reviews, art, poetry, plus conference news and reports, and a whole lot more.
WHERE WOULD YOU
LIKE TO GO?


The Star Beacon: Earth Star's monthly paranormal newsletter. Subscription info can be found by clicking here.




BOOKS, T-SHIRTS, TAPES -- NEW!
Earth Star's Store features metaphysical, self-help, children's literature and adult fiction, plus original T-shirts and conference lecture tapes. Visit now by clicking here.





PSYCHIC READERS
The NEW Psychic Readers Directory lists Intuitive Counselors from all over. Check out who's doing what, and how to contact them, by clicking here.




THE BEST OF
THE BEACON
Selected articles which have appeared over the years in The Star Beacon
Click here.




CONFERENCES
Check out upcoming conferences by clicking here.





FRIENDSHIP CLUB
Earth Star's Galaxy Wide Friendship Club is the place to find like-minded pen pals. Visit now by clicking here.





ART GALLERY
Earth Star's NEW Art Gallery features paintings by Ryan Ulrich plus an assortment of art (including extraterrestrial). Visit now by clicking here.





ARIZONA PAGE
Visit exotic and beautiful Why, Arizona. You can go there by clicking here.




MULES
Animal lovers will get a "kick" out of our Mule Page, featuring the Stucker Mesa Mules. Click here.


PUBLISHING
Earth Star Publications offers book packaging services for self-publishing authors, as well as a lot more. Please see our List of Services.
ADVERTISE HERE!
Advertise your wares or services here by placing an ad in The Star Beacon. To view CLASSIFIED ADS click here. For more information on advertising, e-mail us at UFOeditor@yahoo.com. For information regarding the Psychic Readers and Healers Directory, please e-mail UFOeditor@yahoo.com.
Make Gratitude Your Attitude
THE MEANING OF IT ALL
from the November 2007 Star Beacon

by Ann Ulrich Miller
This month marks Thanksgiving time, and the transition from carefree days of fall into the often hectic winter holidays. Up until Halloween, there was an excitement in the air, a nostalgia that was fueled by the fiery colors of the changing leaves and the dip in temperature.
Each year when November arrives, it is often bleak and colorless, lending itself to depression and the dread of coming winter. With the change of the seasons also comes the risk of contracting some kind of cold or flu, and concern for those who are in danger of a virus that can turn deadly.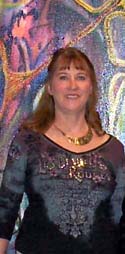 Despite its often pessimistic presence, Iíve become fond of November. Many of my friends and family members were born this month. Iíve always cherished the Thanksgiving holiday because it reminds us to be grateful for all that we have, and that is an important step in manifesting what you want in your life.
Being grateful for what you are and what you have is the key to achieving your success, whether that is acquiring material things, wealth or a position, or simply knowing peace, love and contentment.
There is little I desire in the way of possessions. Iíve learned that accumulating things only leads to overabundance of stuff that no longer serves me. If you donít believe me, just move from one residence to another. Dealing with stuff makes you realize how little you need when you can just as well live simply, with a lot less to clutter up your lifestyle.
Gratitude is an attitude. Itís something you carry with you at all times, not just once in a while. Thanksgiving ought to be every day of the year. This is true especially on those tough days ó days when things just wonít go right. You know the days I mean... the mornings when your spouse wakes up grouchy and takes everything out on you... and suddenly youíre in a bad mood as well. Then the cat decides to hack up hairballs on your newly laundered comforter... next, the toilet runs over... and then, the coffee maker goes on the blink, and so on.
This is known as ďspiraling,Ē and it works on the principle of the Law of Attraction: ďLike attracts like.Ē What your thoughts dwell on, you create. The more you plunge into how nasty the Universe is treating you, the more it does! And the fact is, the Universe is giving you exactly what you have asked for.
So, when that happens, whatís the solution? Certainly not ranting and raving, cursing every 3D object that obliterates your destructive path! No, the answer is to stop and realize what you are doing to yourself. The way to turn things around in your life is to count your blessings.
Should you ever succomb to the Cloud of Depression, the best thing to do is make a list of everything in your life that youíre grateful for. Put at the top of the list:
My life sucks right now, but Iíve got...
...and then start listing the things you cherish most.
Recently, Iíve started a new ritual. Before I go to sleep at night, I think of three things that happened to me that day for which I am grateful. Most of the time, I can come up with more than three things.
And then, if I havenít slipped off to sleep yet, I think of the most significant thing I want to accomplish next... and I start thanking God/Creator for it. I pray as if I already have accomplished it (or acquired it, if it is a material thing). I then visualize what my life is like, having accomplished the objective of my seeking.
The secret to obtaining what you want in life is to believe you already have it, and be eternally grateful for it... before it manifests. Then, unless there is some pre-birth contract you made that absolutely prevents you from it, how can Universe refuse it? Itís the Law of Attraction, after all.
Ann Ulrich Miller is publisher of The Star Beacon.
Check out WHAT'S NEW

Subscribe to The Star Beacon


---
Copyright © 2007 Earth Star Publications
For permission to reprint articles or use graphics, e-mail UFOeditor@yahoo.com.