GREETINGS, TERRANS!
CHECK OUT
WHAT'S NEW!

Just Released!
THE SECRET OF THE GREEN PAINT

ZETI CHILD, LOST UPON A ONE STAR WORLD

Welcome to Earth Star on the Web. Here you will find a wealth of articles on diverse topics including UFOs and extraterrestrials, the paranormal, healing, earth changes, spirituality, the latest sightings, channeling, astrology, book reviews, art, poetry, plus conference news and reports, and a whole lot more.
WHERE WOULD YOU
LIKE TO GO?


The Star Beacon: Earth Star's monthly paranormal newsletter. Subscription info can be found by clicking here.




BOOKS, T-SHIRTS, TAPES -- NEW!
Earth Star's Store features metaphysical, self-help, children's literature and adult fiction, plus original T-shirts and conference lecture tapes. Visit now by clicking here.





PSYCHIC READERS
The NEW Psychic Readers Directory lists Intuitive Counselors from all over. Check out who's doing what, and how to contact them, by clicking here.




THE BEST OF
THE BEACON
Selected articles which have appeared over the years in The Star Beacon
Click here.




CONFERENCES
Check out upcoming conferences by clicking here.





FRIENDSHIP CLUB
Earth Star's Galaxy Wide Friendship Club is the place to find like-minded pen pals. Visit now by clicking here.





ART GALLERY
Earth Star's NEW Art Gallery features paintings by Ryan Ulrich plus an assortment of art (including extraterrestrial). Visit now by clicking here.





ARIZONA PAGE
Visit exotic and beautiful Why, Arizona. You can go there by clicking here.




MULES
Animal lovers will get a "kick" out of our Mule Page, featuring the Stucker Mesa Mules. Click here.


PUBLISHING
Earth Star Publications offers book packaging services for self-publishing authors, as well as a lot more. Please see our List of Services.
ADVERTISE HERE!
Advertise your wares or services here by placing an ad in The Star Beacon. To view CLASSIFIED ADS click here. For more information on advertising, e-mail us at UFOeditor@yahoo.com. For information regarding the Psychic Readers and Healers Directory, please e-mail UFOeditor@yahoo.com.
'Witness to Roswell' uncovers cover-up

from the February 2008 Star Beacon

Witness to Roswell:
Unmasking the 60 year cover-up, © 2007
by Thomas J. Carey and Donald R. Schmitt

Career Press, Inc.
Book Review by James Parsons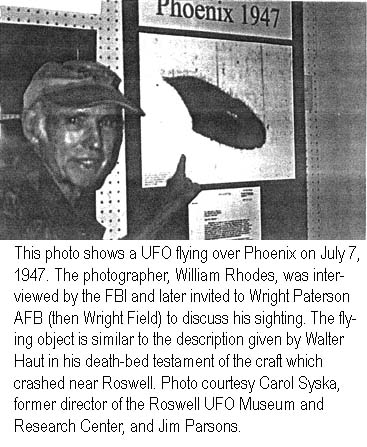 Finally, a detailed and well-documented book about the Roswell Incident and cover-up. No longer will researchers of the Incident have to argue over the exact location of the three crash sites, the nature of the military cover-up, the personnel involved, or the size and shape of the crash vehicle and bodies.
These issues have now been settled by the eyewitness death-bed testimony of none other than Walter Haut, co-founder of the Roswell UFO Museum and Research Center, and by other witnesses.
For years Haut maintained that all he ever did (or saw) was to deliver the press release announcing the recovery of "a flying disc" — the shot heard round the world — to the four Roswell news outlets. Acting on authority of his boss, Colonel Blanchard, Haut personally conveyed Blanchard's dictated words to the media.
Now we learn from Haut's testimony — signed, witnessed and dated Dec. 26, 2002 — that Haut attended a secret meeting at 7:30 a.m. on July 8, 1947 at the Roswell Army Air Base. Present were General Roger Ramey, commander, Eight Air Force, Fort Worth, Texas, his deputy, Col. Duboise, Col. Blanchard (RAAF) and air staff officers, and Haut.
Debris from the crash site was passed around and discussed, while General Ramey outlined a cover-up proposal (which Haut believed Ramey had received from the Pentagon).
Later that morning, Col. Blanchard took Haut to Hangar 84, the B29 hangar on the eastern edge of the runway (then building P-3). There, under high security, Haut saw the heads of crash victim bodies which he described as "larger than normal" and the bodies under tarp "the size of a ten-year-old child." Haut also saw the crash vehicle which he described as "6 ft. in height, 12-15 ft. in length," "egg-shaped" and "metallic," without windows, portholes, wings, tail section, or landing gear. "What I observed," Haut stated in paragraph 19 of his declaration, "was some type of craft and its crew from outer space."
Haut also described how Major Marcel, base intelligence officer, flew with some crates to Carswell Army Air Base (Fort Worth, Texas) and took debris from the crash site to General Ramey. Major Marcel, however, told Haut that Ramey substituted a weather balloon for the debris Marcel had carried there. From other interviews, authors Carey and Schmitt learned that a second B29 made an unscheduled secret flight with bodies and craft vehicle to Wright Field in Ohio (now Wright Patterson AFB).
Over many years, authors Carey and Schmidt interviewed numerous witnesses to important aspects of this case. These interviews are summarized in the book, especially concerning the location and cleanup of the three sites — the Brazel debris site on the ranch he managed, the bodies at a location a few miles away, and the site northwest of Roswell where the craft crash-landed. All three sites were under heavy security, and personnel who knew what had happened were sworn to secrecy using intimidation and National Security Laws.
There are at least two more key witnesses to the Roswell Incident whose testimony is new and almost as important as Haut's. Mack Brazel, the rancher who first reported the debris field and brought debris into Roswell on July 6, 1947, held several conversations with Roswell newsman Frank Joyce. For years Joyce stated that Brazel talked only about the debris field on the ranch which he (Brazel) managed. Something unusual crashed there. Then, in 1998, the authors of Witness interviewed Joyce. Joyce had just retired from his Albuquerque news job with station KOB. Joyce stated that Brazel told him on July 6, 1947 that Brazel had seen "bodies," "little people," "creatures" on the ground a few miles south of the debris field. Joyce decided to play devil's advocate. He told Brazel that perhaps he had seen monkeys which the military had been sending into space. Before Brazel slammed down the phone, he shouted, "Dammit, they're not monkeys and they're not human."
Walter Haut's testimony was made public in July 2007 upon the publication of Witness to Roswell at the UFO Museum in Roswell, with a book signing for authors Carey and Schmitt. Many UFO researchers, including this writer, believe this book proves that a space craft crashed at Roswell in July 1947.

James Parsons was an Air Force navigator in the 1950s and a member of several UFO study groups since.
Check out WHAT'S NEW

Subscribe to The Star Beacon


---
Copyright © 2007 Earth Star Publications
For permission to reprint articles or use graphics, e-mail UFOeditor@yahoo.com.