GREETINGS, TERRANS!
CHECK OUT
WHAT'S NEW!

NEW!
READ TODAY'S BLOG


Order your copy of
THE LIGHT BEING

Welcome to Earth Star on the Web. Here you will find a wealth of articles on diverse topics including UFOs and extraterrestrials, the paranormal, healing, earth changes, spirituality, the latest sightings, channeling, astrology, book reviews, art, poetry, plus conference news and reports, and a whole lot more.
WHERE WOULD YOU
LIKE TO GO?


The Star Beacon: Earth Star's monthly paranormal newsletter. Subscription info can be found by clicking here.




BOOKS, T-SHIRTS, TAPES -- NEW!
Earth Star's Store features metaphysical, self-help, children's literature and adult fiction, plus original T-shirts and conference lecture tapes. Visit now by clicking here.





PSYCHIC READERS
The NEW Psychic Readers Directory lists Intuitive Counselors from all over. Check out who's doing what, and how to contact them, by clicking here.




THE BEST OF
THE BEACON
Selected articles which have appeared over the years in The Star Beacon
Click here.




CONFERENCES
Earth Star's annual Love and Light Conference. Also check out other conferences by clicking here.





FRIENDSHIP CLUB
Earth Star's Galaxy Wide Friendship Club is the place to find like-minded pen pals. Visit now by clicking here.





ART GALLERY
Earth Star's NEW Art Gallery features paintings by Ryan Ulrich plus an assortment of art (including extraterrestrial). Visit now by clicking here.





ARIZONA PAGE
Visit exotic and beautiful Why, Arizona. You can go there by clicking here.




MULES
Animal lovers will get a "kick" out of our Mule Page, featuring the Stucker Mesa Mules. Click here.


PUBLISHING
Earth Star Publications offers book packaging services for self-publishing authors, as well as a lot more. Please see our List of Services.
ADVERTISE HERE!
Advertise your wares or services here by placing an ad in The Star Beacon. To view CLASSIFIED ADS click here. For more information on advertising, e-mail us at UFOeditor@yahoo.com. For information regarding the Psychic Readers and Healers Directory, please e-mail earthstar@tripod.net.
Cosmic Book Review
Earthway
from the January 2005 Star Beacon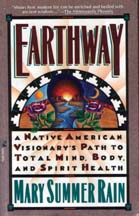 Earthway: A Native American Visionary's Path to Total Mind, Body and Spirit Health
by Mary Summer Rain
Pocket Books, New York, 1990
Paperback, 445 pages, indexed, $16.00
ISBN 0-671-70667-5
Reviewed by Ann Ulrich Miller
Those already familiar with Mary Summer Rain's magnificent talent for expressing words won't need to be convinced that her book,
Earthway,
is a treasure chest of useful, vital information for holistic living and health.
Mary Summer Rain has taken the wisdom of her Native mentor, No-Eyes, and compacted it into a wonderful metaphysical encyclopedia that comprises diet, herbal remedies, treatments, dream interpretation and spiritual guidance. No-Eyes was the daughter of a tribal shaman of the Chippewa, who taught Rain the precious knowledge of her long life.
Everything you need appears to be in this book, and woven between the charts and indexes and lists of medicinals are passages in which Summer recalls conversations with No-Eyes, the elder blind woman of the Colorado mountains, who obtained some of her knowledge from her friends in space.
This is the kind of book that you won't want to put away on a shelf. You'll want it out where you can pick it up and refer to it time and time again.
For instance, I learned through the book the importance of paying attention to our dreams and how to look up the meaning and apply it to ourselves in order to gain from the guidance within.
No-Eyes' teachings were not elaborate, magical nor esoteric, but rather simple truth by which we can learn to live in harmony with nature and our beautiful Earth.
Check out WHAT'S NEW

Subscribe to The Star Beacon




---
Copyright © 2005 Earth Star Publications
For permission to reprint articles or use graphics, e-mail earthstar@tripod.net.