GREETINGS, TERRANS!
CHECK OUT
WHAT'S NEW!

Just Released!
THE SECRET OF THE GREEN PAINT

ZETI CHILD, LOST UPON A ONE STAR WORLD

Welcome to Earth Star on the Web. Here you will find a wealth of articles on diverse topics including UFOs and extraterrestrials, the paranormal, healing, earth changes, spirituality, the latest sightings, channeling, astrology, book reviews, art, poetry, plus conference news and reports, and a whole lot more.
WHERE WOULD YOU
LIKE TO GO?


The Star Beacon: Earth Star's monthly paranormal newsletter. Subscription info can be found by clicking here.




BOOKS, T-SHIRTS, TAPES -- NEW!
Earth Star's Store features metaphysical, self-help, children's literature and adult fiction, plus original T-shirts and conference lecture tapes. Visit now by clicking here.





PSYCHIC READERS
The NEW Psychic Readers Directory lists Intuitive Counselors from all over. Check out who's doing what, and how to contact them, by clicking here.




THE BEST OF
THE BEACON
Selected articles which have appeared over the years in The Star Beacon
Click here.




CONFERENCES
Check out upcoming conferences by clicking here.





FRIENDSHIP CLUB
Earth Star's Galaxy Wide Friendship Club is the place to find like-minded pen pals. Visit now by clicking here.





ART GALLERY
Earth Star's NEW Art Gallery features paintings by Ryan Ulrich plus an assortment of art (including extraterrestrial). Visit now by clicking here.





ARIZONA PAGE
Visit exotic and beautiful Why, Arizona. You can go there by clicking here.




MULES
Animal lovers will get a "kick" out of our Mule Page, featuring the Stucker Mesa Mules. Click here.


PUBLISHING
Earth Star Publications offers book packaging services for self-publishing authors, as well as a lot more. Please see our List of Services.
ADVERTISE HERE!
Advertise your wares or services here by placing an ad in The Star Beacon. To view CLASSIFIED ADS click here. For more information on advertising, e-mail us at UFOeditor@yahoo.com. For information regarding the Psychic Readers and Healers Directory, please e-mail starbeacon@gmail.com.
Cosmic Book Reviews

from the January 2008 Star Beacon

Remote viewing through Psi Spies
Review by Marty Ulrich (Mau)
Psi Spies: The True Story of America's Psychic Warfare Program
by Jim Marrs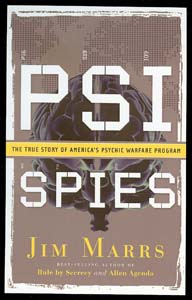 The Career Press, Inc., 2007
3 Tice Road, Franklin Lakes, NJ 07417

I was excited about this book as I am very interested in astral travel, psychic powers, remote viewing and the like. However, when I first started reading it, I found it to be a little slow and boring. The beginning talks about David Morehouse and how he found the Psi Spies program and how the program got started along with the history of its development. I kept reading, though... slowly.
About one third into it, things got pretty interesting. The book details several experiments and procedures by credible research institutes, such as Stanford Research Institute. In early experiments, remote viewing was a mysterious and unpredictable phenomenon. Results were often inaccurate, but when they were right, they were incredibly accurate — often seeing details overlooked by people physically at the site of viewing.
Through the '60s and '70s, more research was conducted, and what they came up with was called Controlled Remote Viewing, in which coordinates were given to a subject and they would then view the coordinates remotely and report back on what was seen. Procedures were developed and remote viewing was proven scientifically, although still today many researchers don't accept it, because researchers still have a hard time explaining exactly how remote viewing works. Nonetheless, funding came in from various sources to keep the Psi Spies alive and well, because they produced results.
The Psi Spies died around the early '90s, but only in the public eye. Covert black-ops took over and now use the intelligence for their own purposes. The early founders of the Psi Spies took their knowledge to the private sector and started companies offering psychic services.
Towards the end of the book, I found it very interesting. The people involved with remote viewing had such extraordinary experiences. They started a collection of unexplained stories called the Enigma Files. These contained remote-viewing sessions of UFOs, other planets and locations impossible for us to physically travel to.
Overall, the book was well documented, indexed and written coherently. After the initial boring history of how they started, I found the book quite fascinating, and will probably use it as a reference in my own research with remote viewing.

Mau (Marty Ulrich) resides in Oceanside, Calif., where he has decided to take up bike racing.
---
Check out WHAT'S NEW

Subscribe to The Star Beacon

Return to Earth Star's Home Page


---
Copyright © 2008 Earth Star Publications
For permission to reprint articles or use graphics, e-mail lightworker@earthstarpublications.com.