GREETINGS, TERRANS!
CHECK OUT
WHAT'S NEW!

Just Released!
THE SECRET OF THE GREEN PAINT

ZETI CHILD, LOST UPON A ONE STAR WORLD

Welcome to Earth Star on the Web. Here you will find a wealth of articles on diverse topics including UFOs and extraterrestrials, the paranormal, healing, earth changes, spirituality, the latest sightings, channeling, astrology, book reviews, art, poetry, plus conference news and reports, and a whole lot more.
WHERE WOULD YOU
LIKE TO GO?


The Star Beacon: Earth Star's monthly paranormal newsletter. Subscription info can be found by clicking here.




BOOKS, T-SHIRTS, TAPES -- NEW!
Earth Star's Store features metaphysical, self-help, children's literature and adult fiction, plus original T-shirts and conference lecture tapes. Visit now by clicking here.





PSYCHIC READERS
The NEW Psychic Readers Directory lists Intuitive Counselors from all over. Check out who's doing what, and how to contact them, by clicking here.




THE BEST OF
THE BEACON
Selected articles which have appeared over the years in The Star Beacon
Click here.




CONFERENCES
Check out upcoming conferences by clicking here.





FRIENDSHIP CLUB
Earth Star's Galaxy Wide Friendship Club is the place to find like-minded pen pals. Visit now by clicking here.





ART GALLERY
Earth Star's NEW Art Gallery features paintings by Ryan Ulrich plus an assortment of art (including extraterrestrial). Visit now by clicking here.





ARIZONA PAGE
Visit exotic and beautiful Why, Arizona. You can go there by clicking here.




MULES
Animal lovers will get a "kick" out of our Mule Page, featuring the Stucker Mesa Mules. Click here.


PUBLISHING
Earth Star Publications offers book packaging services for self-publishing authors, as well as a lot more. Please see our List of Services.
ADVERTISE HERE!
Advertise your wares or services here by placing an ad in The Star Beacon. To view CLASSIFIED ADS click here. For more information on advertising, e-mail us at UFOeditor@yahoo.com. For information regarding the Psychic Readers and Healers Directory, please e-mail starbeacon@gmail.com.
Cosmic Book Reviews
from the February 2008 Star Beacon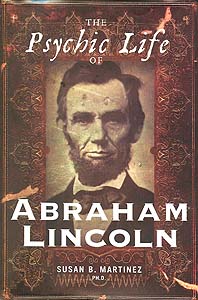 Abraham Lincoln's psychic life depicted in new book
Review by Ann Ulrich Miller
The Psychic Life of Abraham Lincoln,
by Susan B. Martinez, Ph.D.
The Career Press, Inc., Franklin Lakes, N.Y., 2007.
Hardback, 287 pages, w/illus.
ISBN 1-56414-966-8, $24.99

There's more than 6,000 books written about our 16th president, Abraham Lincoln, one of our country's greatest leaders. The Psychic Life of Abraham Lincoln, by Susan B. Martinez, Ph.D., goes beyond the usual biographical topics by exploring Lincoln's beliefs and his relationship with higher powers. The question of Lincoln's religious beliefs was a widely debated topic that has never been fully understood, but in this book Dr. Martinez presents evidence that Lincoln did, in fact, practice Spiritualism.
Often described as a "free thinker," we learn through this book that Lincoln did believe in a structured religion, but it just wasn't popular or accepted. Biographers would write that it was Lincoln's wife, Mary Todd Lincoln, who was the Spiritualist in the family, and that the president only went along to humor his wife. However, that is not the picture presented here by Dr. Martinez's careful research.
The Psychic Life of Abraham Lincoln talks about the president's mystical practices and occurrences, including his prophetic dreams and psychic powers, his consultation with oracles, attending séances with his wife, and his belief that he was able to enter altered states of consciousness.
It was fascinating getting to know this man through this book. I saw a side of Abraham Lincoln that was never taught in grade school, and I felt a camaraderie of sorts with him and his incredible wit. Often depicted as a morbid, sad individual because of all the heartache he endured in his life, Abe was actually a comic with his cracks and outbursts. It must have been a riot being in the White House while he occupied office.
The author, Martinez, is an independent scholar, journalist and activist. She earned her doctorate in anthropology at Columbia University and specialized in psycholinguistics. This bit of information helped me understand why there seemed to be a "challenging word" on almost every page of the book. It was almost as though the author went out of her way to find the most obscure words to include in her work. But it was fun to read the highlighted boxes of quotations running throughout the book. I read the entire book out loud to my husband, and found myself stumbling repeatedly over words I couldn't pronounce. My husband would interrupt, saying, "What in the heck does that mean?" I soon had the feeling that here was an author trying to impress upon the reader her intellectual prowess through forcing all these strange words.
If it had been any other book, I might have tossed it aside after the first chapter. But Martinez did an excellent job bringing "The Trimmer" to life in my world, so I was willing to excuse all the annoying verbage.
A lot of work went into The Psychic Life of Abraham Lincoln — at the back of the book is a treasure of "notes" and references. From both a metaphysical and historical perspective, I recommend the book.

Ann Ulrich Miller is the publisher of The Star Beacon.
---
Check out WHAT'S NEW

Subscribe to The Star Beacon

Return to Earth Star's Home Page


---
Copyright © 2008 Earth Star Publications
For permission to reprint articles or use graphics, e-mail lightworker@earthstarpublications.com.