GREETINGS, TERRANS!

CHECK OUT
WHAT'S NEW!

NEW!
READ TODAY'S BLOG


Order your copy of
THE LIGHT BEING

Welcome to Earth Star on the Web. Here you will find a wealth of articles on diverse topics including UFOs and extraterrestrials, the paranormal, healing, earth changes, spirituality, the latest sightings, channeling, astrology, book reviews, art, poetry, plus conference news and reports, and a whole lot more.
WHERE WOULD YOU
LIKE TO GO?


The Star Beacon: Earth Star's monthly paranormal newsletter. Subscription info can be found by clicking here.




BOOKS, T-SHIRTS, TAPES -- NEW!
Earth Star's Store features metaphysical, self-help, children's literature and adult fiction, plus original T-shirts and conference lecture tapes. Visit now by clicking here.





PSYCHIC READERS
The NEW Psychic Readers Directory lists Intuitive Counselors from all over. Check out who's doing what, and how to contact them, by clicking here.




THE BEST OF
THE BEACON
Selected articles which have appeared over the years in The Star Beacon
Click here.




CONFERENCES
Check out conferences by clicking here.





FRIENDSHIP CLUB
Earth Star's Galaxy Wide Friendship Club is the place to find like-minded pen pals. Visit now by clicking here.





ART GALLERY
Earth Star's NEW Art Gallery features paintings by Ryan Ulrich plus an assortment of art (including extraterrestrial). Visit now by clicking here.





ARIZONA PAGE
Visit exotic and beautiful Why, Arizona. You can go there by clicking here.




MULES
Animal lovers will get a "kick" out of our Mule Page, featuring the Stucker Mesa Mules. Click here.


PUBLISHING
Earth Star Publications offers book packaging services for self-publishing authors, as well as a lot more. Please see our List of Services.
ADVERTISE HERE!
Advertise your wares or services here by placing an ad in The Star Beacon. To view CLASSIFIED ADS click here. For more information on advertising, e-mail us at UFOeditor@yahoo.com. For information regarding the Psychic Readers and Healers Directory, please e-mail starbeacon@gmail.com.
Cosmic Book Reviews

Civilization may be older than we thought
from the April 2009 Star Beacon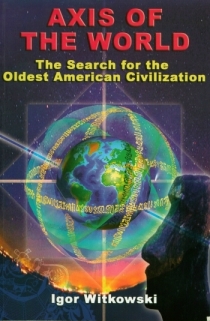 Axis of the World: The Search for the World's Oldest Civilization
by Igor Witkowski
Adventures Unlimited Press, Kempton, IL ($18.95)
Review by Jon Schumacher

Amazon knows what kind of books I like based upon my past purchases. They offered this one, but I had to wait a few weeks until the publisher actually released it.
It turned out to be rather interesting and I enjoyed reading it all the way through. I am one of those people who is convinced that our prehistory may be older and more complex than we can presently demonstrate.
The combined studies of archaeology and modern geology provide a fruitful avenue for new revelations about past civilizations. Many anomalous artifacts and unusual sites provide us with the tantalizing possibility that we may be much older than we presently think.
Witkowski pursues the case for a civilization arising in the Indus Valley and spreading to the west via Asia, the Pacific, and the Americas. This is not a new idea, but recent discoveries and re-evaluation of existing sites lend credence to this idea. New studies of Easter Island and Tihuanaco are featured in this book.
I liked reading it because it opens some new ground for future research. We must always keep an open mind when it comes to the past, especially when we find that human-appearing footprints have been discovered in sandstone hundreds of millions of years old.

Jon Schumacher writes from Pahrump, Nevada.

---
Sage-ing along with age-ing MacLaine
Sage-ing While Age-ing by Shirley MacLaine, Atria books, New York, 2008,
ISBN 978-1-4165-5042-6, 262 pages, $14.00

Review by Ann Ulrich Miller

Reading Shirley MacLaine is like visiting with a dear old friend. Although she dwells on the fact that she is getting old, the face on the cover of her latest book, Sage-ing While Age-ing, is anything but that of an elderly woman.
The book is a mixture of casual reflection and regurgitation of esoteric research that causes you to sit up and pay attention. Her library of metaphysical books must be awesome. Her knowledge of what's contained in those books would comprise a course in Phenomena 101 at the University of Sirius.
Seriously... this is the kind of book you lend to a friend who is starting to crack the eggshell, meaning they are beginning to awaken spiritually. It has a little of everything, including MacLaine's wise advice about health and her very own secrets for good living.
She tells about her house in New Mexico "crying" — literally. I'd never heard of this before. The middle chapters are the ones loaded with her take on the UFO coverup, disclosure, with heroic individuals such as the late Dr. John Mack of Harvard and others.
Of course the infamous mention of presidential candidate Dennis Kucinich's UFO sighting at her Pacific Northwest house years ago is one of many fascinating events, along with MacLaine's views on conspiracies, Atlantis, past lives, ancient civilizations, and what happened at Roswell in 1947.
I found I wanted to savor this book, so it took three months for me to get through it. Reading a page or three at a time, then setting it down to let the information soak in was how I chose to digest it.
I still hold Shirley MacLaine up as one of my metaphysical heroes because of her courage and her candor. She has something to say about everything from nutrition to acupuncture, ETs in Peru, famous Hollywood figures who touched on spiritual subjects, the Bible, the Hopis, death and synchronicity.
In a way, I feel a camaraderie with her because she mentions she is proud that she was born in a year of saucer sightings (1934) and I can say the same thing for myself (1952).
Check out WHAT'S NEW

Subscribe to The Star Beacon


create & buy custom products at Zazzle
---
Copyright © 2009 Earth Star Publications
For permission to reprint articles or use graphics, e-mail lightworker@earthstarpublications.com.