GREETINGS, TERRANS!
CHECK OUT
WHAT'S NEW!

Just Released!
ALL THE BAD STUFF COMES IN THREES

ZETI CHILD, LOST UPON A ONE STAR WORLD

Welcome to Earth Star on the Web. Here you will find a wealth of articles on diverse topics including UFOs and extraterrestrials, the paranormal, healing, earth changes, spirituality, the latest sightings, channeling, astrology, book reviews, art, poetry, plus conference news and reports, and a whole lot more.
WHERE WOULD YOU
LIKE TO GO?


The Star Beacon: Earth Star's monthly paranormal newsletter. Subscription info can be found by clicking here.




BOOKS, T-SHIRTS, TAPES -- NEW!
Earth Star's Store features metaphysical, self-help, children's literature and adult fiction, plus original T-shirts and conference lecture tapes. Visit now by clicking here.





PSYCHIC READERS
The NEW Psychic Readers Directory lists Intuitive Counselors from all over. Check out who's doing what, and how to contact them, by clicking here.




THE BEST OF
THE BEACON
Selected articles which have appeared over the years in The Star Beacon
Click here.




CONFERENCES
Check out upcoming conferences by clicking here.





FRIENDSHIP CLUB
Earth Star's Galaxy Wide Friendship Club is the place to find like-minded pen pals. Visit now by clicking here.





ART GALLERY
Earth Star's NEW Art Gallery features paintings by Ryan Ulrich plus an assortment of art (including extraterrestrial). Visit now by clicking here.





ARIZONA PAGE
Visit exotic and beautiful Why, Arizona. You can go there by clicking here.




MULES
Animal lovers will get a "kick" out of our Mule Page, featuring the Stucker Mesa Mules. Click here.


PUBLISHING
Earth Star Publications offers book packaging services for self-publishing authors, as well as a lot more. Please see our List of Services.
ADVERTISE HERE!
Advertise your wares or services here by placing an ad in The Star Beacon. To view CLASSIFIED ADS click here. For more information on advertising, e-mail us at UFOeditor@yahoo.com. For information regarding the Psychic Readers and Healers Directory, please e-mail UFOeditor@yahoo.com.
The full Betty and Barney Hill story comes forth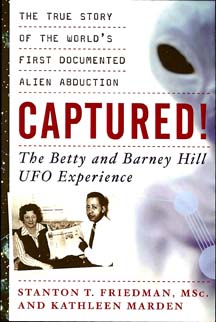 from the August 2007 Star Beacon
Cosmic Book Review
by Ann Ulrich Miller
Captured! The True Story of the World's
First Documented Alien Abduction,
The Betty and Barney Hill UFO
Experience
by Stanton T. Friedman, MSc, and Kathleen Marden
ISBN 1-56414-971-4, 320 pages, paperback, $16.99.
Career Press, Franklin Lakes, N.J., August 2007

Mau is still on "hiatus" for that creative horticultural experiment in which he participated last year, but... in the meantime he is reading lots and lots of enticing metaphysical books which he plans to review in the coming months... so Mom comes to the rescue once again to save his column!
One book crossed my path on its way to him that I couldn't resist reading myself. It's destined to be a blockbuster in the UFO field, since it is all about the first documented UFO abduction in ufological history, the famous Betty and Barney Hill incident of Sept. 19-20, 1961, in the White Mountains of New Hampshire.
I remember when I first read about Betty and Barney Hill in the late '60s, how intriguing a story it was, especially at that time. It was especially memorable to me, since its knowledge came to me at a time when I'd started having sightings of my own, but on a much smaller scale, obviously.
Everyone in the UFO community knows of Stanton Friedman, who is a nuclear physicist, and since 1967 has lectured on the topic, "Flying Saucers ARE Real!" at more than 600 colleges and more than 100 professional groups in 50 states, nine provinces and 16 other countries. He's published more than 80 UFO papers and has appeared on hundreds of radio and TV programs. Friedman is the original civilian investigator of the Roswell Incident, and co-authored Crash at Corona: The Definitive Study of the Roswell Incident, and authored Top Secret/Majic: Operation Majestic-12 and the United States Government's UFO Cover-Up.
Kathleen Marden is Betty Hill's niece, and also a trained social scientist and educator who has served on the MUFON Board of Directors. She was 13 on the day Betty called her mother (Betty's sister) to report that the previous evening she and Barney had encountered a flying saucer in New Hampshire's White Mountains. As a primary witness to the evidence and aftermath, Kathleen has intimate knowledge of the Hills' biographical histories, personalities and never-before-published historical data that pertains to their sensational story.
Captured! reveals to the public for the first time the eye-witness scenes of the Hills' extraordinary encounter with the massive space vehicle and 11 alien figures, plus interviews with USAF officials, a comparative analysis of the fascinating hypnosis sessions that exposed the terrifying onboard experiences of the abductees, the physical and social characteristics of the aliens, scientific interest, and the controversy that followed.
Now, 46 years after the Hills' abduction, more people than ever are convinced that UFOs are real and have been covered up by the government. Friedman and Marden turn up riveting interview transcripts and tapes, and military, medical and psychiatric reports. After decades of research and work with scientists and organizations dedicated to collecting and analyzing UFO data, they have produced this book which will keep you rooted to your seat as you read the definitive and dramatic portrayal of the enigmatic incident and its consequences.
The book is a collector's item for your library of esoteric reading. It contains old pictures and illustrations of interest, as well as sidebar-type mini-biographies of certain investigators involved in the case. And it is presented in such a way that you'll be able to make up your own mind what you believe about this startlingly famous UFO case.

Ann Ulrich Miller is editor and publisher of The Star Beacon.
Check out WHAT'S NEW

Subscribe to The Star Beacon


---
Copyright © 2007 Earth Star Publications
For permission to reprint articles or use graphics, e-mail UFOeditor@yahoo.com.