GREETINGS, TERRANS!
CHECK OUT
WHAT'S NEW!

NEW!
READ TODAY'S BLOG


Order your copy of
THE LIGHT BEING

Welcome to Earth Star on the Web. Here you will find a wealth of articles on diverse topics including UFOs and extraterrestrials, the paranormal, healing, earth changes, spirituality, the latest sightings, channeling, astrology, book reviews, art, poetry, plus conference news and reports, and a whole lot more.
WHERE WOULD YOU
LIKE TO GO?


The Star Beacon: Earth Star's monthly paranormal newsletter. Subscription info can be found by clicking here.




BOOKS, T-SHIRTS, TAPES -- NEW!
Earth Star's Store features metaphysical, self-help, children's literature and adult fiction, plus original T-shirts and conference lecture tapes. Visit now by clicking here.





PSYCHIC READERS
The NEW Psychic Readers Directory lists Intuitive Counselors from all over. Check out who's doing what, and how to contact them, by clicking here.




THE BEST OF
THE BEACON
Selected articles which have appeared over the years in The Star Beacon
Click here.




CONFERENCES
Earth Star's annual Love and Light Conference. Also check out other conferences by clicking here.





FRIENDSHIP CLUB
Earth Star's Galaxy Wide Friendship Club is the place to find like-minded pen pals. Visit now by clicking here.





ART GALLERY
Earth Star's NEW Art Gallery features paintings by Ryan Ulrich plus an assortment of art (including extraterrestrial). Visit now by clicking here.





ARIZONA PAGE
Visit exotic and beautiful Why, Arizona. You can go there by clicking here.




MULES
Animal lovers will get a "kick" out of our Mule Page, featuring the Stucker Mesa Mules. Click here.


PUBLISHING
Earth Star Publications offers book packaging services for self-publishing authors, as well as a lot more. Please see our List of Services.
ADVERTISE HERE!
Advertise your wares or services here by placing an ad in The Star Beacon. To view CLASSIFIED ADS click here. For more information on advertising, e-mail us at UFOeditor@yahoo.com. For information regarding the Psychic Readers and Healers Directory, please e-mail earthstar@tripod.net.
COSMIC BOOK REVIEW
from the September 2005 Star Beacon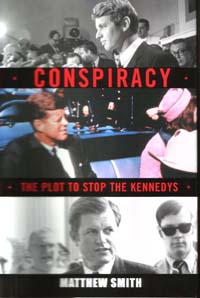 Truth behind Kennedy tragedies revealed in new book


Conspiracy:The Plot to Stop the Kennedys
by Matthew Smith
Citadel Press, Kensington Publishing Corp
July 2005, hardcover, 290 pages, $22.95
ISBN 0-8065-2701-3

Review by Ann Ulrich Miller

Probably the hottest conspiracy of our times is the plot to stop the Kennedys. Matthew Smith, a resident of Sheffield, England, has researched both the JFK and RFK assassinations as well as the mysterious and wrongly presumed "suicide" of Marilyn Monroe. He is one of the world's leading experts on the Kennedy conspiracies and authored JFK: The Second Plot and JFK: Say Goodbye to America, as well as Victim: The Secret Tapes of Marilyn Monroe and The Men Who Murdered Marilyn.
In Conspiracy: The Plot to Stop the Kennedys, Smith brings new insights into who and what were behind the Kennedy killings and casts blistering light upon what he believes is a vast plot to stop the family from establishing a presidential dynasty.
He offers a plausible theory based on direct witness testimony and examines the real causes of the many events that touched the Kennedys and their friends. No one person nor agency is spared, including the FBI, Mafia and Teamsters.
In his book Smith discloses a far-reaching plot to prevent the Kennedys from attaining future presidential power, plus the fact that Ted Kennedy was not in the car the night of Mary Jo Kopechne's drowning, but was urged by his lawyers to accept responsibility nonetheless.
He links the JFK/RFK assassinations with Kopechne's death and offers first-time evidence that her death was a deliberate ploy to keep Edward Kennedy out of the White House.
The book also includes new information about the JFK assassination and Lee Harvey Oswald, as well as whether Sirhan Sirhan acted alone when he killed Robert Kennedy. It is an exhaustively researched exposé that offers stunning answers to questions that have spurred dispute, ignited controversy and haunted the national conscience for decades.
It makes the reader wonder about current times and other powerful figures, and what other conspiracies have been in the works. I found it to be an intriguing read and a look into the inside of investigations that were kept from public scrutiny
Check out WHAT'S NEW

Subscribe to The Star Beacon


---
Copyright © 2005 Earth Star Publications
For permission to reprint articles or use graphics, e-mail earthstar@tripod.net.